Colin Fitzpatrick is a Dubliner based in Dubai who transformed a terrible experience during quarantine into a business dedicated to bringing your favorite performers to a metaverse near you. His new company, Animal Concerts, launched in January and is currently in the process of signing world-class performers to play in the Metaverse's decentralized worlds.
Among the first to receive the Animal Concerts treatment was Grammy-winning rapper Future, who performed at a live Animal Concerts-themed Halloween party in Miami that was shot in such a way that it can be aired in the Metaverse in the future. There are no COVID restrictions or travel bans in this remarkable new land, and artists can sell NFT merchandise to fans with little overhead, investment, or middlemen.
Virtual concerts have already begun to take shape, most notably Ariana Grande's Fortnite appearance in October 2021. Grande's event drew approximately 78 million Fortnite users, with some critics claiming that she was set to earn more than $20 million from the virtual gig.
Travis Scott earned $20 million for a Fortnite performance in 2020, and Ed Sheeran earned the same amount for a November 2021 appearance on the virtual stage of Pokemon Go. Zara Larsson, a Swedish singer, earned seven figures through sales of "in-game accessories like headgear, bags, and sunglasses" that started at just $1.
At the time of our conversation, Fitzpatrick is in the final stages of negotiating a concert with a top-100 Grammy-winning musician. This is Alicia Keys and Animal Concerts at an exclusive private event where Alicia introduced her new album KEYS, with additional details on the collaboration to be unveiled in the first quarter.
To prepare for the concert, she would "go into a green screen studio and execute our performance, which we film, and then we can effectively turn her into an avatar that is correctly situated in one of the decentralized blockchain-run worlds," he explains.
According to Fitzpatrick, performing in the Metaverse has a host of benefits for artists. While streaming services such as Spotify are diminishing performers' revenue, Animal Concerts allows performers to earn 50% of revenue from ticket and non-ticketed sales. Celebrities have a strong motivation to draw their fans into the Metaverse, where many will discover blockchain for the first time.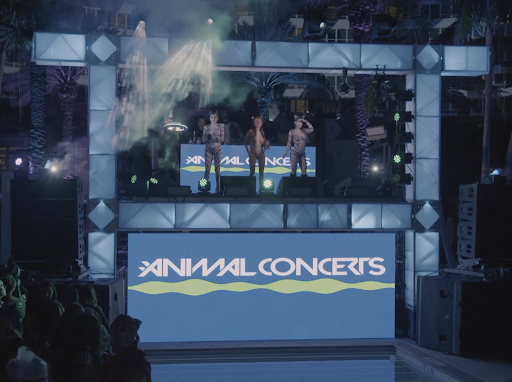 Fitzpatrick, a former DJ who has been passionate about music since a young age, gestures to a cabinet behind him that contains a box of "ticket stubs and flyers from events I attended in my youth." They are priceless keepsakes of his formative years for him.
A changing industry
Just as the concept of a Metaverse powered by virtual reality (VR) gained traction alongside the explosion of NFTs earlier this year, Fitzpatrick realized the two could be combined to offer solutions to a struggling music industry, which he claims has seen declining revenues and countless concert tours canceled since the pandemic began.
Soon, the platform will enable home viewers to live stream VR-augmented concerts and experience them as an interactive event rather than as one-sided television broadcasts. NFTs can be distributed in lieu of Fitzpatrick's memory box's ticket stubs.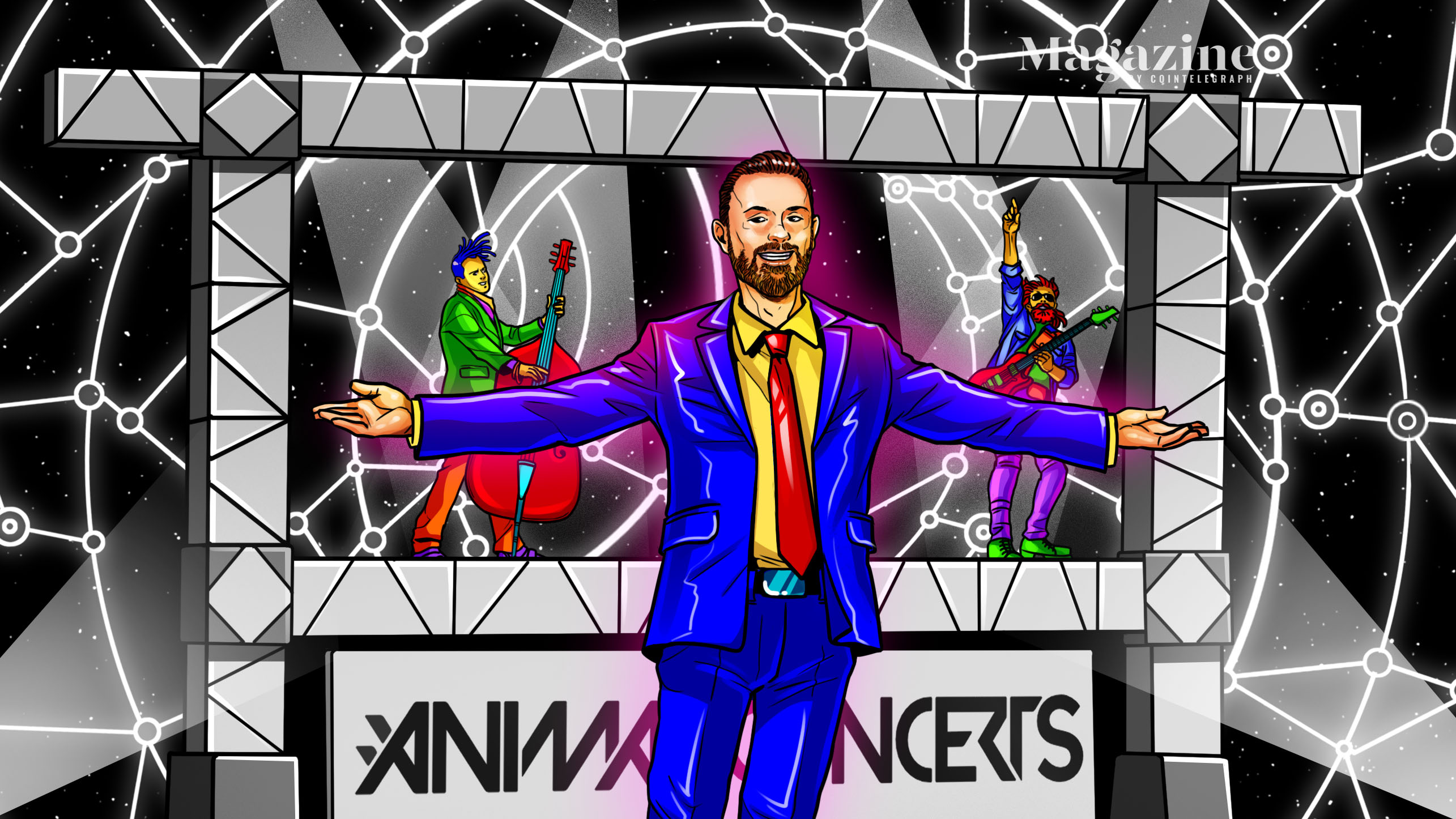 "With 360-degree cameras on stage, you can use a VR headset to immerse yourself in an immersive experience – as if you were dancing on stage with your favorite bands from the comfort of your living room anywhere in the globe. We want to enable you to share the concert experience with your friends by allowing you to see their avatars," he explains. The objective is to establish itself as the "Netflix of live streaming concerts."
"There's been a lot of very high profile concerts already in various different Metaverses".
Fitzpatrick adds that virtual concerts are advantageous for artists since they eliminate the need for travel and the number of viewers is not constrained by venue capacity. Naturally, there is an economic incentive, as virtual venues do not require the same number of stagehands, security personnel, or other costly equipment, and also because the number of middlemen is decreased.
With multiple scheduled events occurring in various virtual worlds, the concept of the Metaverse as a reality comprised of numerous interwoven virtual worlds is gaining traction.
Animal Concerts is honored to be working with 15-time GRAMMY Award winner @aliciakeys as she plays at her One Night Only event celebrating the launch of her new double album "KEYS".#KEYS #KEYSUnlocked #KeysOriginal pic.twitter.com/YhzDPiPXiJ

— Animal Concerts (@animalconcerts) December 16, 2021
What these metaverses, whether they are video games like Roblox or blockchain worlds like Decentraland, have in common is that they "have a large user base and are likely to offer digital assets in some form," Fitzpatrick adds. While the majority of centralized worlds require a user account, decentralized worlds permit access through wallet software such as MetaMask. The primary distinction between centralized and decentralized worlds is interoperability – while products purchased in Pokemon Go cannot be transferred to Roblox, NFTs may be shown in a wide variety of decentralized virtual worlds.
"Today's children are accustomed to purchasing skins – in-game digital goods. It's a really natural progression for people to hunt for NFTs by their favorite musicians," Fitzpatrick explains.
Fitzpatrick concedes that the requirement for a wallet can be a hurdle for individuals unfamiliar to cryptocurrency. As with Beeple, who wanted to ensure that his NFTs could be purchased with a credit card, Fitzpatrick envisions a future in which virtual concertgoers can "go to a website, enter their credit card information, and purchase tickets, and then purchase an NFT without having to worry about a cryptocurrency."
Often, these NFTs are mixed with actual artifacts, such as an NFT plus a physical copy of the artist's handwritten lyrics. Additionally, they might be paired with virtual meet and greets – the specifics are mainly up to the artists.
Dublin to Dubai
As a student at Portobello Institute, Fitzpatrick learned about business management in 1999. At 41, he started on his path to becoming a businessman. He started working as a web designer right away. Soon, he started DJing and organizing nightclubs. "I used to run club nights and put on festivals when I was younger," he says.
He went to work for Dell in 2002 as a relationship manager. In 2006, he took a job with Oracle, where he worked for five years until 2011. As an Oracle sales strategy manager, Fitzpatrick rose through the ranks for seven years. He moved from Dublin to Dubai in late 2018 "to build new business here for them," which took him from Dublin to Dubai in the middle of the last year.
Fitzpatrick found out about Bitcoin in 2013 when it was around $100, but he was "sadly" talked out of it by a friend, he says. It wasn't until late last year that he got back into the game, though. When the idea of blockchain made sense to him, he became a "full convert." Soon, he started talking to someone else at Oracle who was interested in crypto. "Then we found someone else," he says with a laugh. "It spread like wildfire," he says.
"At the end of 2017, there was more cryptocurrency trading going on in the office than there was sales of Oracle software. "
"I wanted to go work for a blockchain company, but there was nothing in Dublin," he says. "Virtual jobs" were not as common as they are now, he says.
COVID did bad things to Oracle. Fitzpatrick, a 13-year employee, was recently moved to a new country, but the company still made him redundant "smack bang in the middle of COVID," which "absolutely sucks," he says with a little shade. There were very few jobs available when Fitzpatrick was looking for work at the time. He found a job with Eastnets, a local company that did payments and software compliance.
However, he quit after a year. It was time to start his own business.
Fan tokens for music
Animal concerts will cost between $10 and $30 to go to, Fitzpatrick says. Tickets will be available on sites like Ticketmaster as if they were for any event in the "meatspace," which some Metaverse proponents like to call the physical world. "So, if you want to buy with our token, it will be cheaper, so that's a good reason to use our native token," says the person who runs Animal.
As you might expect, there will always be a token, but the Animal token will also be used as a "governance token." This means that fans and artists will be able to vote on which songs artists will play or what clothes they will wear. Fitzpatrick thinks that a "sticky" fan base will go to a lot of concerts and buy the NFTs of their favorite artists over and over again. They'll get "first dibs on NFT drops or free concert tickets," he says.
In the same way that Socios is the market leader for fan tokens, this model can be seen as a way to reward fans. People talk about Socios more because the company makes fan tokens for different sports teams. The tokens can be traded, and fans seem to think of them as investments in their favorite teams. Such tokens can also give sports teams a lot of money, because they can slowly release them as fans open their wallets.
Animal could become one of the most important people in music.
"We have a plan to make a token for each artist," Fitzpatrick says. He says that each artist has a group of very loyal fans who would be interested in owning tokens based on their favorite person. A fungible token can be thought of as a single, fractionalized non-fungible token that represents the name, idea, or concept it represents. This is how you think about NFTs, which are non-fungible tokens that can't be divided.
As such, a hypothetical "Ariana Grande Token" might rise in value because of her popularity. Investing in the coin of a new artist could be a good idea.
Music fan tokens, like those made by Socios, could one day be used as a kind of "share" of the artist.
Fitzpatrick says that fans "won't care about the Animal Token, but they would care about the Ariana Grande Token."