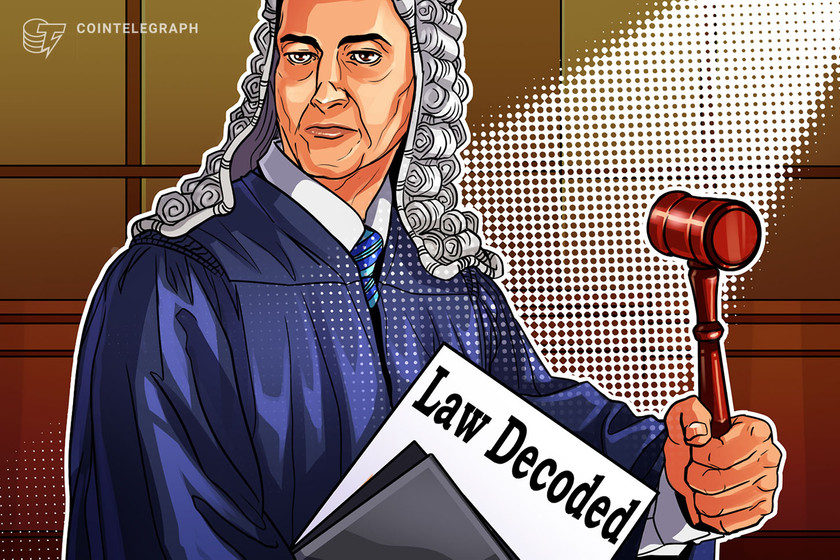 Reducing your initial debt of $820 million to just $0.013 over a month can't be easy. And, it's hardly surprising that such a heroic dash has led Celsius to bankruptcy. Last week, the crypto lending platform voluntarily filed petitions for Chapter 11 reorganization after closing off the last of its decentralized finance (DeFi) debts owed to Compound, Aave and Maker. 
Although a Chapter 11 bankruptcy allows a company to stay in business and restructure its obligations, and there are successful examples such as American Airlines, Delta, General Motors, Hertz and Marvel, some experts voice skepticism regarding Celsius' chances to stay afloat. The proceedings could mean investors and customers of Celsius may not see their funds returned for the "foreseeable future," similar to the fallout from the Mt. Gox hack in 2014, which is still ongoing.
And, the external legal pressure surely doesn't help the platform. With the local Department of Financial Regulation (DFR) reminding users that the firm is not licensed to offer its services in the state, Vermont has become the sixth American state that issued a warning against Celsius.
One point to Ripple in a case against SEC
The United States Securities and Exchange Commission (SEC) has suffered a blow in its case against Ripple after a U.S. judge denied its claims for attorney-client privilege regarding internal documents related to the Hinman speech. In denying the motion, U.S. Magistrate Judge Sarah Netburn called out the SEC's hypocrisy in arguing that the speech — in which a former official Bill Hinman suggested Ether (ETH) was not security — was a personal matter for Hinman while also claiming it should be protected because he received legal advice from the SEC to confirm the commission's policies.
Continue reading
Andorra is one step closer to its Digital Assets Act 
A tiny European country nestled between France and Spain, Andorra, is swiftly moving to its crypto regulation framework — the respective Digital Assets Act was recently approved by the local government. Although cryptocurrencies are not legal tender in Andorra, and the Digital Assets Act makes no proposals surrounding means of exchange, the CEO of a local Bitcoin (BTC) business highlights that Andorra could adopt a Bitcoin standard, mining Bitcoin with renewable energy, taking on Bitcoin as a reserve asset and welcoming Bitcoin-centric companies from all around the world. 
Continue reading
Cryptocurrencies are to become a "financial product" in South Africa
The South African Reserve Bank is set to introduce regulations next year that will see cryptocurrencies classed and treated as financial assets to balance investor protection and innovation. With more than six million people in the country having cryptocurrency exposure, regulation of the space has long been a talking point — it will allow the sector to be monitored for money laundering, tax evasion and terrorism financing. And, of course, to comply with global guidelines set out by the Financial Action Task Force (FATF). 
Continue reading
Source link
Celsius, a financial technology company known for revolutionizing the crypto lending market, has recently reported its filing for bankruptcy. The filing took place on July 20th in the Southern District of New York.
What began in 2017 as a thriving project focused on connecting the crypto assets its customers held with institutional lenders in a secure environment has now ended with the company receiving a bankruptcy declaration. It seeks to liquidate assets held as part of its Chapter 11 proceeding.
The filing served to protect the remaining assets of the firm, including the money of customers who still held debts with the now bankrupt Celsius. While it's possible that not all debts can be repaid, customers may still be eligible to receive some of the debt payments owed them.
Various reports indicated that a significant portion of the debt was related to developing additional product offerings, such as maintaining a slew of hosting and cloud-based services, in order to compete with the increasing competition in the space.
Celsius CEO Alex Mashinsky and members of the founding team released a statement to outline their plans for the future:
"We have taken the time and steps to avoid coming to this decision, but have been forced to enter a bankruptcy restructuring. We have the ability to control our own destiny and, with the help of dedicated professionals, we can seize the opportunity to continue our mission, while ensuring the best possible outcome for our stakeholders."
Ultimately, the filing represents a difficult moment in the company's history, but the team remains optimistic that it can still achieve its mission. Despite market uncertainties, the eventual liquidation of the company's assets may allow for the repayment of some of the debt held by its customers. Time will tell how successful this endeavor can be.