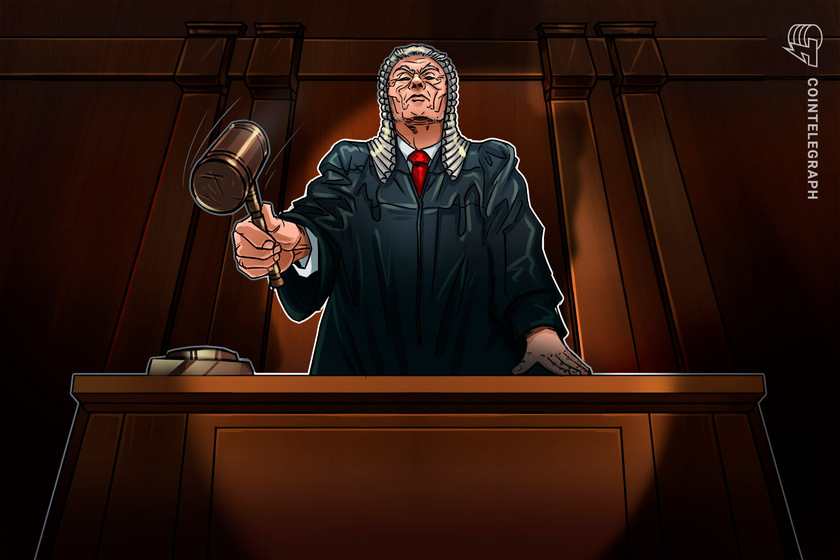 The Securities and Exchange Commission (SEC) has suffered a blow in its case against Ripple, after a U.S. judge has denied its claims for attorney-client privilege regarding internal documents related to the "Hinman speech".
In denying the motion on July 12, U.S. Magistrate Judge Sarah Netburn called out the SEC's hypocrisy in arguing that the speech — in which a former official Bill Hinman suggested ETH was not a security — was a personal matter for Hinman while also claiming it should be protected because he received legal advice from the SEC to confirm the commission's policies.
"The hypocrisy in arguing to the Court, on the one hand, that the Speech is not relevant to the market's understanding of how or whether the SEC will regulate cryptocurrency, and on the other hand, that Hinman sought and obtained legal advice from SEC counsel in drafting his Speech, suggests that the SEC is adopting its litigation positions to further its desired goal, and not out of a faithful allegiance to the law."
The draft of the Hinman speech, which the SEC has fought to keep under wraps, has been seen by many in the XRP community as a pivotal piece of evidence that could work in favor of Ripple Labs.
The SEC sued blockchain firm Ripple in late 2020 on allegations that senior executives Brad Garlinghouse and Christian Larsen sold Ripple's XRP tokens as unregistered securities.
However, Ripple has argued that the speech made by former director of the Division of Corporation Finance Bill Hinman in 2018 stated that Ether (ETH) did not constitute "securities transactions" — contradicted to the SEC's stance on the matter.
This was not even a nuanced opinion. Judge Netburn tore apart every SEC argument for attorney-client privilege of the Hinman emails.

That starts the 14 day clock for an appeal to Judge Torres. And if her recent Orders are any precedent, things will move relatively fast. https://t.co/7k6KJx4Lea

— Jeremy Hogan (@attorneyjeremy1) July 12, 2022
Barring any further appeals or delays, the ruling states that: "The documents must be produced."
Related: Class action lawsuit claims Solana's SOL is an unregistered security
Delphi Digital's general counsel Gabriel Shapiro called it a "big tactical win for Ripple" in a July 12 tweet.
wow. big tactical win for Ripple. https://t.co/oS4HRO1u2x

— _gabrielShapir0 (@lex_node) July 13, 2022
Some believe that an appeal by the SEC is likely. Founder of crypto legal news outlet Crypto-Law John E Deaton told his 205,000 followers on July 12 that the appeal, along with Ripple's objection, would come within 30 days. He also believes the appeals judge will side with Judge Netburn's recent ruling.
If there are no extensions granted, Judge Torres will have the SEC's appeal and Ripple's objection to the appeal in 30
Days. After Judge Torres upholds Judge Netburn's decision, the SEC can ask Judge Torres to certify an appeal to the 2nd Circuit. She is likely to deny doing so. https://t.co/HtMjbjk2OK

— John E Deaton (205K Followers Beware Imposters) (@JohnEDeaton1) July 13, 2022
The SEC continues to insist that Hinman's speech was a "purely personal errand" that was not meant to offer legal advice.
Judge Netburn acknowledged that this could potentially protect the drafts if Hinman were a private citizen. However, Judge Netburn wrote that the commission also argued Hinman would not have had access to the information and resources if he were not already working at the SEC.
"It was only in the context of his employment that he was able to solicit the edits and feedback he did."
If the contents of the speech documents are compelling enough, it could be a tipping point for Ripple in the case, which has been seen as potentially setting a precedent for other similar crypto token issuers.


Source link
On Wednesday, July 29th, Judge Sarah Netburn of the Southern District of New York rejected the United States Securities and Exchange Commission's (SEC) motion to keep various documents from the ongoing lawsuit against Ripple Labs, Inc. and two of its executives. The motion was an effort to keep from public disclosure a series of documents containing various communications between former SEC official William Hinman and Ripple executives.
As part of its lawsuit, the SEC is alleging that Ripple, a blockchain technology company, and its executives violated securities regulations when issuing 1.3 billion of its XRP token. The SEC alleges that the XRP token is an unregistered security and Ripple's sale of it is a violation of securities laws. Ripple and its executives have denied the accusations and countered that XRP is not a security.
The SEC filed a motion opposing Ripple's request to have the documents unsealed, arguing that they contain confidential conversations between officials in the enforcement division and are not relevant to the current SEC case. Judge Netburn disagreed and denied the SEC's motion.
In a 20-page ruling, Judge Netburn stated that the documents contained communications related to the public interests of investors and participants in the virtual asset markets and that they are, "not the type of attorney-client communications that are afforded greater protection from disclosure."
The ruling could potentially be valuable to both Ripple and its defendants as it could provide evidence as to why the SEC decided to charge Ripple with violations of securities law.
Ripple CEO Brad Garlinghouse said of the ruling, "Judge Netburn's decision today affirms that the SEC must play by the same rules as everyone else. They cannot hide relevant documents from the court."
The ruling provides a potentially valuable resource to both Ripple and its defendants during the litigation process. It also demonstrates the importance of transparency when it comes to matters of public interest.