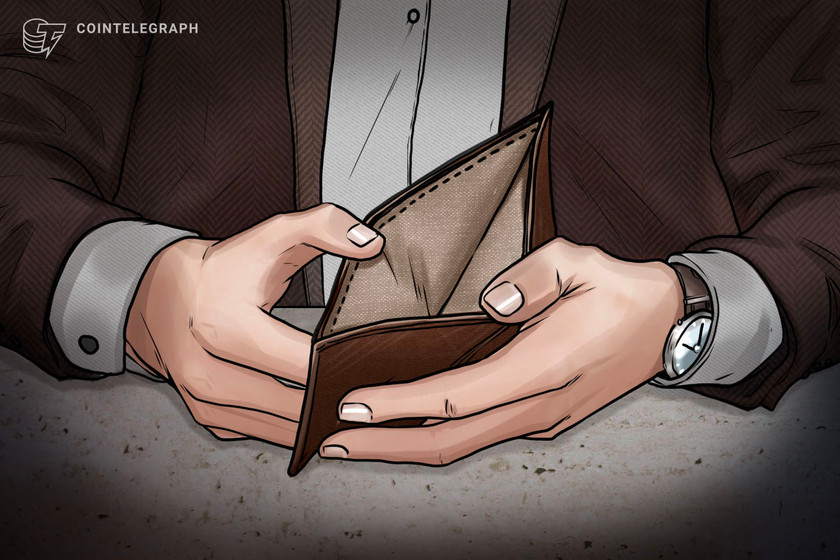 Former Ripple Labs founder Jed McCaleb has finally ended the eight-year dump of his XRP holdings, leaving only 46.7 XRP left sitting in his famed "~tacostand" wallet. 
According to blockchain explorer XRP Scan, the former Ripple founder executed his last outgoing XRP transfer of 1.1 million XRP (worth $394,742.18) at 6:31 am (UTC) on July 17.
Hours later, the account listed an "ACCOUNT DELETE" transaction, meaning the account will no longer exist on XRP's ledger.
The transaction marks the end of a 9 billion XRP sell-off initiated by McCaleb after leaving Ripple Labs to co-found rival payment protocol Stellar in 2014.
The amount McCaleb has released over the last eight years represents around 18.6% of the total circulating supply of XRP and has been taken as welcome news by the crypto community.
The moment we have all waited for is finally upon us. @JedMcCaleb has finally emptied his taco stand. His dumping of $XRP is now over after many years. Party time!!! https://t.co/lS9kfCf98A

— Rob XRP ☀️ (@robxrp1) July 18, 2022
XRP proponent "XRP whale" proclaimed to his 57,500 followers on Twitter that with the final sell-off, one can finally own more XRP than McCaleb.
BREAKING: Recently Jed McCaleb has sold off his remaining 5M $XRP. You now own more XRP then him#XRP

— XRP whale (57.5k Followers) (@realXRPwhale) July 17, 2022
On Friday, a satirical article from "The Crypto Town Crier" led some to believe that McCaleb decided to hold onto his last five million XRP "just in case it moons."
"McCaleb, who has sold multiple billions of XRP since leaving Ripple in 2014, said he woke up in a cold sweat Thursday night and realized he just couldn't let the last of his holdings go," wrote the authors behind the satire piece.
The Crypto Town Crier is a satirical news site with the tagline "Where truth matters more than accuracy."
Related: Price analysis 7/15: BTC, ETH, BNB, XRP, ADA, SOL, DOGE, DOT, SHIB, AVAX
The price of XRP is currently sitting at 0.3564, up 0.82% over the last 24 hours. The asset is down almost 90% from its January 2018 all-time high of $3.40. 
Ripple Labs has been embroiled in a lawsuit filed by the Securities and Exchange Commission (SEC) since late 2020, with the latter alleging Ripple and its executives had offered XRP as unlicensed security to investors.
Last week, the SEC suffered a blow in its case against Ripple after a U.S. judge ruled that the SEC must produce internal documents relating to the "Hinman speech," which could be a pivotal piece of evidence in support of Ripple's defense.
Should Ripple be successful in arguing that XRP is not a security, some believe this ruling could set a precedent for other similar crypto token issuers while boosting XRP prices.


Source link
Jed McCaleb, one of the co-founders of Ripple Labs and the creator of the XRP digital asset, has recently emptied his XRP wallet after an eight-year selloff. McCaleb started the selloff back in 2014, when he transferred 1 billion XRP token from a Ripple Labs-controlled account to his own.
McCaleb had previously announced that he would be using a portion of his XRP holdings to fund his nonprofit, the McCaleb Family Foundation, as well as other charitable organizations and projects. McCaleb has sold a total of 5 billion XRP since 2014, netting him an estimated $1.3 billion in proceeds.
The sale of the XRP tokens has generated some controversy, as many have questioned why McCaleb was allowed to hold on to his stake and cash out gradually instead of releasing all 5 billion of the tokens at once, which could have had an adverse effect on the price of XRP.
McCaleb has justified his decision to empty his XRP wallet by noting that his stake was, in effect, diluted after Ripple Labs issued new tokens to investors, and that "a slow, measured selloff" was the most appropriate course of action. The selloff does not appear to have caused too much disruption to the price of XRP over the previous 8 years, with the currency's price remaining relatively stable, despite the significant amount of tokens being sold by McCaleb.
The proceeds from the sale of the XRP tokens will now be used to benefit charitable organizations, with McCaleb stating that he is "committed to helping those in need through financial support and open collaboration".
McCaleb's decision to empty his XRP wallet after eight years demonstrates a commitment to efficient market conditions, as well as to using the proceeds of his holdings to benefit those in need. It is a prime example of how the financial gains of cryptocurrency can be used to support charities and other good causes.