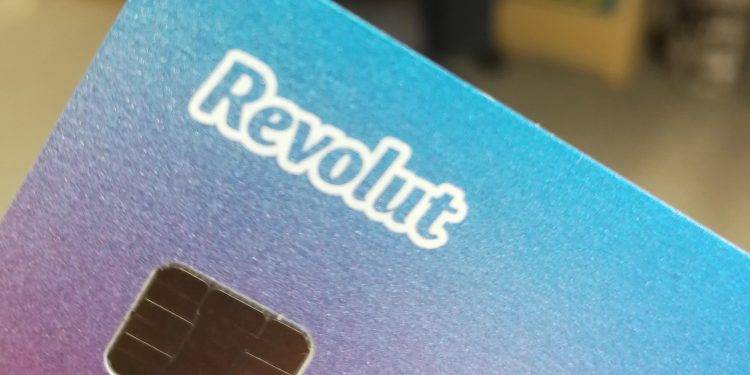 Get your daily, bite-sized digest of cryptoasset and blockchain-related news – investigating the stories flying under the radar of today's crypto news.
_____
Investments news
Digital currency prime brokerage Genesis said that its Q3 loan originations reached USD 35.7bn, up over 586% year-on-year and 40% vs Q2 2021. Also, their loan book composition continued adjustments initiated in Q1, with bitcoin (BTC) still losing its share. "While BTC loans increased overall, relative weighting continued to decline as demand reacted to the narrowing basis and the [Grayscale Bitcoin Trust] discount," the firm said.
Loan book composition: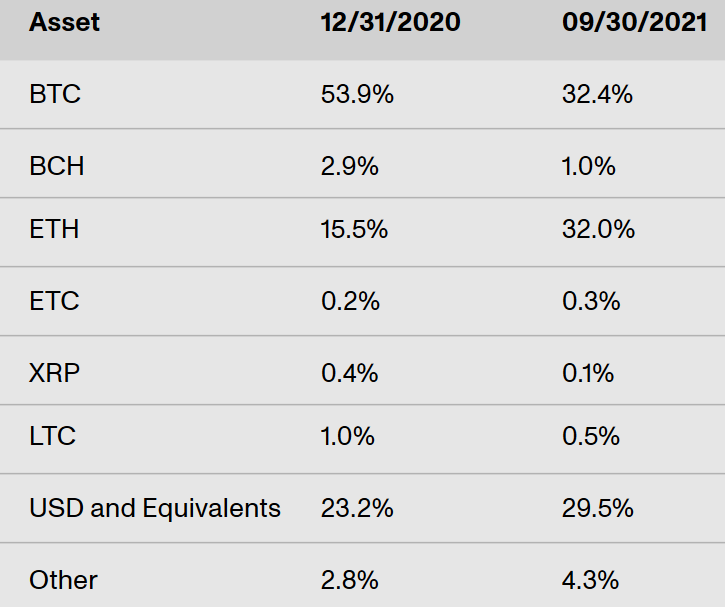 US Congressmen Tom Emmer and Darren Soto advocated for the trading of bitcoin spot exchange-traded funds (ETFs) in a letter to US Securities and Exchange Commission (SEC) Chairman Gary Gensler. The letter questioned why the SEC is comfortable with allowing a derivatives-based bitcoin ETF but not a bitcoin spot ETF, writing that bitcoin spot ETFs are based directly on the asset and offer investors more protection than one based on derivatives.
Digital asset manager CoinShares announced a total comprehensive income of GBP 84.9m (USD 114.7m) in 2021 by the end of Q3, for a 361% increase compared to the entirety of 2020. Their total earnings before interest, taxes, depreciation (EBITDA) was GBP 88.8m (USD 119.9m), while their total assets under management reached GBP 2.9bn (USD 3.92bn).
Galaxy Digital Asset Management reported preliminary assets under management of USD 3.15bn as of October 31st, 2021. This is a 42% increase compared to September 30th this year.
Game tech studio Mythical Games has raised USD 150m at a USD 1.25bn valuation, per VentureBeat. The studio will use the funds to launch its Blankos Block Party open-world multiplayer game, as well as its platform to create games with NFTs.
NBA star Kevin Durant has launched a special purpose acquisition company (SPAC) to look at collaborating with technology-driven businesses, including cryptocurrency enterprises, according to a filing with the SEC. The SPAC seeks to raise USD 200m in its initial public offering.
Career news
Major fintech Revolut is looking for a professional who would be leading a technical team to architect and build Revolut Crypto exchange, per a job posting, published on LinkedIn today. A candidate needs to have experience in building order matching engines (e.g. crypto exchanges) and have a "genuine interest in crypto industry," among other requirements.
Bitcoin mining company Bitfury has hired former Binance.US chief Brian Brooks as its new CEO, the Financial Times reported. Brooks is replacing Valery Vavilov, who will stay on as Bitfury's "chief vision officer," the report said.
Prime Blockchain inc. (PrimeBlock), a digital asset mining and infrastructure provider, announced today that Gaurav Budhrani, former Goldman Sachs vice president who was spearheading the crypto investment banking coverage, and Alan Konevsky, most recently Interim CEO and Chief Legal Officer at tZERO Group and former Managing Director at Goldman Sachs, have been appointed respectively as Chief Executive Officer and Chief Legal Officer.
Adoption news
Paytm, India's digital payments pioneer, would consider BTC offerings if the nation's authorities removed regulatory uncertainty surrounding the adoption of cryptocurrencies, Chief Financial Officer Madhur Deora told Bloomberg TV.
Crypto charity platform The Giving Block has announced the launch of 15 new 'Cause Funds' to better direct donations to charities with similar goals and missions. The new Cause Funds bundle together multiple nonprofits that have a similar focus or mission, and they add that the feature is perfect for those who want to support a specific issue or cause rather than an organization.
Metaverse news
NFT ecosystem Enjin (ENJ) has announced a USD 100m Metaverse Fund for Efinity, a cross-chain NFT network it's building on Polkadot (DOT). The fund will support adopters, as well as other organizations building and integrating with the ecosystem.
KuCoin has announced the launch of their Meta Office, which will be available in the metaverse at the Bloktopia Skyscraper. The virtual office includes cyberpunk decoration, interactive virtual furnishings, instant chat & voice communication, and more, they said.
Boson Protocol said it has released the first version of its decentralized commerce protocol on Ethereum (ETH) Mainnet. Boson Protocol enables the sale of physical products in the metaverse as NFTs.
Exchanges news
Binance said it is launching an initiative named Objective Moon and worth EUR 100m (USD 115m) to develop the blockchain and crypto ecosystem in France and the rest of Europe. Funded by Binance, it will go towards the development of a Binance Research and Development hub in France, along with the creation of a decentralized ledger technology accelerator and a new online education program to develop blockchain and crypto industry talent in France, the company said.
Coinbase announced that some customers would be able to borrow up to USD 1m from the exchange itself, using BTC as collateral. While the amount will depend on state rules, users will be able to borrow up to 40% of the value of the BTC in their accounts with an 8% annual percentage rate.
DeFi news
Blockchain computing network Aleph.im announced the launch of Serum Markets, which will help surface trading data on the Serum liquidity protocol. Moving forward, projects will be able to connect to Project Serum's data using aleph.im's technology to improve the Solana (SOL) decentralized finance (DeFi) analytics landscape, they said.
CBDCs news
A multi-country central bank digital currency (CBDC) project involving mainland China, Hong Kong, Thailand, and the United Arab Emirates is looking at various options to expand its use, the South China Morning Post reported.
Security news
Cybersecurity firm Check Point Research (CPR) alerted crypto wallet users of a massive search engine phishing campaign that has resulted in at least half a million dollars being stolen, where users tried to download and install well-known crypto wallets or change their currencies on crypto swap platforms like PancakeSwap or Uniswap. The phishing attempts come from Google ad campaigns, where the fake websites appear before the original site when people search the term in question.
NFTs news
Hybe, the agency of South Korean group BTS, will be launching new pop acts and investing in non-fungible tokens (NFTs), according to the South China Morning Post. Hybe has invested in crypto operator Dunamu which runs the Upbit exchange, and they will launch a joint venture to create NFTs featuring artists and content from Hybe, including BTS-related releases.
Decentralized database provider Bluzelle said is releasing its file storage solution on mainnet, marking its transition from a raw data storage provider to becoming a hosting platform for all types of files that require the perks of blockchain. The solution is mainly aimed at NFT platforms.
Football club Barcelona is partnering with NFT marketplace Ownix to make Barça NFTs based on photos and videos featuring iconic moments from the club's history available to fans. Various NFT auctions will take place throughout the season.
Blockchain news
The Bank for International Settlements (BIS) Innovation Hub announced the successful conclusion of Project Genesis, which consists of two prototype digital platforms that aim to enable investment in green bonds with higher transparency and greater access to retail investors. The first prototype simulates the lifecycle of a typical bond on a permissioned distributed ledger platform, while the second tests the same procedure on a public blockchain, and both show that "DLT technology can be used to streamline green bond issuance across the lifecycle."
Crime news
Joseph James O'Connor, known as PlugwalkJoe, and his accomplices were charged on a so-called SIM swap attack targeting three executives of a Manhattan crypto company, stealing USD 784,000 worth of cryptocurrency from two clients, and laundering what they stole, from March to May 2019, according to Reuters. He has been awaiting possible extradition from Spain following his arrest concerning a July 2020 hacking that compromised dozens of Twitter accounts and allegedly netted more than USD 118,000 in BTC.