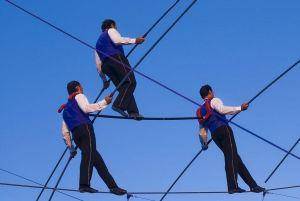 Stablecoins, stablecoins, stablecoins. The cryptouniverse can't seem to get enough of them, as evidenced by the fact that Binance USD (BUSD), a cryptocurrency with a market capitalization of less than $1 billion, cracked the top ten of the cryptocurrency market earlier this summer. Since then, it has been in and out of the club and is currently ranked 11th.
However, BUSD's inclusion in the top ten meant that the latter now included three stablecoins, with the other two being Tether (USDT) and USD Coin (USDC), respectively. At the time of writing, these three tokens have a combined market capitalization of USD 101.9 billion, and their combined 24-hour volumes consistently outpace the combined 24-hour volumes of the remaining top ten cryptocurrency assets.
As a result, there could be some risks for the market, with analysts speaking to CoinNewsDaily agreeing that prices would drop across the board if something happened to one or more of the three major stablecoins (e.g., regulation, legal action). But most believe that the market will recover from any stablecoin-induced crash and that newer stablecoins will emerge to take the place of any that have failed so far.
The growth of stablecoins
To put this in context, the USDT, USDC, and BUSD were collectively valued at USD 26 billion on January 1. This indicates that their combined capitalization has increased by 292 percent since the beginning of the year, which is comparable to the percentage increase (270 percent) in the price of bitcoin (BTC) over the previous 12 months.
But why would anyone want to issue stablecoins that are pegged to the US dollar in the first place?
"They exist because they are more flexible than fiat currencies and can move on the blockchain, providing nearly instant settlement for deposits, withdrawals and transactions. In contrast, moving fiat around is not as seamless and traders would need to use banking services for every deposit and withdrawal," said Hunain Naseer, a senior editor at OKEx Insights.
Others in the industry agree with this assessment, with CoinShares' Christopher Bendiksen telling CoinNewsDaily that the three largest stablecoins have grown in popularity for a variety of reasons.
"First of all, they are immensely superior to fiat money for cross-exchange arbitrage, making them highly popular with trading desks who require rapid settlement. I suspect this is their primary use case: stablecoins can be settled in a matter of hours whereas regular fiat takes days at best," he said.
Another argument advanced by Bendiksen is that stablecoins enable people in authoritarian countries to obtain dollars, with China and Turkey being the most prominent examples.
"Thirdly, they enable crypto exchanges to operate without the same need for risky and costly banking relationships as is normally necessary," he added.
To put it another way, because so much of the cryptocurrency market and ecosystem is unregulated, the demand for stablecoins has grown in tandem with the growth of the industry.
More specifically, some commentators attribute the meteoric rise of stablecoins to the cryptocurrency exchange Binance, which is a major player in the industry.
"Most of the world's crypto trading is carried out on Binance, using tether as the base currency to move in and out of different cryptos. Tether, of course, is widely known to be an extremely unsafe asset to park money in, but that hasn't stopped millions of people from using it, including — sometimes — myself," said Glen Goodman, an analyst and author of the bestselling book The Crypto Trader.
Goodman noted that most liquid, widely traded currency pairs are USDT pairs. "It's quite hard to avoid using it if you want to utilize the world's most liquid crypto markets."
Potential risks
Meanwhile, crypto skeptics such as author David Gerard continue to argue that market manipulation is the driving force behind the rapid expansion of stablecoins, bringing the never-ending debate about the backing of these tokens back to the forefront of our minds.
The 'commercial paper' used by Tether cannot be US commercial paper, or else everyone in the US commercial paper market would have been aware of Tether's presence in the market. They won't say what it is, strongly implying that confidence would be harmed if the public found out," Gerard explained, adding that the other two major stablecoins are experiencing similar difficulties.
Goodman, on the other hand, believes that "Tether is possibly the greatest risk to the health of the cryptocurrency market, because it is largely backed by volatile investments."
"If the stock and crypto markets crashed simultaneously (as they did in March 2020), and there was a run on USDT where lots of people tried to cash in their USDT for dollars simultaneously, it is quite possible that there wouldn't be enough asset-backing to pay people 1 dollar for each tether," he said.
Suppose the USDT was not sufficiently backed, Goodman believes that this would cause a panic and the value of the USDT would plummet.
As a result, the prices of virtually every major cryptoasset would plummet as a result of this.
"As the cryptocurrency with the largest market capitalization, USDT has a significant impact on the market, and regulatory challenges do present risks.
It is possible that prices will plummet across the board in the event of a collapse," Hunain Naseer warned.
In the opinion of Christopher Bendiksen, the consequences of a financial collapse or a fatal regulatory or legal challenge would be immediate and severe, but they would not necessarily be long-lasting.
"I'm sure the overall market would suffer if one or more of them were to collapse, but it would be a temporary setback. Bitcoin does not need stablecoins to operate, and even though the loss of liquidity would be negative, I highly doubt it would present any existential problems for the industry at large," he said.
The future, alternatives, and regulation
Bendiksen went on to say that decentralized alternatives would eventually emerge to take the place of any stablecoins that were no longer in existence.
David Gerard, on the other hand, believes that they are more or less required to emerge if the market is to continue to grow.
"New stablecoins will emerge as the old ones are forced to cease operations for a variety of reasons. Since May, for unknown reasons, tether issuance has been suspended, causing USDC and BUSD issuance to soar like rockets," he explained.
Stablecoins, on the other hand, may eventually clean up their act, assuming that regulation is enacted that restricts their worst effects while still allowing for legitimate applications.
"As a general trend, I believe increased regulation acts like an evolutionary selective pressure on cryptoassets, favouring increasingly robust and antifragile solutions to any product which is desired by the market," said Christopher Bendiksen.
Similarly, Glen Goodman pointed out that US Treasury Secretary Janet Yellen's recent call for regulators to "act quickly" on stablecoins could ultimately be beneficial to the sector as a whole.
"If this is done in a sensible manner, it may even serve to encourage their use," he said in his conclusion. In order to regulate effectively without suffocating innovation, regulators must fine-tune their response.