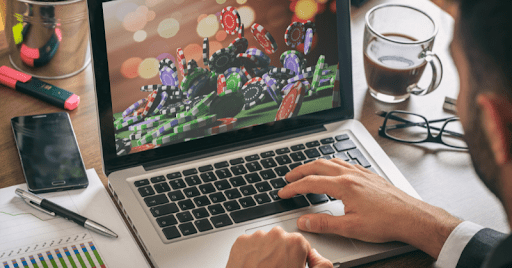 Since the first internet-based gambling sites launched in the mid-1990s, the gambling industry has established itself as one of the few industries that has consistently embraced innovative technology to suit evolving consumer expectations. As a result, the quick adoption of blockchain and cryptocurrencies by online gambling enterprises should come as no surprise.
The gaming industry has grown from humble origins to a billion-dollar industry. According to Grandview Research Inc.'s industry statistics, the online gaming market is expected to develop at a compound annual growth rate (CAGR) of 11.5 percent between 2020 and 2027, reaching $127.3 billion by 2027.
Online Gambling Platforms Expand Their Footprint
The emergence of blockchain technology and the proliferation of bitcoin casinos have been important factors in the online gambling industry's stratospheric expansion. With an increasing number of gaming sites accepting bitcoin deposits, the sector has grown more accessible and open.
In comparison to traditional casinos that accept fiat currencies, bitcoin gaming enables players and casinos to conduct real-time transactions without the use of intermediaries or third-party payment providers. Additionally, in comparison to fiat-based solutions, the underlying blockchain technology offers transparency, privacy, and security for a fraction of the cost.
Due to the global acceptance of cryptocurrency, interested players can easily participate in online gambling without regard for local constraints. For a long period of time, stringent regulatory laws barred players from some nations from entering the realm of online gambling. Nonetheless, because bitcoin casinos are decentralised and global in scope, it is becoming increasingly simple for anyone in the globe to easily register and try their luck.
Additionally, as a result of the COVID-19 pandemic, online gambling platforms saw a significant increase in new customers, mostly as a result of financial, social, and psychological issues. As the number of blockchain-based gambling platforms grows, they are expanding the online gambling landscape by offering new alternatives such as sports betting, online slots, and card games. This diversification is also a significant factor in the rapid growth of the online gaming ecosystem.
Disclaimer: This article is provided for informational purposes only. It is not offered or intended to be used as legal, tax, investment, financial, or other advice.