If you want to talk about cryptocurrency right now, you should talk about things like NFTs and the Metaverse. The next big thing might be decentralized social media. Decentralized social media platforms, like decentralized finance, don't have a single governing body. Someday, they may be able to compete with established platforms like Twitter, Instagram, Facebook, and TikTok.
The technology is now just past the stage where it is still in its infancy.
Subsocial's content lead and community manager, YB, says that centralized social media platforms aren't fair to community members and content creators because they don't give them a say in how their content is shared.
"It's pretty clear that centralized social networks are vulnerable to a lot of shady things, like people being shadowbanned or banned outright for any reason, and so on."
It gets even worse when you consider that a lot of people make their living on these platforms and their food bill is completely at the discretion of the government.
A company called Subsocial says that the centralized social media industry has global censorship, little customization, unfair monetization, algorithm rule, and network effects that only one company can use.
Stani Kulechov, the CEO of Aave and a developer of decentralized social media, thinks that content creators should be able to share their work with their followers without permission or being censored.
When he talks to Magazine, he says that "At least the people who are posting and sharing the information would be better off with decentralized social media."
When Kulechov said that crypto company Aave was thinking about building "Twitter on Ethereum," he made a lot of news both inside and outside of the cryptocurrency world.
Since @jack is going to build Aave on Bitcoin, Aave should build Twitter on Ethereum

— stani.v3 (👻,🌿) (@StaniKulechov) July 17, 2021
What Entre CEO Michael Marra thinks about decentralized social media is that it's all about "giving the power back to the people." That's what the DeSo blockchain is all about, he says.
As he says, one of the problems with centralized platforms is censorship, and another is that they make money, but we'll talk more about both of them later on.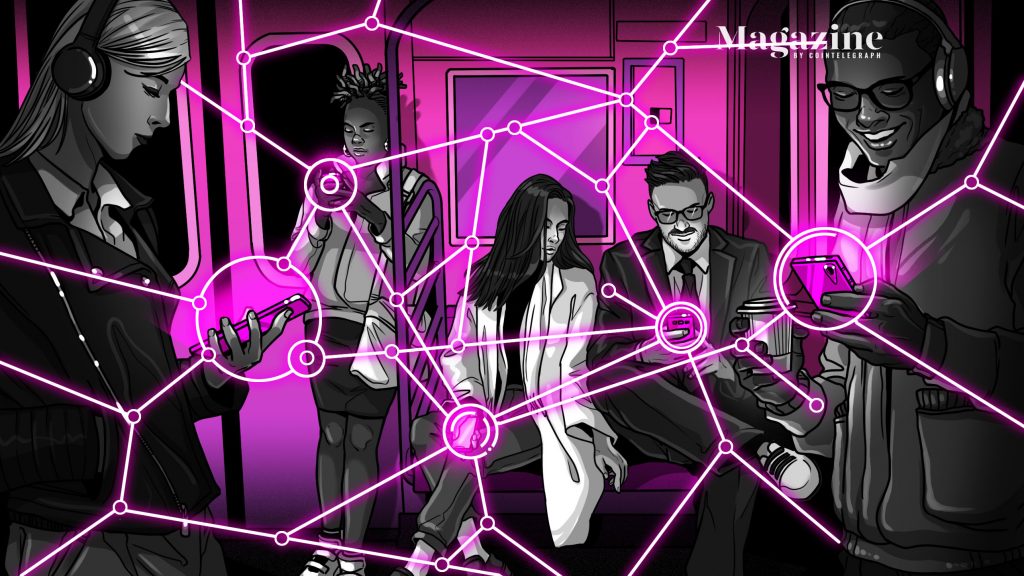 How does it all work?
In both types of social media platforms, a social graph is used to show how people on a platform are connected and how they communicate with each other. People can communicate with each other on a front-end platform on both types of platforms.
Traditional social media platforms are completely self-contained, and the host company owns the servers that store the data.
This means that Twitter owns and controls all of its content and all of your content on the site.
There are also Instagram, Facebook, and TikTok, and they all have the same thing going for them
When social media is decentralized, it lives on public blockchains, and for the most part people from all over the world can run a node, get into the back end, make an app, and curate a feed.
It says this on its website: "DeSo is a new layer-1 blockchain that was built from the ground up to help decentralized social apps grow to one billion users."
The blockchain is open source, with the code and all the data stored right on the chain itself.
People who make a profile in any of the apps on Deso can easily move that profile and their followers to any other app on the blockchain. There are more than 200 apps on Deso.
This new category of decentralized infinite-state applications that we are exploring with DeSo is a huge and untapped market for the crypto space to disrupt.

With DeSo, we can now enable so much more to live completely on-chain and become truly decentralized like never before.

— DeSo (@desoprotocol) March 24, 2022
Entre, which stands for "entrepreneur," is a social Web3 app that runs on DeSo. It's called Entre, and it stands for "entrepreneur."
On Entre, people who work for themselves, people who work for someone else, and any other professional can post Twitter-like content and make business deals.
Decentralized and digitally monetized, this app is a replacement for LinkedIn, Zoom and Google Calendar, all in one app. They can hold meetings, host events and hire employees.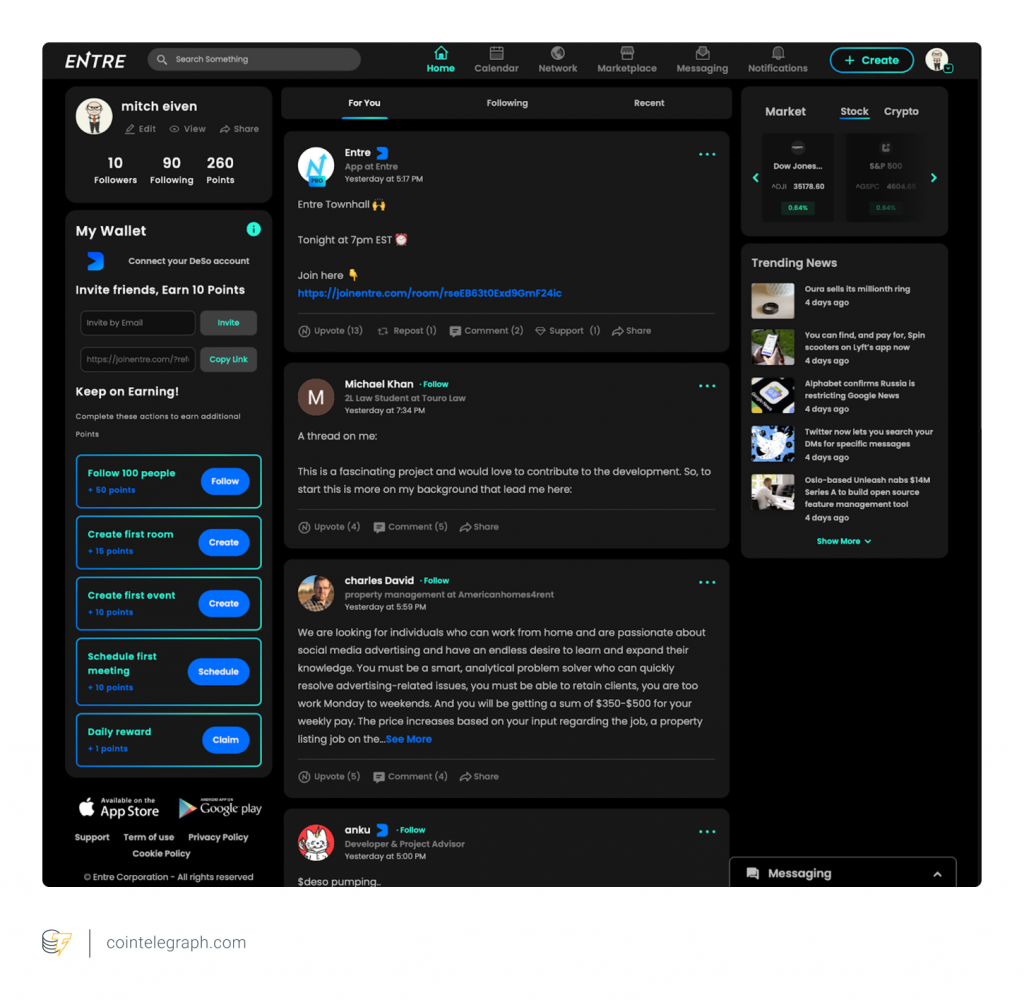 This means that while Entre is run on a social blockchain called Polygon, the Aave-backed Lens Protocol runs on Polygon.
Kulechov says that Lens is "in fact a social graph that is not centralized."
In Kulechov's words, when a user of an app on the protocol makes a profile, that profile is tokenized as an NFT.
A relationship is made on the blockchain when someone follows someone else's profile. This relationship can't be broken by the platform or anyone else, because those relationships are also tokenized as NFTs that can be seen in a digital wallet like MetaMask or on the web at OpenSea.
Subsocial doesn't think of itself as a decentralized social network, but rather as a tool for making social networks, not a network itself.
It lets people make their own profiles and "Spaces," and it claims to have serverless public timelines, roles and permissions, user governance, moderation, Spaces for DAOs, and a treasury.
Platform: Polkadot and Kusama are two of the two blockchains used by the platform. It recently built its first app, a hybrid of Reddit and Medium.
In the future, YB says, Subsocial plans to remove all of the profiles. This is what they say.
Because Subsocial takes up a lot of space, all images, videos, and text that people post on the site are stored on the InterPlanetary File System, which is linked to the blockchain.
Each IPFS node is run by one or more people, and those people are in charge of what they put on their servers.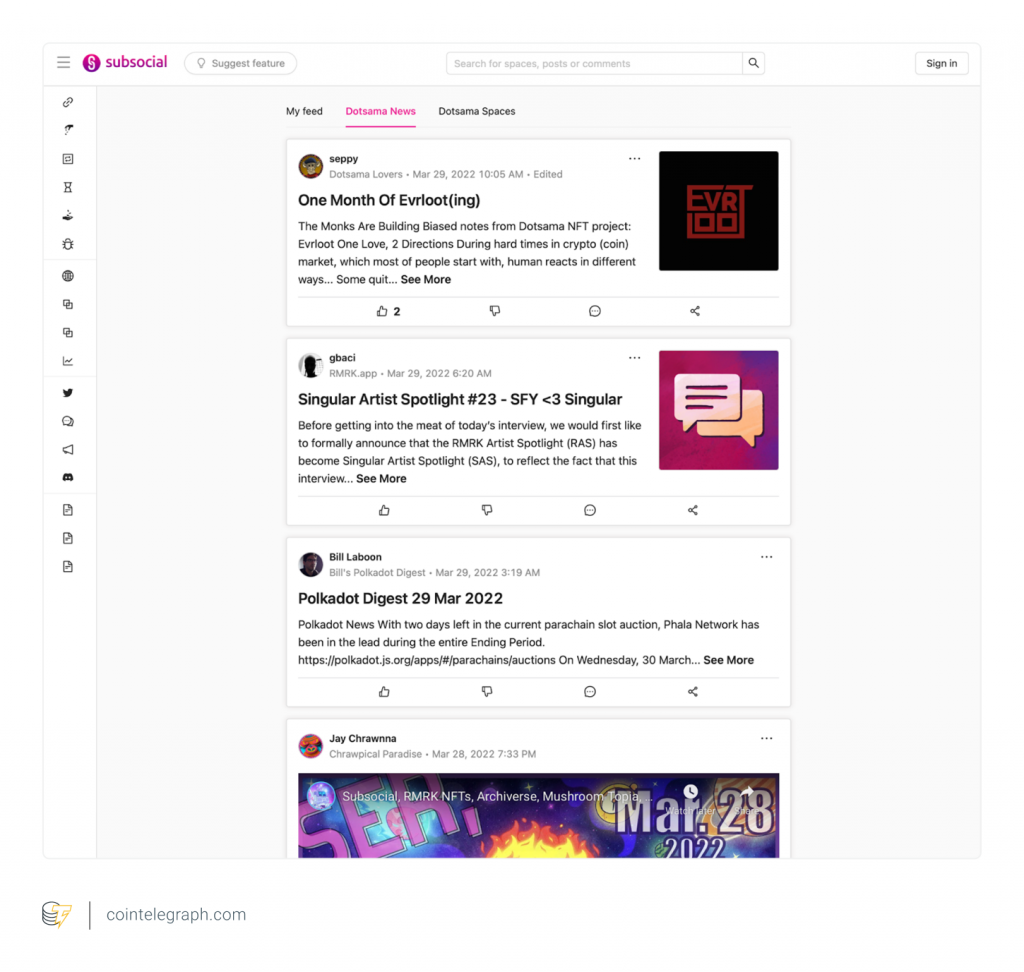 Lens Protocol, Entre, and Subsocial are all working on the next generation of decentralized, Web3 social platforms and apps. Other platforms like Theta and Audius are integrating social media tools into decentralized video and audio streaming services like Theta and Audius are.
Theta is a peer-to-peer network that runs on its own blockchain. Users share bandwidth to send videos to each other.
On its website, YouTube co-founder Steve Chen says the project can improve video delivery at a lower cost.
Like on YouTube, brands and creators can stream content as their followers comment on it in real time, just like they do on the video site.
It's also possible to use Audius, which is a decentralized audio streaming platform that runs on Solana and wants to give everyone the power to make money by distributing, selling, and streaming any kind of audio.
It's easy for artists to upload musical clips to the platform, and fans can listen to original compositions and mixes and build their own libraries. They can also repost, follow, like, and share content.
It has the same amount of fun, but there are no middlemen who throw ads at you and then take a big cut from the people who make the content.
What about the bad guys?
If creators have to keep an eye on their own content on a completely decentralized platform like Subsocial, how can illegal content and misinformation be stopped?
Social media moderation has been a hot-button issue for a long time. Platforms like Facebook and Twitter haven't always done a good job of both filtering out dangerous content and keeping people from talking about it.
He says Subsocial is censorship-proof. Kulechov says Lens Protocol is "built completely to be agnostic in the sense that it's a technical solution, basically to build social media apps."
It is Marra's job at Entre to say that:
"If it is open, that means anything kind of goes. You can control it to some degree."
Marra thinks that blockchains can be made to make it easier for people to report things.
Members of the community, especially those with more power, can tell when a bad person is posting bad content. People with a lot of followers or a good reputation can do this.
The offender's content should then be way down in the feed. This is what should happen.
Marra says that blockchain verification will also stop a lot of "this stuff." "You will know right away that this person is not legit," he says.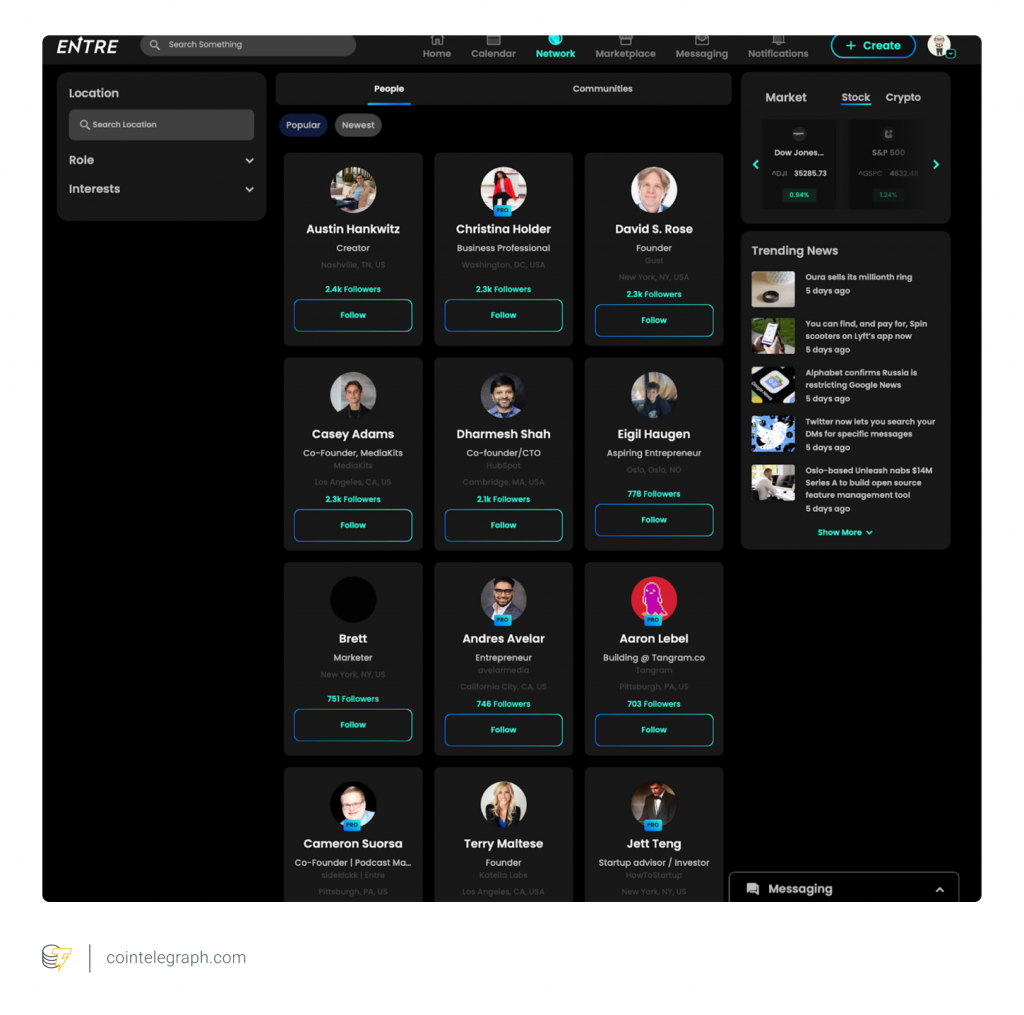 According to Kulechov, moderation is about giving everyone a choice.
People who use Lens Protocol have a common social graph where all of their information is linked together, but unlike traditional social media, that social graph isn't centralized like it is on other sites.
Kulechov thinks that decentralizing the social graph so that everyone can see it gives more chances to moderate more humanely.
This open interconnectivity gives developers the chance to make algorithms that help people keep their content safe.
There is a competition for access to accurate and appropriate information at the front end of protocol, which is what the applications, which are the front end of the protocol, do.
People say that Kulechov is right:
"Maybe the right type of content moderation might be community-led, where the community's site people announce themselves and moderate or select the algorithms."
Subsocial has three levels of restraint, and each one is different.
It all starts with a Space.
People say that you should think of Spaces as a subreddit, a Facebook group, a Twitter account, or even just your own blog, YB says.
In each Space, there must be at least one person who can control what people write in it.
Also, each IPFS node is run by at least one member of the community who owns it.
They can decide what they put on their servers.
Finally, anyone can make a front-end social app on the platform.
People who use a front end that connects to one of the Subsocial blockchains can read all of the content on the chain.
The operator can choose what is shown on the front end.
Learn the difference between moderation and censorshiphttps://t.co/zb923stv1o

— Subsocial (@SubsocialChain) March 22, 2022
It could still be shut down with an on-chain vote, though. A front-end operator and a group of bad people could still spread misinformation or illegal content, though.
"That would be a big deal and probably a big hassle, but it would also be pointless, because those people could just make another Space right away and keep going."
As YB points out, people use the internet to plan violence and share illegal content all the time. It's just that it's hidden, which it would still be if large social networks built on Subsocial didn't show that stuff.
One thing to keep in mind, though, is that social media platforms that have the power to shut down a person or group with a single click have had a hard time keeping illegal content and misinformation from spreading for years.
If you want to be more egalitarian, you could ask the community to moderate itself. But even though this sounds good on paper, it might not work out well in practice.
Self-moderation on platforms that can't be censored would probably require a lot of help from people in the community.
People who are active in their communities may not always be able to keep an eye on bad people on a decentralized network in the Web3 environment.
For example, a recent study ranked community involvement in DAOs and found that the results were mixed.
How might a censorship-resistant platform respond when a very large group goes off the rails?
Considering the huge amount of misinformation that could be spread by a well-organized, well-funded army of bots, could a decentralized network be used to keep a community of thousands of such propagandists in check?
Show me the money — all the money
One of the most important things about the decentralized social media ecosystem is that everyone in the community and the people who make the content can make money.
Decentralized social earning could be a game changer for content creators and encourage more people to use it. This contrasts with the unbalanced monetization schemes in traditional social media.
I think that the money thing will be more appealing to content creators than any kind of censorship resistance.
You can see this in the way YouTube takes 45 percent of ad revenue, which is pretty crazy.
He says, "I'm really excited to see how the tips work."
I hope we get a micro-tipping economy, because it will be so easy to do.
Seeing a joke that makes your day better as you scroll through the timeline is great.
Why not give them a quick $0.50 tip?
Lens Protocol doesn't do anything to make money.
To make money, "We didn't want to touch it at all and let our developers come up with ways to make money."
Lens is currently working on a very basic way to make money from content collection and amplification.
When artists post music, text, audio, or video, their followers can get them as NFTs.
There are a lot of different ways to collect NFTs, and followers can make the NFTs themselves.
If those followers then spread the content, the creator gets paid mirror fees, which is like a retweet on Twitter.
On the DeSo blockchain, the DESO token can be used to buy creator coins, which can then be used to make more coins.
BitClout, Diamond, and CloutFeed are Twitter-like apps that let people who follow a certain person invest in their coins, which makes them more valuable.
Even though it's not recommended, the coins can be turned back into DESO and traded or exchanged for money.
Entre, according to Marra, doesn't care about "creator coins." Instead, it wants to let creators earn DESO through tips when they livestream.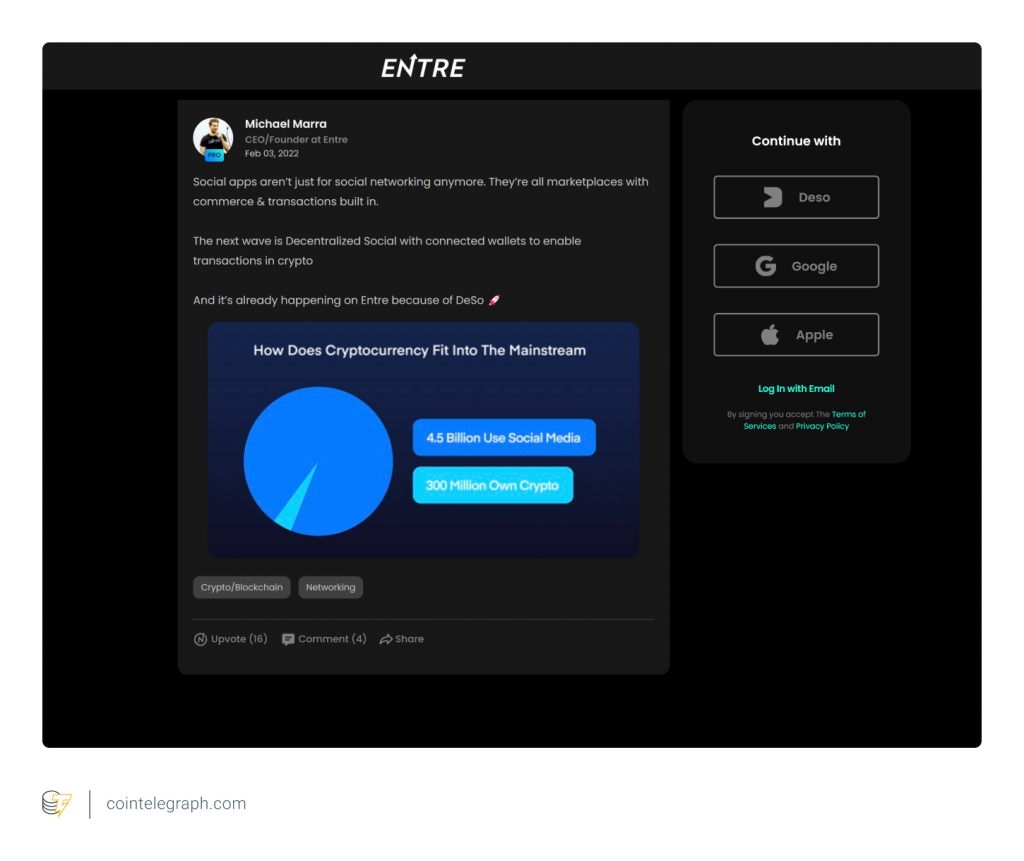 People who have an account on Entre can also sell tickets to in-person or virtual events and charge for one-on-one services like consulting and coaching.
Apps like Slack and Discord have a community feature where people can pay to join and people can sell things like graphic design.
DESO is the only cryptocurrency that can be used on the app right now, but Marra plans to add more tokens in the future.
Theta has been in the business of making money for a long time. It gives crypto rewards to creators, fans, and hosts.
These two tokens are called THETA and TFUEL. They are used on the platform.
Owners of THETA, the token used in the game, can vote on how the game is run and earn more THETA by staking or running a node.
TFUEL is a utility token for the platform and can be earned by people in the community who watch streams on Theta.tv or host Guardian and Edge Nodes.
To buy real-world goods or subscriptions to paid content, they can use TFUEL. They can also spend it in the TFUEL Shop.
Just got Presessence vol 1 up on @AudiusProject ! LFG – thanks to everyone sharing It on there Right now!

I see the value in web 3 streaming services, along with NFT platforms for songs. It's important, especially for the transition from web 2. https://t.co/55XIITyUNX pic.twitter.com/2B4YajNpkG

— Domino △ (@dominosmusic) March 8, 2022
Audius, on the other hand, uses its AUDIO token to help artists make money and fans support them.
Members of the community can get AUDIO for uploading, inviting, going mobile, linking social media accounts, and keeping up with listening streaks, among other things.
Fans can send AUDIO to the artists.
If social media isn't centralized, users and content creators could end up with a lot more equity and privacy than they do now.
It could change the social media industry and set the stage for a new era of digital free speech in the Web3 era.
To do that, it may still need to find a hard-to-find answer to content moderation, and it will need to get everyone else to use it.
People who are thought leaders in the space are looking ahead to the future, says Kulechov.
"Adoption is gonna be a long game, for sure. It might take years to adopt. It's basically one application at a time."