LAST WEEKS IN A NUTSHELL:
September has been a hot one thus far, hasn't it?
There have been numerous ups and downs recently in the Solana Universe. Between the 24-hour downtime of the entire Solana Network (SOL/USD) – which resulted in a roughly 25% decline in the price of its native token SOL from above the critical $170 level to $135, followed by a steep recovery in both price and general retail confidence, through to extreme uncertainty experienced by coin holders (SOL/USD: $138, on Fri 24th Sep, down -8.
Then there was the Chinese issue and subsequent terrible news of an alleged total ban on all mining and crypto operations, which rattled the price of crypto even further. The Chinese real estate tycoon Evergrande had the potential to have a negative impact on the US stock market (eventually the Chinese government decided to intervene but this is far from finished). SOL (7th largest cryptocurrency; 41 billion $ market cap) has had an incredible ride.
PRICE ACTION AND TA:
The previous week in Solana (SOL/USD), there was a 24-hour outage following an alleged attack on the Network, during which its dollar value was cut by approximately -25 percent. The Solana Network is one of the newest blockchains in operation (whitepaper released in 2017 against 2008 for bitcoin).
The situation was handled fast and professionally, with their connection with the public on Twitter handling the pressure well. The price sank by approximately -25 percent and then recovered to over $170 in the following five days (the outage took place on 14th Sep). This is only the fourth or fifth steepest short-term decrease in SOL's price history).
Then, when Chinese company Evergrande failed to pay their dollar interest, we witnessed SOL (SOL/USDT) momentarily fall below the critical $135 level.
In other news, SOLANA NFT MARKETPLACE has seen unprecedented inflows (current capitalization $466 million; up 14.6 percent in a week). And this additional weight of investment money was felt when BTC (BTC/USD) fell about 17% in two days and SOL (SOL/USD) emerged as one of the strongest coins when the market rebounded. Investors and users respect Solana's incredibly cheap transaction costs, particularly in comparison to SOL's competition, such as ETH (ETH/USD) (second cryptocurrency valued at $2.9k on Fri 24th Sep; down 19% from last week). With Ethereum's negative reputation for high transaction costs, SOL appears to be benefiting from increased excitement and reputation as a result of ETH investor inflows.
While the interruption may have lasted the entire 24-hour period, the network is now fully operational. According to Coinshare data, Solana-backed businesses received a greater infusion of capital than Bitcoin or Ethereum-backed ones.
On the 4-hour chart, we have strong support from the 200 EMA (blue line), but price would need to break out of the descending channel (between the pink trendlines) and above the all-important round number of $150 (thick yellow line indicating previous significance as previous support and resistance on multiple occasions) in order to convert all TA people to bullish medium-term. The RSI appears to be on the verge of reversing its bearish trend if the price remains above the $135-155 level.
The worst-case scenario would be a return to single digits and a test of the descending channel's lower trendline around $90-95. (surely EXTREME FEAR would follow indicating the perfect time to dollar average into SOL, not an investment advice, just food for thought).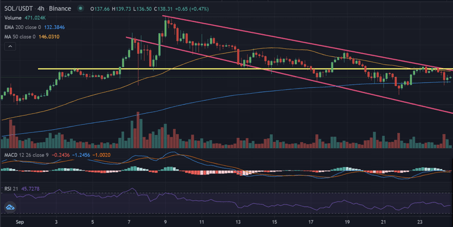 UPCOMING MONTHS FOR SOL
Our attention should also be drawn to the Old S&P500 (SPX/USD), as its correlation with the direction of the cryptomarkets has been quite remarkable in recent weeks. While the US Stock Market was testing the customary support on the verge of a long-awaited correction and inciting widespread FEAR, the total value of all Cryptocurrencies went below $2 billion (now at $1.97 billion; down 12% from last week). The S&P500 has recovered all of its losses from Monday the 20th of September (from as low as 4314 to its pre-Evergrande crisis levels of 4450, signaling a possible bounce off the support and continuation of the uptrend for at least another month).
At the time, none of these tales has a greater impact on crypto prices than any amount of TA. Additionally, one must bear in mind that SOL (SOL/USD) may still be in a phase of price discovery, having reached its all-time high above $215 earlier this month.
However, the near medium term outlook appears to be favorable, with SOL capitalizing on the rising NFT mania and growing institutional investment in Solana Network (Cathie Wood and Kevin O'Leary are among the prominent backers). It's simple to be positive about the SOL Network's future if they successfully recover from their recent security compromise and fortify their network. This will instill greater confidence in investors, allowing them to invest more money in SOL (SOL/USD) and view the current crisis as as a hiccup on the road to continued development. As with the ETH network in the past, the network will only strengthen as a result of this.
Additionally, there is an upcoming Solana event in Lisbon, and given the current hype (which has only slightly diminished since the outage more than ten days ago), a large number of capitalists should be in attendance, as well as possibly a slew of investment ideas (more details next week in this space), we could very well see some bullish news from this event.
Disclaimer: This article is provided for informational purposes only. It is not offered or intended to be used as legal, tax, investment, financial, or other advice.