Because of the consecutive weeks of price rises experienced by its SOL coin, Solana has been a popular topic of discussion. SOL was trading at roughly $207 at the time of writing, representing an increase of 11,400 percent from its low point of less than $2 in January. Solana is currently worth over $60 billion and is sixth among the top ten cryptocurrencies in terms of market capitalization, displacing Dogecoin from the number one slot (DOGE).
This optimistic trend is likely to be fueled by recent fundraising from investors led by Andreessen Horowitz and Polychain, which was announced in June. A total of $314 million was raised for Solana, which will be utilized to advance its technology in the decentralized finance (DeFi) field. It is worth noting that the investment was made in the form of SOL coin purchases rather than regular equity stock acquisitions.
Another important factor contributing to Solana's SOL price increase is the announcement of its fourth hackathon event, which will take place on Oct. 8. In order to be eligible to win cash prizes and seed funding opportunities, developers must submit their projects to a hackathon in order to be eligible to participate. This was viewed as a positive development for Solana, since it may aid in the widespread adoption of the company's technology.
As a result, with Solana making progress, observers can't help but draw parallels between it and another programmable blockchain, Ethereum. Numerous people have speculated that Solana might be the Ethereum killer, competing with other cryptocurrencies such as Polkadot, Avalanche, and the Binance Smart Chain.
What is Solana?
Solana is a blockchain network that operates at the layer one level and is capable of implementing smart contracts. Solana is a cryptocurrency that was founded in 2017 by Anatoly Yakovenko, a former Qualcomm senior staff engineer manager, and is positioned as a solution to the scaling challenges that have plagued Bitcoin and Ethereum. Solana was able to raise $20 million in a Series A fundraising round sponsored by Multicoin Capital within two years after its inception.
In contrast to Bitcoin (BTC), which is commonly accepted as a peer-to-peer form of money, Ethereum (ETH) is a platform that allows nearly anything to be turned into a peer-to-peer transaction. Solana is on the same level as Ethereum in terms of smart contract capabilities and layer-one architecture, but it also offers a number of additional features.
However, it cannot be denied that Ethereum is still the most popular platform for developing decentralized apps (DApps) and deploying smart contracts, despite the fact that it is hampered by historical flaws that it is working to resolve over time. Because of a lack of scalability, users are occasionally subjected to exorbitantly high gas prices. It is not expected to be fully integrated into Ethereum's mainnet until late 2021 or early 2022, despite the fact that its transition to proof-of-stake (PoS) is already underway — and is expected to reduce transaction fees through increased transaction throughput due to the application of shard chains. This is due to the fact that the Beacon Chain, which will coordinate all of the shards, is currently in development despite the fact that it is scheduled to go online in December 2020.
Solana, on the other hand, comes pre-configured with a proof-of-stake structure serving as its consensus mechanism. The proof-of-history (PoH) protocol, on the other hand, is the most significant advance. The ability of validators to determine the chronological order of incoming blocks of transactions may be hampered in a point-of-sale system. In order to get around this, the PoH has created a historical record that cryptographically confirms the amount of time that has elapsed between two events.
The Solana validators, in essence, each keeps its own "clock," which checks the order of the events and hashes the passage of time as they occur. As a result, it generates a sequence of hashes that are all achieved by the application of a verifiable delay function. Yakovenko defined it as "a technique to encode time as data" in a 2018 interview.
To put it another way, Solana can execute transactions as they come in rather than having to wait for a block to be filled, which can be a time-consuming procedure. As a result, Solana is more scalable than certain other blockchains, allowing it to execute far more transactions.
Aside from that, Solana has a block propagation technique known as Turbine, which divides critical data into bits that can subsequently be delivered to nodes at a faster rate without consuming a large amount of bandwidth. Additionally, Solana incorporates Tower BFT, an enhanced version of the practical Byzantine fault-tolerant system, into its delegated proof-of-stake blockchains, which are also proof-of-stake. Tower BFT is an excellent complement to Point of Sale (PoS), as it serves as the network's gatekeeper.
An Ethereum killer?
Because Solana has 600 nodes and 1,000 validators, it is still considered a "Ethereum killer" even though Ethereum is the superior network (it has 7,000 nodes and 90,000 validators, compared to Solana's 600 nodes and 1,000 validators). A big part of this is due to the way in which its innovations address the perceived shortcomings of the Ethereum blockchain.
Transaction verification is shortened as a result of the aforementioned PoH consensus, in which validators maintain their own clock, because nodes no longer have to put in processing resources to check numerous timestamps, as was the case previously. Transactions are completed more quickly as a result of this improvement. In addition, Solana claims to be capable of processing up to 60,000 transactions per second, which is significantly faster than what Ethereum and even the combined capabilities of Bitcoin, Visa, and XRP can do.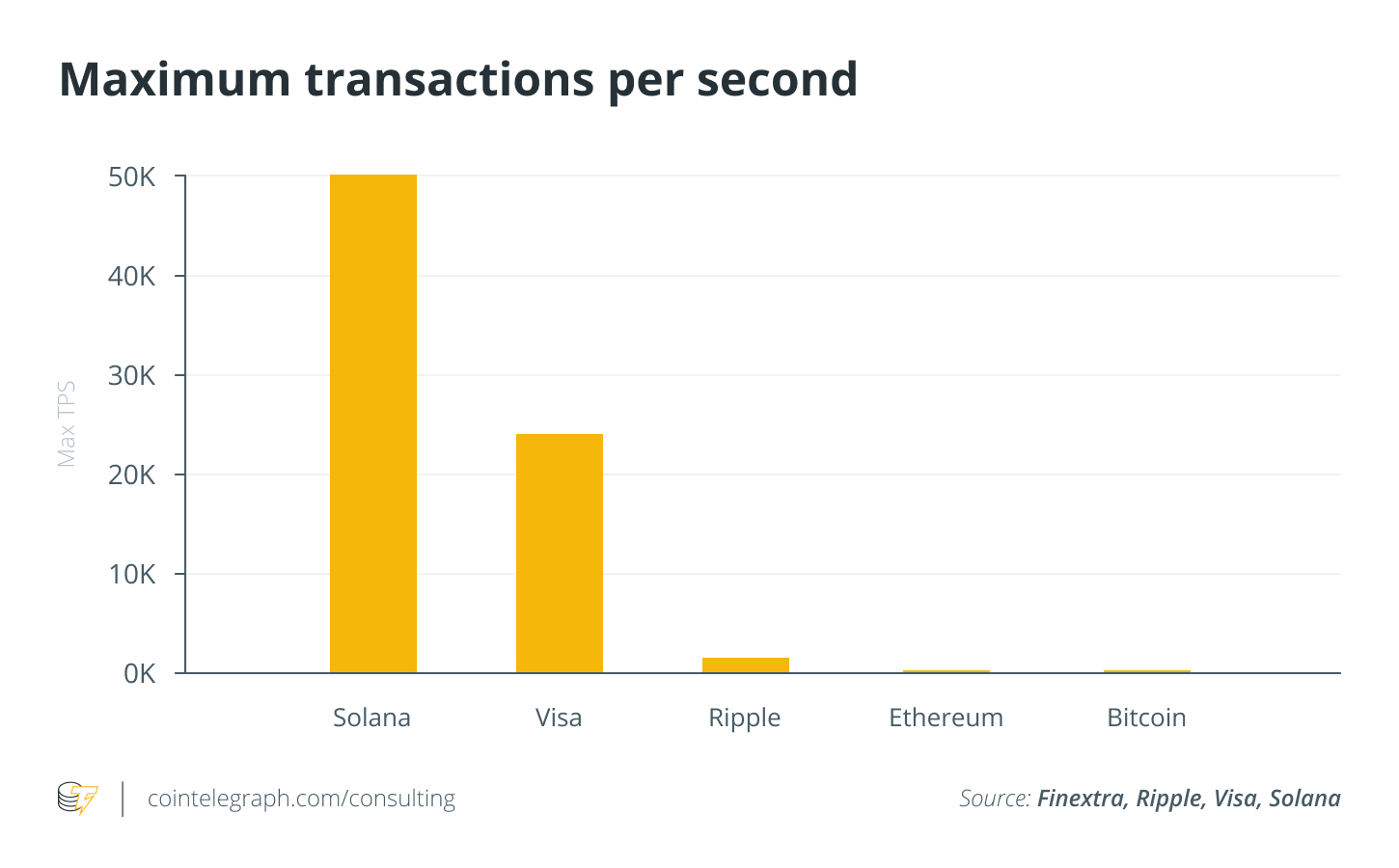 On top of that, there is a significant reduction in transaction expenses as well. As previously stated, one of the most significant disadvantages of using Ethereum is that gas fees can be extremely variable and ridiculously expensive. Users have been known to pay as much as $65 to complete a transaction. One user even paid $9,500 for the privilege of trading $120 on Uniswap last year. In the case of Solana, transaction costs can range towards the minuscule amount of $0.00025 per transaction – worlds apart from what Ethereum charges.
Joining the NFT trend
Nonfungible tokens (NFTs) have been the talk of the town this year, as artists, investors, collectors, traders, and celebrities have all gotten their hands dirty in this blockchain-based movement to make money. The Ethereum network continues to be the primary network for the exchange of NFTs. Solana, on the other hand, is making a concerted effort to get a foothold in this emerging industry.
The scalability of a new NFT project dubbed Degenerate Ape Academy was put to the test when the entire collection of 10,000 apes sold out in under eight minutes, demonstrating the project's potential. This resulted in a spike in the price of SOL, which rose to $53.70 on August 15 from a day earlier trading low of $44.11.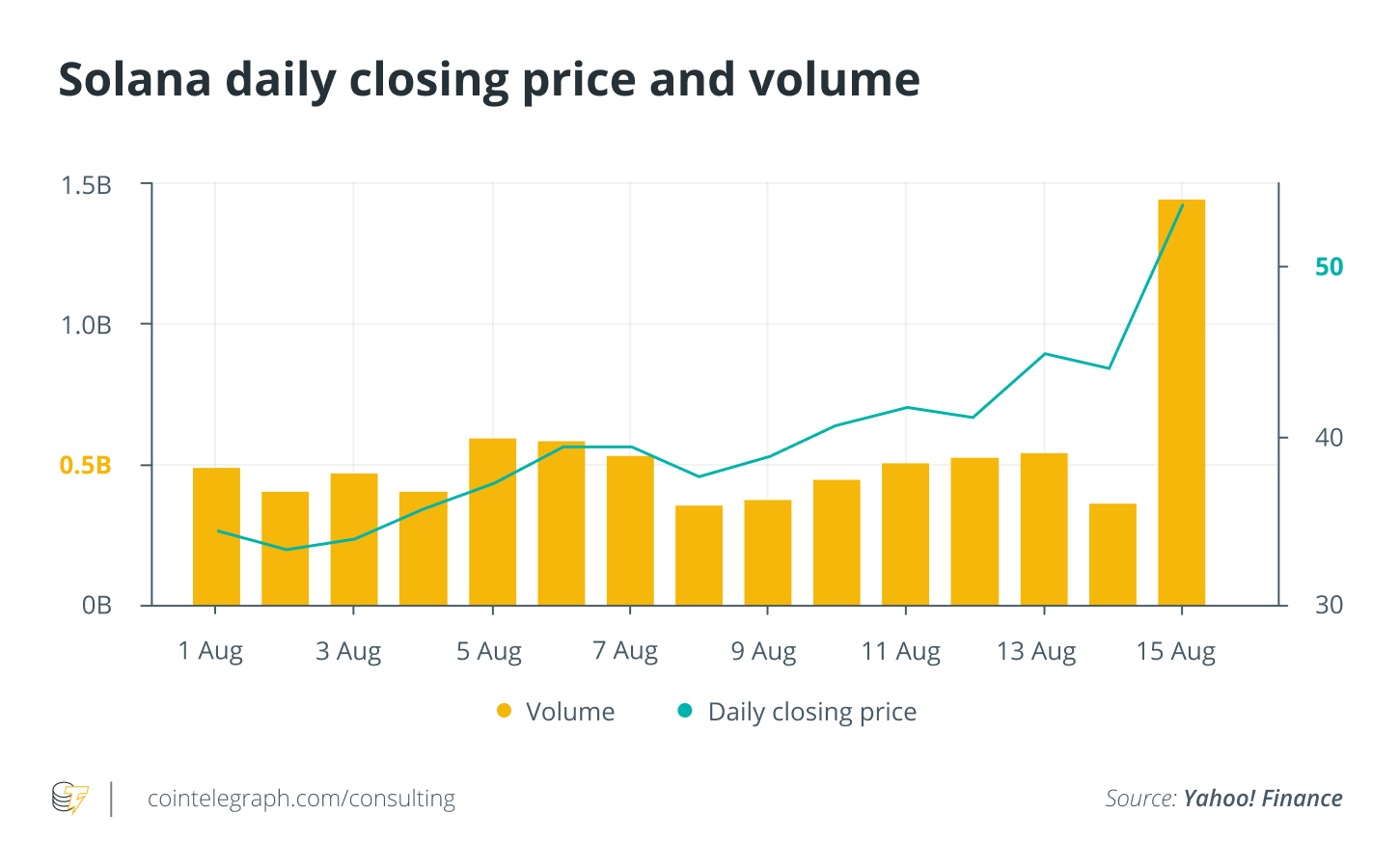 The Solana NFT marketplace Solanart, which tracks the sales of the NFT collections, reveals that the Degenerate Ape Academy NFTs are the leading force in Solana NFT sales, according to the data collected from the marketplace. In just a few months, the collection has amassed a total of 765,000 SOL tokens, which is equivalent to almost $122 million in current market value.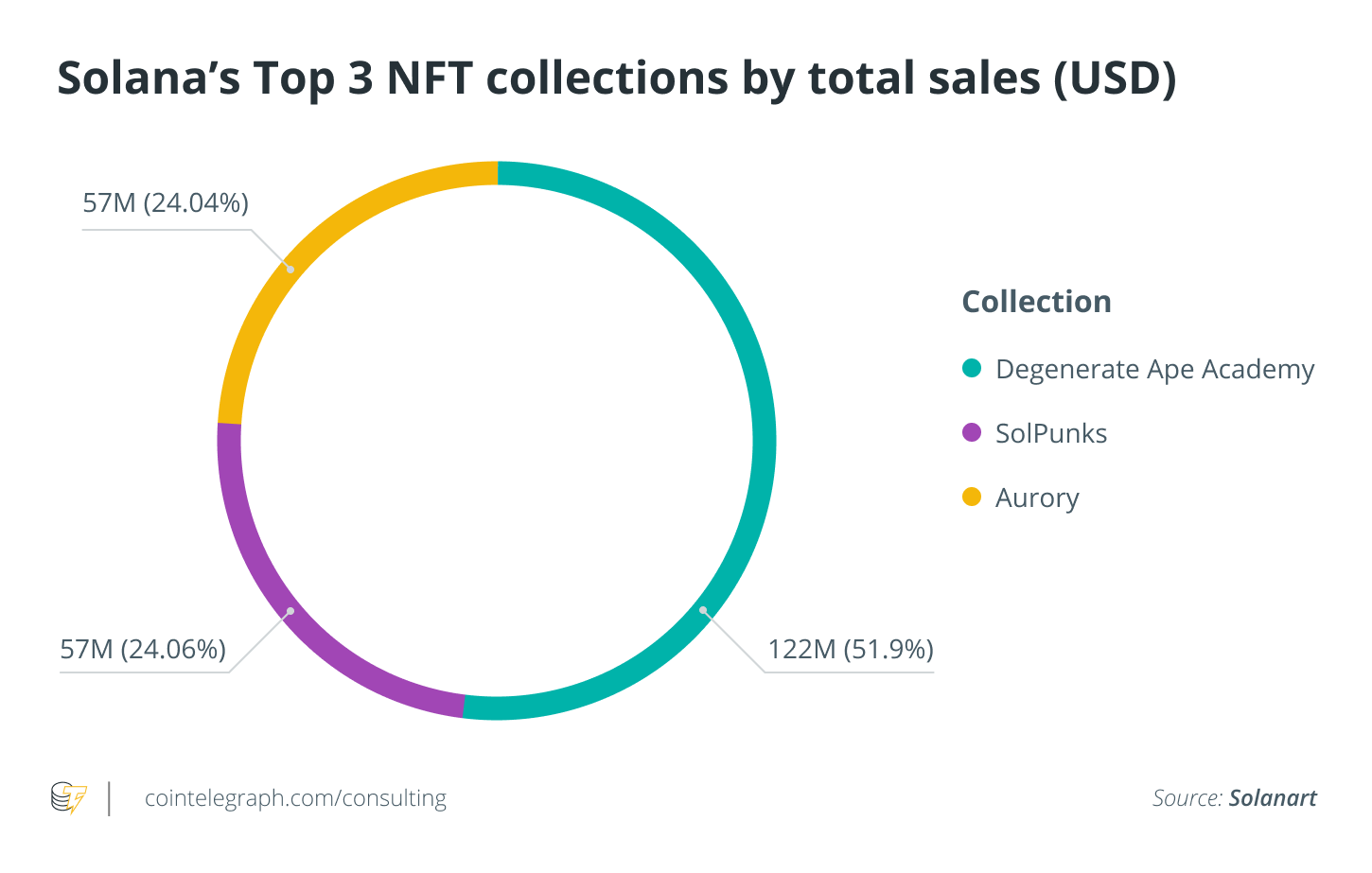 As a result, users who previously enjoyed trading on the Ethereum network may be enticed to switch allegiances entirely. Nathan Ross, a former chief marketing officer of the dating platform Hinge, recently tweeted about how Solana is a better fit for NFTs than Ethereum since it is faster, cheaper, and easier to use than the latter cryptocurrency.
Then there's the integration with FTX, which will launch its own NFT marketplace on September 6 in conjunction with the popular crypto derivatives platform.
Can Ethereum compete with Solana in the long run?
The question now is whether Solana's blockchain platform will be able to compete with the blockchain platforms of the top two cryptocurrencies. It is not scheduled to be released until sometime next year, as Phase 2 of the upgrade's timeline is not expected to be completed until late 2021 or early 2022. Proponents predict that, as a result of the improvement, transactions on Ethereum will become significantly cheaper and may perhaps reach 100,000 transactions per second or more.
Despite this, Solana's design architecture enables it to keep up with the times, as it is theoretically designed to scale with Moore's law as well. This means that if computers become quicker throughout time, Solana will also become faster as a result. To put it another way, Solana is future-proofing itself by increasing its scalability capabilities. If this turns out to be the truth, will Solana be the one to blame for the demise of the Ethereum cryptocurrency?
CoinNewsDaily, additionally, we also evaluate the latest significant developments in the business, including as mergers and acquisitions, legislative changes, and enterprise blockchain integrations.