In the last 24 hours, the cryptocurrency Solana (SOL), which is a rising Ethereum competitor, has lost 15 percent of its value as a result of a denial-of-service attack.
At 12:38 p.m. UTC on September 14, the Solana Status Twitter account revealed that the mainnet beta of the cryptocurrency had been experiencing occasional instability for 45 minutes.
Following the announcement of the incident, Solana Status revealed that a significant spike in transaction load to 400,000 transactions per second had overburdened the network, causing the network to fork and resulting in a denial-of-service attack and network forking.
1/ Solana Mainnet Beta encountered a large increase in transaction load which peaked at 400,000 TPS. These transactions flooded the transaction processing queue, and lack of prioritization of network-critical messaging caused the network to start forking.

— Solana Status (@SolanaStatus) September 14, 2021
Because Solana's developers were unable to stabilize the network, the network's validator community decided to orchestrate a network restart on its own.
Solana's community is currently working on a new version, with further details scheduled to be provided in the near future.
In the aftermath of the tragedy, Solana's stock market suffered a 15 percent drop in value in just 12 hours.
Prior to the incident, SOL had already retraced from its all-time high of $215 on September 9 to trade below $175, but news of the outage caused prices to plummet below $145.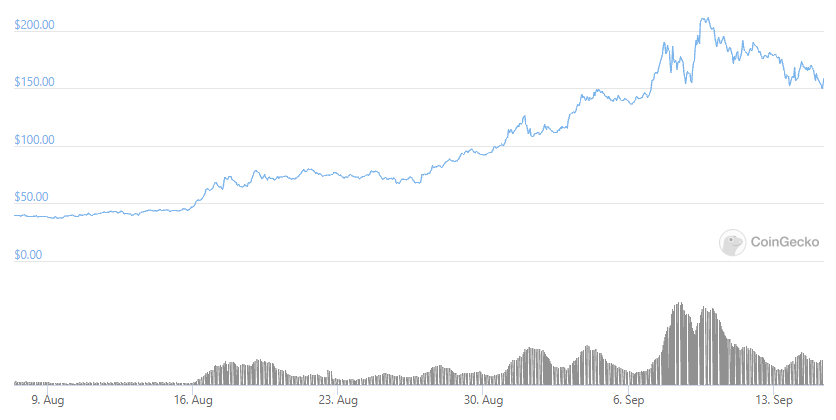 Solana is not the only high-profile cryptocurrency network to have experienced downtime on September 14, with Ethereum layer-two rollup network Arbitrum One stating that its sequencer had gone unavailable for approximately 45 minutes during the day.
New transactions could not be submitted during this time period, despite the fact that Arbitrum One stressed that customer funds "were never at risk."
Additionally, Offchain Labs, the team responsible for the development of Arbitrum One, stated that the network is still in beta and cautioned that "additional outages are possible in these early days."
Lol, WTF is going on today? $sol goes offline for a few hours#arbitrum goes down for almost an hour#ethereum got attacked (unsuccessfully)

— Lark Davis (@TheCryptoLark) September 15, 2021
Because of a "bug that caused the sequencer to become stuck," the team believes that the downtime occurred because of a huge number of transactions being sent to the Arbitrum sequencer during a short period of time.
If that wasn't enough drama for one day, an unknown entity attempted, but was unsuccessful in its attempts to attack Ethereum, with developer Marius Van Der Wijden alerting the public to this failure on social media.
It appears that just a limited number of Nethermind nodes were duped into switching to the faulty chain, with all other clients having "rejected the long sidechain as invalid," according to the developer.
Since then, all of the impacted nodes have restructured themselves to rejoin the correct chain.