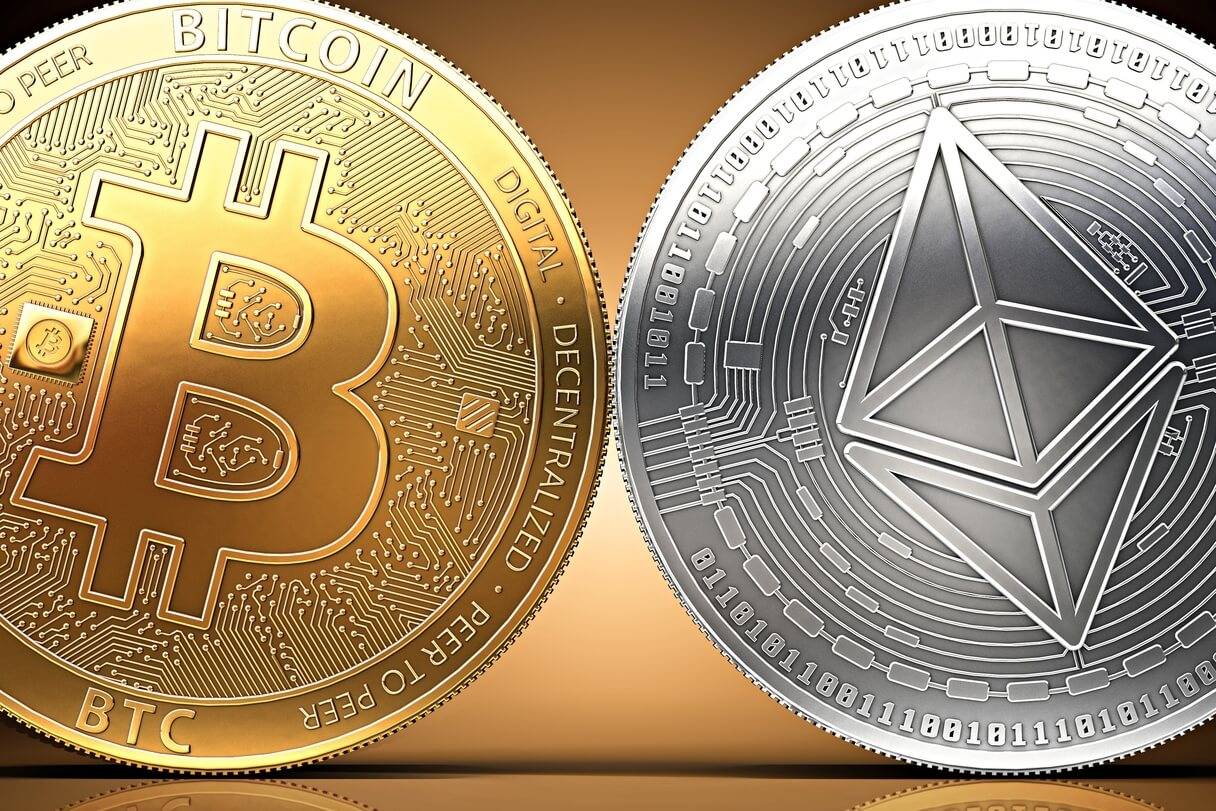 Despite the fact that bitcoin's (BTC) price has nearly doubled year to date, the cryptoasset market has grown from slightly more than USD 750 billion to around US $3 trillion in the previous year.
To be fair, significant events this year, like as El Salvador becoming the first country to recognize bitcoin as legal cash and Tesla being the largest company to do so, bolstered bitcoin's price increases.
Ethereum (ETH) also saw important bullish developments this year, the most noteworthy of which was undoubtedly the acceptance of the EIP-1559 upgrade, which introduced a supply-reduction token burn mechanism for the first time.
And, while 2021 was a banner year for the cryptocurrency sector, several analysts contacted by CoinNewsDaily.com feel that 2022 will be even better. However, as is always the case, people have widely varied viewpoints.
To get a feel of what to expect in 2022, we contacted a number of cryptocurrency industry specialists and inquired about their 2022 bitcoin (BTC) and ethereum (ETH) price estimates.
At the time of writing, the Bitcoin (BTC) exchange rate is about USD 49,350 and has declined 11% in the last month, bringing its gains over the last 12 months to less than 193%. The price of ETH is currently hovering around USD 4,330, having fallen about 2% in the last month. In a single year, it climbed by 656 percent.
Bitcoin price predictions for 2022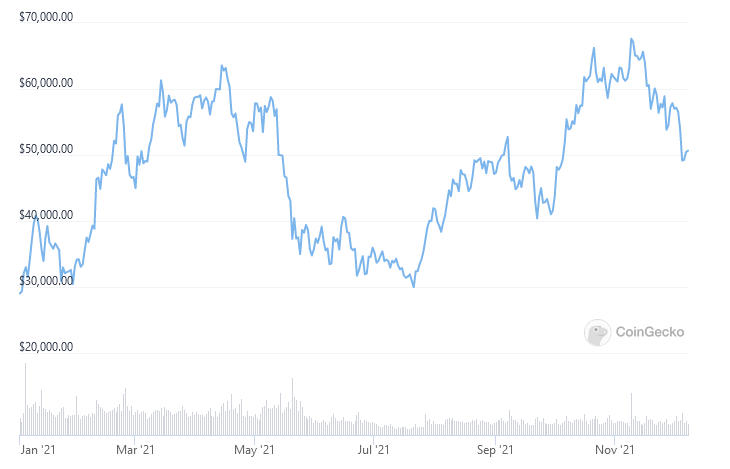 Although the previous year has not been without its ups and downs for bitcoin holders, with both strong rallies and severe falls, all comments were hopeful about the cryptocurrency's price for the coming year.
"My forecast is that it will remain volatile, but the long-term trend will be upward, and it will more than double in terms of total market capitalization per year on average," Kjetil Hove Pettersen, CEO of Norwegian Bitcoin miner Kryptovault, stated.
"I expect a sharp increase short-term, in 2022 we may see 140k USD or higher."
Pettersen did emphasize, however, that it is "difficult to predict with any degree of accuracy" where the price will move, and that technical analysis will not always work when external factors enter the picture.
"[…] there are so many variables and external influences at work that it's difficult to apply standard [technical analysis] or historical comparisons," the Bitcoin miner explained.
Meanwhile, Bernardo Schucman, Senior Vice President of Bitcoin miner CleanSpark's Digital Currency Division, expressed optimism for the year ahead for the world's most popular cryptocurrency.
"I believe in 250K USD per BTC at the end of 2022 based on the huge number of Bitcoin mining companies that were founded in the United States in 2021," Schucman predicted.
He said that these new miners are not just increasing the Bitcoin network's hashrate, or processing power, but are also "strong holders of the asset."
"The final, but most critical, aspect in maximizing the BTC price increase will be increased usage of BTC wallets integrated into social media platforms such as Twitter," Schucman continued, stressing that Bitcoin's Lightning Network will provide "a tremendous push for BTC mass acceptance."
Julian Liniger, CEO of Switzerland-based bitcoin broker Relai, was the most enthusiastic of the experts we spoke with regarding the coming year, predicting that BTC usage might reach a new high in 2022.
"Individuals, businesses, and now even countries are increasingly adopting bitcoin, while fiat currency inflation is increasing," Liniger told CoinNewsDaily.
He claimed that bitcoin's daily price swings "went from hundreds to thousands to tens of thousands, and will eventually reach the hundreds of thousands of dollars in 2022."
And, if Relai'a CEO is correct, the coming year looks incredibly bright for the world's most popular cryptocurrency:
"I think 2022 will be the year bitcoin reaches 500K USD," Liniger estimated.
Others expressed optimism for the coming year, though not as strongly as the Relai CEO.
As predicted in early November by popular independent bitcoin on-chain and technical analyst Matthew Hyland, bitcoin might reach USD 250,000 as early as January 2022, albeit this would need a significant and rapid increase from the cryptocurrency's current level.
Hyland explained his excessive price target by stating that we have not yet seen the excitement exhibited in 2017 in the current market cycle, stating that this should occur during "the last stages of a bubble."
"I anticipate euphoria will commence when bitcoin reaches USD 100,000," Hyland predicted on Twitter in late November, right before the market began correcting lower.
Finally, while Simon Peters, a crypto analyst at forex and cryptocurrency trading platform eToro, could not issue a clear price estimate, he did note that the bitcoin price is normally determined by the block reward halving every four years.
"We saw a bull market in 2013, 2017 and we're seeing it now in 2021. However, where we saw parabolic price increases towards the latter end of the 2013 and 2017 bull markets, we haven't yet seen it this year, which suggests there could be further price increases to come before we reach the ultimate top," the analyst said.
Ethereum price predictions for 2022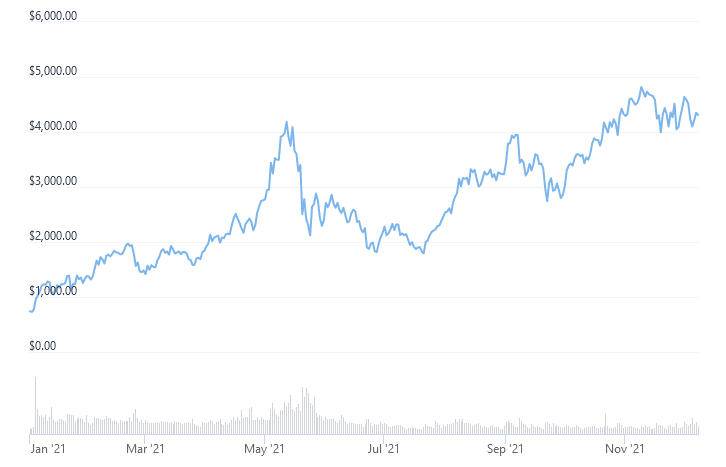 As with bitcoin, ethereum has experienced its share of positive sentiment in 2021.
However, the second-most valuable cryptoasset is regarded to be more volatile than bitcoin and, according to several analysts we spoke with, more difficult to forecast.
As a result, a smaller number of commentators were willing to provide specific price targets for ETH.
"I dare not speculate" on where ethereum's price will be in 2022, Kryptovault's Kjetil Hove Pettersen said, adding that it will likely be "much more volatile than bitcoin."
"It is possible that it will outperform bitcoin, but there is also a lot more risk associated with it, just like with every altcoin," Kryptovault's CEO said.
On a similar note, eToro's crypto expert Simon Peters stated that ETH might see a price increase as a result of greater demand and decreased supply, though he declined to provide a specific objective.
Demand from institutions and ordinary investors seeking alternative investments, along with a "tapering and slowing of new ETH entering circulation" as a result of EIP-1559, might result in "a potential price increase" for ETH, the analyst said.
He said that a greater portion of the ETH supply is currently locked up in staking contracts. This is in addition to the supply already locked up in decentralized finance (DeFi) applications and the shrinking number of ETH available on exchanges, the analyst noted.
Bernardo Schucman of CleanSpark was one of many who dared to propose a more specific objective, predicting that growth in DeFi and a general trend toward further tokenization would propel the asset to new highs in 2022.
ETH "will move towards 20K USD because of the great number of new DeFi and tokenization projects that are catching on in the ecosystem," Schucman said.
Finally, Bloomberg's Senior Commodity Strategist Mike McGlone has a very hazy prognosis for ETH, stating in a November crypto market analysis that it "appears on track for USD 5,000, with support near USD 4,000," albeit with no timescale stated.
The analyst's positive prognosis last month follows his bullish comments in September's crypto outlook, in which he stated that ETH is "gaining traction" due to "dwindling supply" and increasing demand.