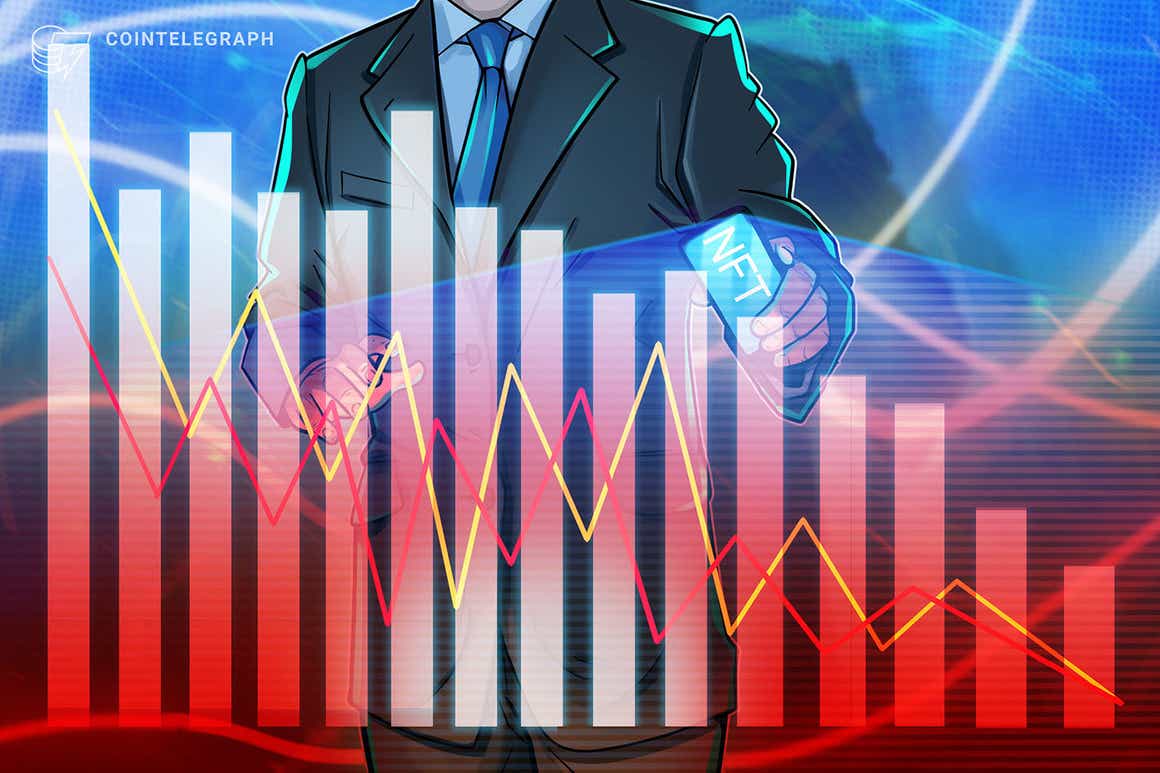 Non-fungible tokens (NFT) have taken the world by storm, which has led to more people becoming interested in cryptocurrency and more people using it.
Chainalysis, a company that studies the blockchain, says that NFTs became more popular in 2021.
It says that at least $44.2 billion worth of cryptocurrency was sent to Ethereum smart contracts linked to NFT marketplaces and collections last year.
It says this number was $106 million in 2020.
The NFT space is impressive, but scams and fraud are becoming more common.
For example, major NFT marketplace OpenSea recently said that its free minting tool could be used in the wrong way.
As a result, OpenSea said that about 80% of NFTs made with this tool were either plagiarized, fake, or spam.
In Chainalysis' most recent blog post, they talked about their "2022 Crypto Crime Report." They found that the NFT sector is at risk of money laundering and wash trading.
Wash trading in the NFT sector grows
If a seller takes both sides of the trade, it's called "wash trading." This means that the seller paints a false picture of an asset's value and liquidity by taking both sides.
Wash trading has become a big problem in the NFT industry, so that's not a surprise.
Most recently, data from the LooksRare NFT market showed that the platform was very likely to wash trades.
Wash trading is becoming more common on NFT markets, so new ways are being found to stop it.
Head of research at Chainalysis told Cointelegraph that the company has made a tool that could help them find people who are self-funding their own crypto wallets to make false transactions:
"By using Chainalysis software, we can see when a person buys a token using funds from the same person who sold them that very token. This is the definition of wash trading."
According to a post on the Chainalysis blog, the company can track NFT wash trading by looking at sales of NFTs to addresses that were self-funded, which means they were either funded by the selling address or by the first person to fund the selling address.
Chainalysis found that some NFT sellers have made hundreds of wash trades. Grauer, on the other hand, said that most NFT wash traders aren't making money.
She said:
"Overall, we found that it's not profitable to wash trade NFTs because you end up paying a lot in gas fees. Many wash traders came out negative due to the amount spent on gas versus the amount generated from their sales."
Chainalysis found that 152 Ethereum addresses linked to wash traders lost $416,984 over the last year.
Grauer, on the other hand, said that some wash traders have made money.
Chainalysis found that 110 Ethereum addresses made $8.9 million from wash trading.
According to Grauer, people who are good at wash trading are usually people who make a lot of NFT trades on a lot of different platforms.
However, she said that in general, it's not a good idea to wash trade because of the high costs of gas fees and the fact that all transactions on the Ethereum blockchain can be seen.
Because people have to pay a lot of money for gas, this is a very risky crime to do.
Grauer said: "Those who do this at a large scale must have done it before."
How NFT platforms can keep users safe
It's been risky and unprofitable for most people to wash trade NFTs. Grauer thinks this activity will become more common as the NFT space grows.
"Anyone can do wash trading," she said. "If you can download an ETH wallet and buy an NFT, you can do it."
With this in mind, it's becoming more and more important for NFT platforms to take steps to keep users safe from scams.
Rarible's co-founder and head of product, Alex Salnikov, told Cointelegraph that in the NFT ecosystem as a whole, there is a tendency for people to wash their hands of trading on platforms that reward them for doing so. This is because these platforms often offer incentives for trading.
LooksRare was going to reward users with their own tokens, which could have led to more washed-out trading on the platform.
Salnikov said that after the Rarible decentralized autonomous organization found out about this flaw, they decided to stop giving RARI tokens to Rarible users.
So, "the issue is not relevant to our marketplace," he says. In order to protect Rarible users even more, the platform has released a verification system that lets the Rarible team manually check a creator's profile.
Salnikov said more about the subject:
"If this process is successful, the user will earn a yellow checkmark on their Rarible marketplace profile. It is important to note that collectibles from unverified creators do not appear in our search results or the explore feed. Users are also warned if they are about to purchase a collectible by an unverified creator or collection."
While Rarible has taken many steps to make sure its users are safe, Grauer said that Dapper Labs, a blockchain platform that makes NFT-based products and decentralized apps, is working with Chainalysis to keep an eye on wash trading and other illegal activities.
Also, on January 17, OpenSea wrote a blog post about its new "NFT Security Group."
According to the post, members will be expected to share and learn about vulnerability reports that haven't been made public. This will help them fix problems before they affect other people.
Members will also work on ways to make blockchain consensus, smart contacts, wallets, and metadata more secure, as well as think about how interoperability might affect them.
Will regulations keep users safe?
In addition to these steps, talks about NFTs and compliance are coming to fruition.
In an interview with us, Joseph Weinberg, the co-founder of a compliance-focused blockchain network called Shyft Network, told the site that while it is hard to say whether NFT should be regulated, he thinks that the space needs to be regulated.
"I think trading platforms that accept funds — like an OpenSea, for example — will inevitably become regulated as VASPs, as they are in the business of matching to counterparties and they accept fees. As far as how NFTs could be regulated, you can do things like multi-address hop detection and address screening to cluster and determine if there's a likelihood that people are wash trading."
Even so, Weinberg said that NFTs are still a gray area when it comes to rules and regulations
He said that regulators haven't even been able to give us clear guidance on DeFi (decentralized finance), so he thinks they're just waiting to see how it turns out. He said the biggest problem for regulators now is that art isn't controlled:
"Historically, it's known that art markets are not subject to KYC [Know Your Customer] and AML [Anti-Money Laundering] requirements. It's also widely known that the art world is where a lot of money laundering takes place — and has for a long time. The question that needs to be asked is if the 'form' is different from the 'function' because a token has a different set of use cases than a piece of paper."
As a result, Weinberg thinks that regulators should first think about how to deal with NFTs before they come up with rules.
People in the industry think that the NFT community will do its own thing while they figure out what to do.
Jack O'Holleran, the chief operating officer of Skale Labs, a platform that is working on ways to make Ethereum more scalable, told Cointelegraph that he thinks free markets will eventually win out.
In the end, users will not want to buy NFTs from sites whose trading numbers do not clearly show or call out overt wash trading numbers."
They will move their business to exchanges and data aggregation sites that show them real market data.
NFT scams will continue to rise, even with solutions
In fact, even though there are compliance solutions, NFT platforms, and possible regulations that could be in place, Grauer thinks that criminal activity will rise in the NFT space before there is a drop.
Chainalysis found money laundering linked to NFT addresses to be relatively low in 2021. Grauer, on the other hand, said that the space will only get worse.
It will get worse in many ways before it gets better with the help of the industry.
To help things move along, it's possible that some NFT platforms will start following the rules.