There was a lot of attention when the new NFT marketplace, LooksRare, started trading on Jan. 10. Its daily trade volume was more than double that of Opensea on the second day of trading. Wash traders have been flocking to LooksRare.
Wash trading is when the same trader buys and sells the same thing at the same time, which makes the market price of the asset in question artificially high and manipulates the volume of trading.
It has been illegal in the United States to "wash trade" in traditional financial markets since 1936, and the most recent high-profile case of wash trading was the manipulation of LIBOR in 2012.
Until now, wash trading has been very tightly controlled by exchanges and regulators. It seems to have found a new home in the unregulated crypto space, and especially in NFT markets like LooksRare, where there are no rules.
A community-owned marketplace is a double-edged sword
LooksRare was started with the goal of giving back to the community.
There were a lot of people who bought tokens and traded them right after the company was launched. These things are also what wash traders are using to flood the market.
A LooksRare document says that they thought the high costs of trading, including platform fees and royalty fees, would make it hard for people to wash trade because they would not be able to make money.
Reality, on the other hand, shows that it's not true.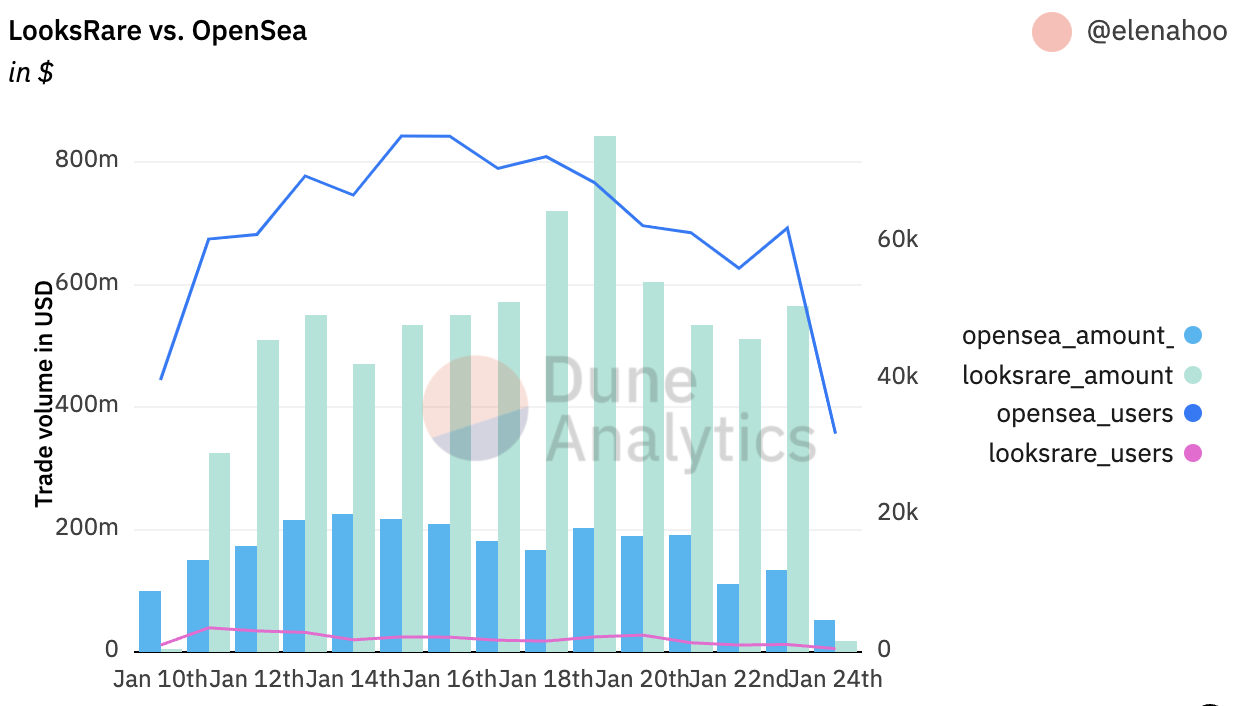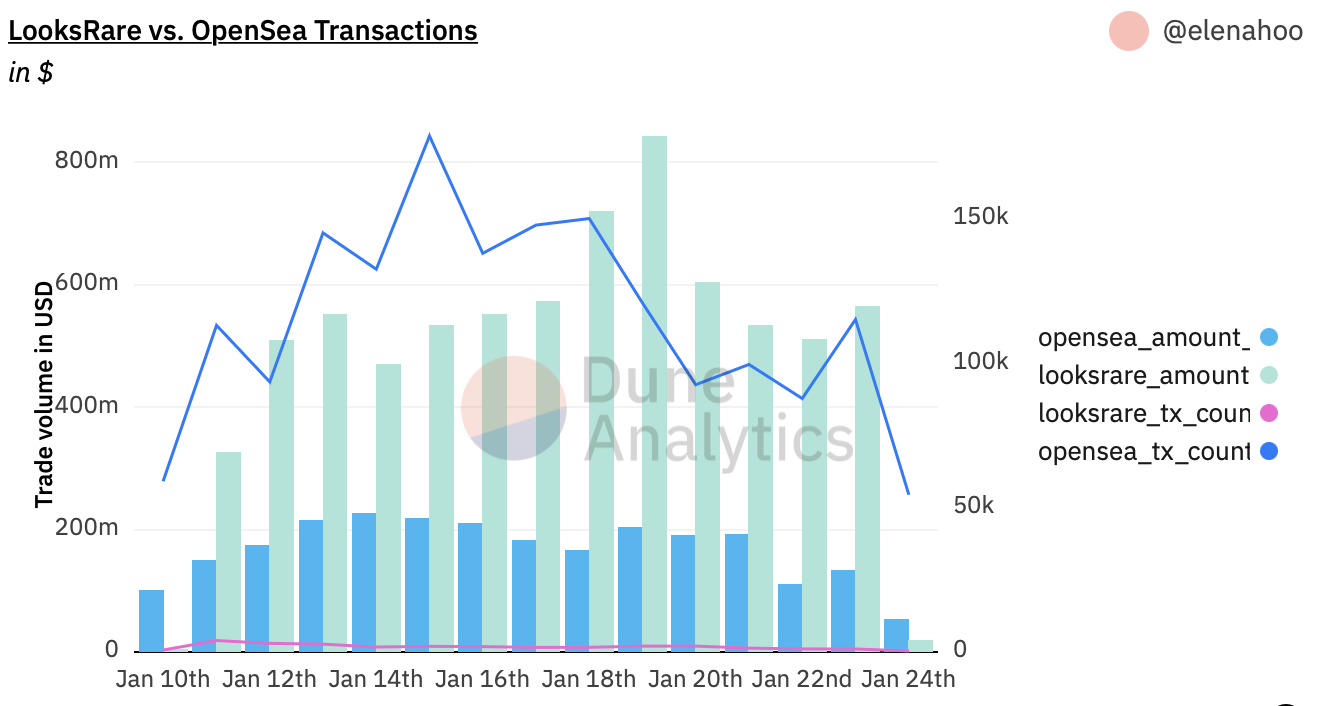 In the graphs above, daily users and transactions from LooksRare are only a small part of OpenSea. But the volume is more than triple or even quadruple that of OpeaSea, which is why the graphs are so important to us!
Average trade volume on LooksRare is $380,000 per user on Jan. 19, but on OpenSea it is only $3,000 per user.
This also means that the average trade volume per transaction on LooksRare is around $415,000, while the average trade volume on OpenSea is only $1,676.
Basically, what the data shows is that a very small group of people are making trades worth a lot of money.
People who buy NFTs usually don't play in this kind of place
In spite of the fact that the Ethereum network's gas prices can change at any time, wash traders seem to find a sweet spot where they can balance their costs and profits.
To see how wash traders make money by buying and selling the same NFT, let's take a look at how they do it.
How trading rewards are allocated
LooksRare's trading rewards are spread out over a total of 721 days in four stages.
The daily reward is the highest in Phase A for the first 30 days. The total reward is the highest in Phase C. (240 days).

Every day, a single trader can earn 2,866,500 LOOKS in trading rewards. This is the sum of the fixed daily LOOKS trading reward and the ratio of that trader's trading volume to the total trading volume for that day.
So, the more trading volume the trader makes, the more money they get.
This system encourages a lot of people to do a lot of wash trading.
Also, traders can get a share of the fees the platform collects based on how many LOOKS they stake. They can also get staking and liquidity provider bonuses.
It's not worth looking at the other rewards because they aren't big enough or close to a rounding error, so they won't be looked at.
A closer look at a wash trader with $90 million in daily trade volume
It was on January 19, 2022, when the most LooksRare trades were made in a single day.
There were more than $90 million worth of transactions from two wallets that day, as shown in the graph below.
These two wallets also show that they buy and sell things back and forth between each other, which is a clear sign of wash trading.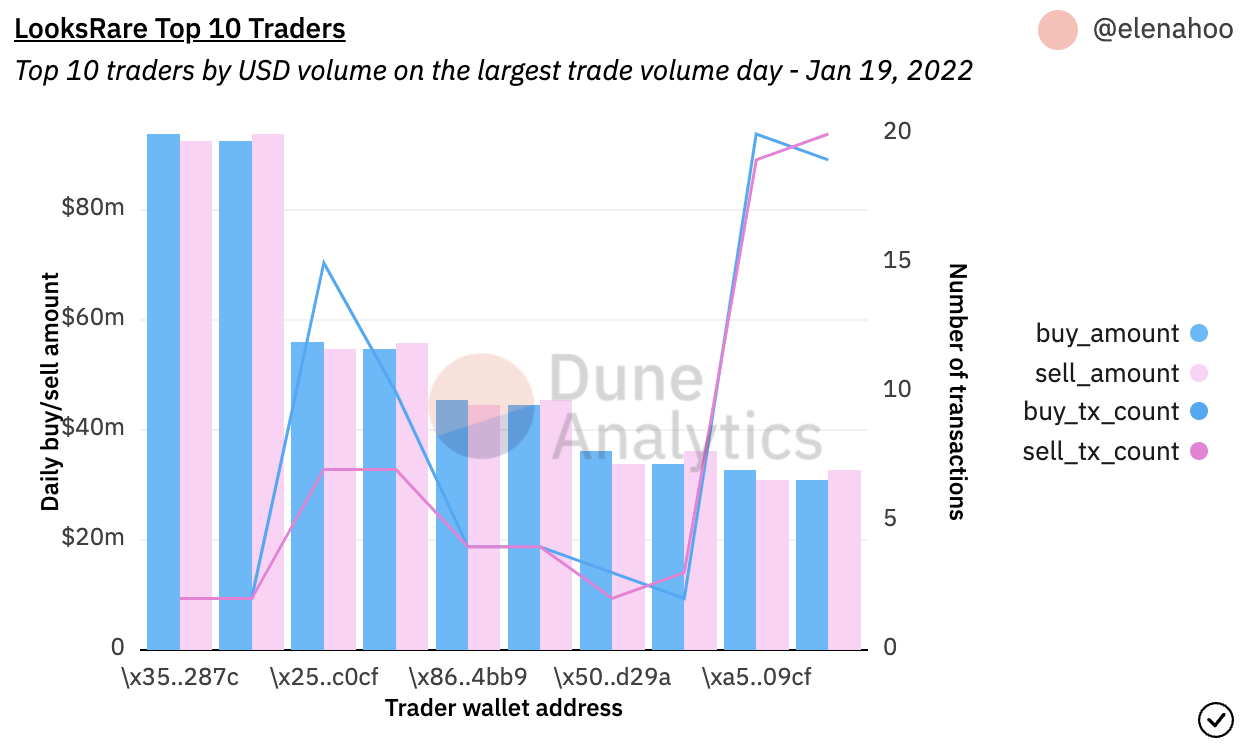 There is no royalty fee on NFTs like Meebits or Terraforms, so the only costs are the 2% platform fee and 2% gas charge.
On Jan. 19, the trader bought and sold Loot many times with these two wallets at a price that was about 6,500 times the floor price.

On Jan. 19, this trader traded $186 million worth of LOOKS. The trading reward earned from the trades is $6.2 million, and the fee paid is $3.7 million (using $4.9 as the LOOKS market price and a 2% platform fee), leaving a profit of $2.5 million, which is 1.34 percent of the daily return or 12,661 percent of the annual return.


Most trading rewards on LooksRare go to the wash traders

As of Jan. 24, 29 percent of the LOOKS rewards went to the top 10 traders in the last 24 hours.
It's also true that 28 percent of rewards went to the top 10 traders on Jan. 19.

A very small group of wash traders get a lot of the money.
"By NFT people, for NFT people" isn't exactly what LooksRare says it wants to be.
People in the community haven't been able to share the profit so far, and most of the profit goes to just a few traders.
According to Delphi Digital, this model is not going to work in the long run, and the trading volume is going to drop a lot because wash traders are going to leave when it isn't profitable any more.
A lot more work needs to be done for LooksRare to be able to compete with OpenSea when it comes to how many people use the service and how many non-zero royalty NFT trades there are.
It will be interesting to see how things change when the trading reward is cut in half in Phase B, which starts on Feb. 10, 2022.
The author's thoughts and opinions are entirely his or her own and do not necessarily reflect those of CoinNewsDaily. Each investing and trading action entails risk; before making a decision, you should conduct your own research.