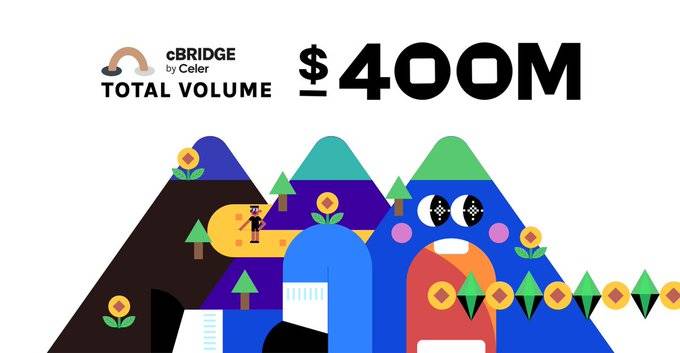 Celer Network, a leading layer 2 scaling solution, is planning the launch of cBridge 2.0, which enables easy, fast, and secure off-chain transactions.
Celer Network claims that the cBridge 2.0 cross-chain solution will not only improve transaction efficiency, but will also improve "generalised off-chain smart contracts." The significantly enhanced cross-chain bridge builds on the success of its predecessor, providing users with a more intuitive interface, increased liquidity, and a broader selection of blockchains and tokens.
Celer Network's wide adoption rates will accelerate further with the introduction of cBridge 1.0, with the cross-chain bridge increasing its volume week over week. cBridge began with a total volume of $10 million in its first month, increasing to $170 million in its second month, and now records daily volume in excess of $10 million. Given its developments and the overall expansion of the decentralised finance (DeFi) and non-fungible token (NFT) industries, cBridge 2.0 is projected to continue the path of its predecessor.
Simply said, cBridge 2.0 is a game-changing improvement to the cross-chain bridge market, with the goal of increasing liquidity and providing very efficient mechanisms for transferring tokens/cryptocurrencies between several blockchains. Celer claims that cBridge 2.0 will provide the platform's users, node operators, stakers, validators, and developers with the best-in-class cross-chain bridging experience.
Once launched, the upgrade will provide users with increased liquidity by supporting much larger transfer sizes, a simple one-click interface, additional tokens and chains to transfer, and native gas token wrapping, such as transferring wrapped Ethereum (WETH) on Mainnet to unwrapped Ethereum (ETH) on Arbitrum.
Additionally, cBridge 2.0 provides an insured bridge node service level (dubbed Slash cBridge node's bond) to cover transfers in the event of a bridge node failure.
????‍?cBridge is acCELERating! ??️??
Exceed $400M in total cross-chain transaction volume? Done. Next milestone in sight. Much? to our growing list of 20+ partners, 21K+ users.
?https://t.co/35fICZsz3A: most number of chains with the lowest fee in fully non-custodial mode. pic.twitter.com/bxzNevu0Cc

— CelerNetwork (@CelerNetwork) October 9, 2021
The State Guardian Network (SGN)
A highly efficient and simple-to-use liquidity management system will be introduced to liquidity providers (LPs) and cBridge node operators, as well as other participants. For the first time since cBridge 1.0, the new update that will become available in the near future will not require LPs to maintain their own cBridge node in order to provide liquidity. When developing cBridge 2.0, the development team included a second mode, which is the State Guardian Network (SGN), which serves as a "cBridge node." In the case of LPs who are pleased with the overall PoS-consensus level security provided by Celer token economics, they can simply outsource their liquidity to the network rather than building their own cBridge node.
"The State Guardian Network (SGN) is a specialized Proof-of-Stake (PoS) chain that serves the purposes of monitoring L1 transactions related to L2 state and faithfully passing layer-2 information back to layer-1 when needed."
Additionally, cBridge 2.0 will mitigate the risk for simple LPs to improve their bridging experience. LPs migrating to the new upgrade will be unable to mint synthetic assets, there will be no automatic market maker (AMM) for volatile token pairs, there will be little to no temporary loss, and there will be no difficult asset rebalancing. This simplifies the liquidity provision process, allowing LPs to earn fees immediately. Additionally, the updated cross-chain improves liquidity efficiency by eliminating duplicate liquidity locking, allowing LPs to fully utilise the highest yielding liquidity.
Additionally, an AMM-inspired bonding curve and a flexible liquidity mining mechanism are in place to motivate LPs and arbitrageurs to rebalance cross-chain liquidity.
For LPs who prefer to continue operating their own cBridge node, the SGN network acts as a "decentralised layer" that "assigns user transfer requests to different LPs via mechanisms that promote high-quality service and competitive pricing," the statement added.
Stakers and validators using cBridge 2.0 will also benefit from the change. The SGN will directly capture the value of cBridge through fees paid to the block producer facilitating the user's bridging request, similar to how layer 1 PoS chains pay validators fees.
Finally, developers can now create cross-chain communications for use with non-blockchain technologies (NFTs), decentralised exchanges (DEXs), and other initiatives. This adds to the existing substantial number of decentralised applications (DApps) that developers can build on top of cBridge 1.0. Additionally, the upgrade includes white-label frontend software development kits (SDKs), which enable multi-chain decentralised applications (dApps) to include a built-in cross-chain experience.
The untamable rise of Layer 2 scaling solutions
Following the publication of the Ethereum London hard fork, there has been a meteoric rise in the adoption of layer 2 scalability solutions in recent months. Arbitrum and Optimism spearheaded the push, starting several weeks ahead of Celer, resulting in an explosion of chains on layer 2 scaling solutions.
cBridge's initial version supported a variety of chains, including Polygon, Ethereum, BSC, Arbitrum, and Optimism. In September, the cross-chain solution added support for Fantom, xDAI, Avalanche, OKExChain, and Heco.
The protocol's capabilities has also resulted in a few of integrations, including inclusion in the TokenPocket and ONTO cryptocurrency wallets.