Bullish on Ethereum
Since the beginning of the year, most traders have noticed that the price of Ether (ETH) has been dramatically outpacing the price of Bitcoin (BTC). The ETH/BTC ratio has increased by more than 230 percent in 2021, reaching a new high of 0.089 BTC on December 9.
To put things in perspective, Ether's $490 billion market capitalization is currently equal to 54 percent of Bitcoin's $903 billion market capitalization, according to CoinMarketCap.
This ratio reached a low of 15 percent by the end of 2020, making it safe to conclude that some 'flippening' had taken place.
It may still be a long way off from the Ethereum-maximists' expectations, but it has been a very good run nonetheless.
Researchers should investigate the market structure of each cryptocurrency separately instead of trying to figure out why a particular coin was moved or, even worse, making predictions based on only a few vague expectations.
What, for example, is the futures' market premium on both coins seeing a similar trend, and how does the pro traders' long-to-short ratio compare to this?
These are the most important variables to consider when determining whether or not a movement has the strength to endure.
The futures premium favors Ether
Quarterly futures are the favourite tool of whales and arbitrage desks, but because of their settlement date and the price differential between them and spot markets, they may appear difficult to retail traders.
The lack of a variable financing rate is the most apparent advantage of these quarterly contracts, which are generally more expensive.
Sold at a premium to the spot market, these fixed-month instruments typically trade somewhat above their spot market counterparts, indicating that sellers are demanding more money in order to defer resolution for a longer period of time.
As a result, in a healthy market, futures should trade at a 5 percent to 15 percent yearly premium to the spot price.
This condition is referred described as "contango," and it is not unique to the cryptocurrency market.

Upon comparing the two charts, it becomes clear that Bitcoin futures trade at an average annualized premium of 2.6 percent for March 2022 and 4.4 percent for June 2022.
Ether has a market capitalization of 2.9 percent, whereas Bitcoin has 5 percent.
This leads to the conclusion that whales and arbitrage desks are demanding a higher premium on Ether, which is a positive indicator.
Bitcoin's long-to-short ratio declined
The long-to-short ratio of the best traders at key cryptocurrency exchanges should be closely monitored by investors in order to accurately assess how well they are positioned.
By aggregating data from different marketplaces, this statistic provides a more comprehensive picture of traders' effective net position.
It is important to note that exchanges collect data on top traders in a variety of methods, owing to the fact that there are numerous ways to quantify clients' net exposure.
The percentage changes across different providers should be used instead of absolute values in any comparison between them.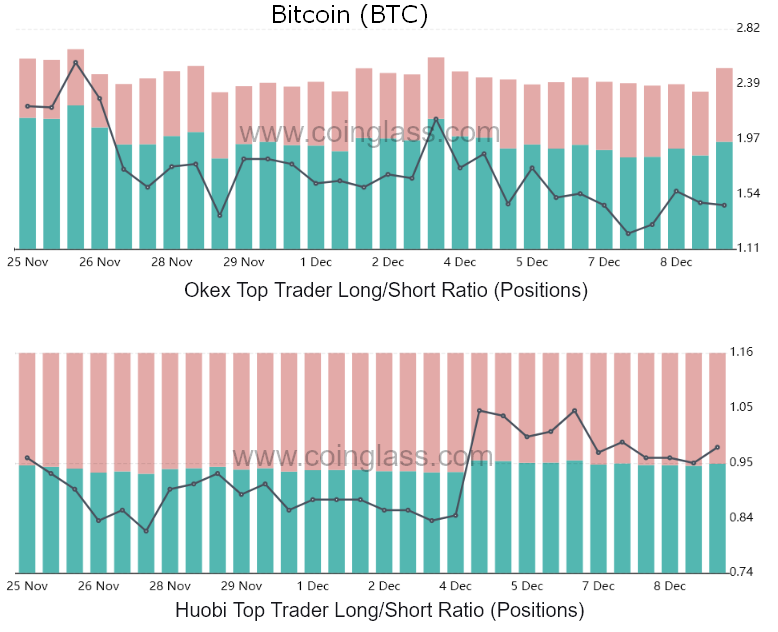 For the top Bitcoin traders, the long-to-short ratio averages 1.21 at the moment, compared to 1.39 on December 5th.
When compared to the 1.59 figure from two weeks ago, this indicates that buyers (longs) have cut their exposure by 24%.
It is important to remember that the absolute number is less significant than the general change in the time frame.
Meanwhile, ether whales and arbitrage desks experienced a positive sentiment shift from December 5 to December 6, following a shift in the long-to-short ratio to 1.16 from 1.0.
When comparing the average data from November 25, the long-to-short ratio of top Ether traders has been reduced by 20 percent from 1.43.
Data shows Ether traders are more confident than Bitcoin traders
The present derivatives data is in favor of Ether because the asset currently has a higher futures basis rate than the benchmark.
Furthermore, the improvement in the long-to-short ratio of the top traders since October 5 suggests confidence at a critical time when the price of ETH has fallen by 16 percent from its all-time high of $4,870.
Bitcoin investors may be feeling a lack of confidence as the cryptocurrency's price has fallen by 31% from its all-time high of $69,000 set on Nov. 10.
Nobody can tell whether this is a result of something or a cause of anything.
Nonetheless, based on the futures premium and long-to-short data, Ether appears to have enough momentum to continue to beat the market.
The author's thoughts and opinions are entirely his or her own and do not necessarily reflect those of CoinNewsDaily. Each investing and trading action entails risk; before making a decision, you should conduct your own research.