On September 20, the price of ether (ETH) plummeted below the $3,000 support level as global markets entered a risk-aversion mode. A 4.2 percent decline was recorded by the Invesco China Technology ETF (CQQQ), and a 3.8 percent decline was recorded by the SPDR S&P Metals and Mining ETF (XME).
Some commentators have expressed concern about the potential consequences of the bankruptcy of Evergrande, a prominent Chinese real estate corporation. Others, on the other hand, attribute this week's volatility to the current disputes over the debt ceiling in Washington, which are still ongoing. It is as a result of this that the CBOE Volatility Index (VIX), sometimes known as the "stock market fear index," has risen by more than 30%, reaching its highest level since May.
In an opinion piece published in the Wall Street Journal on September 19, United States Treasury Secretary Janet Yellen urged on Congress to raise the country's debt ceiling once more. Yellen stated that failing to do so would increase the likelihood of the government defaulting on its obligations and triggering a "widespread economic catastrophe."
The Federal Open Market Committee meeting in the United States, which concludes on September 22nd, is one of the primary themes for traditional markets this week. In addition, the Federal Reserve is likely to provide a timeline for when it would begin to scale back its $120 billion monthly asset purchase program.
How these events impact Ether price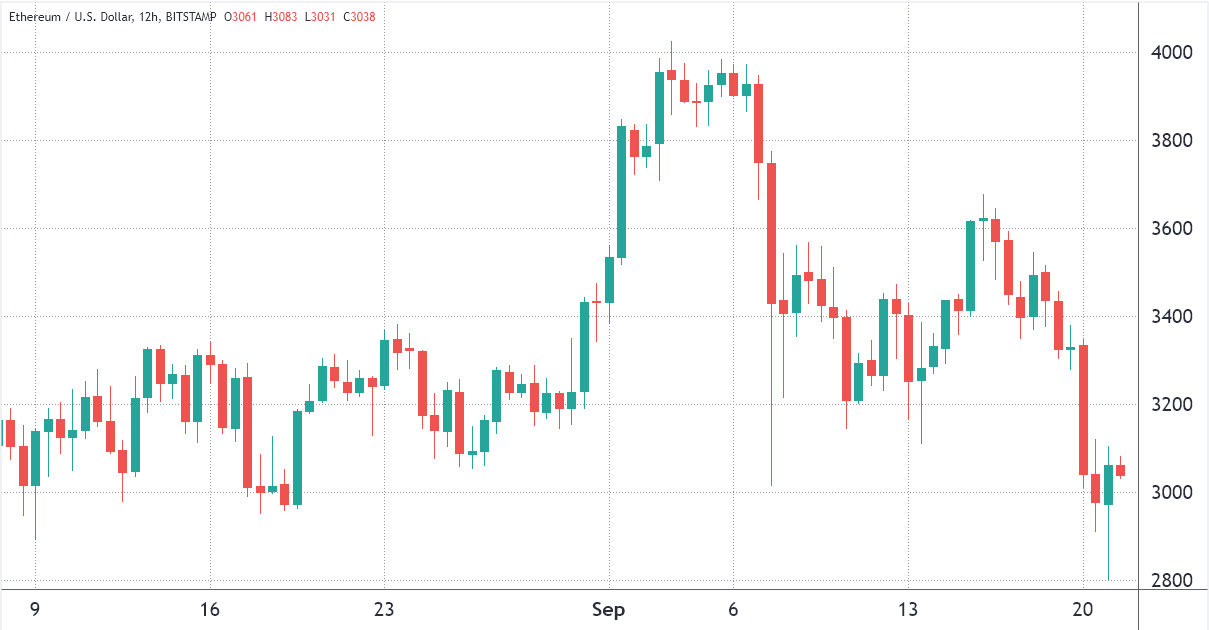 However, despite the fact that the $3,000 level is near the bottom of the preceding 45-day trading range, Ether has still managed to accumulate gains of over 210 percent in 2021 so far. The adjusted total value locked (TVL) of the network increased from $13 billion in 2020 to $60 billion in 2021, and the decentralized finance (DeFi), gaming, and nonfungible token (NFT) sectors all experienced significant growth, with Ethereum maintaining its dominant position in the sector's overall market share.
Despite the fact that mean gas fees surpassed $20 in September, Ethereum has maintained around 60% of the total volume of decentralized exchanges (DEXs).
Despite having a transaction cost of less than $0.40 per transaction, its largest competitor, Binance Smart Chain, had an average daily volume that was slightly below $1 billion.
Ether futures data shows pro traders are still bullish
Because of their settlement date and price difference from spot markets, ether quarterly futures are preferred instruments of whales and arbitrage desks. The contract's main advantage, however, is the lack of a fluctuating funding rate.
These fixed-month contracts typically trade at a slight premium to spot markets, indicating that sellers are requesting more money to defer settlement for a longer period of time. As a result, in healthy markets, futures should trade at a 5% to 15% annualized premium. This is known technically as "contango," and it is not limited to crypto markets.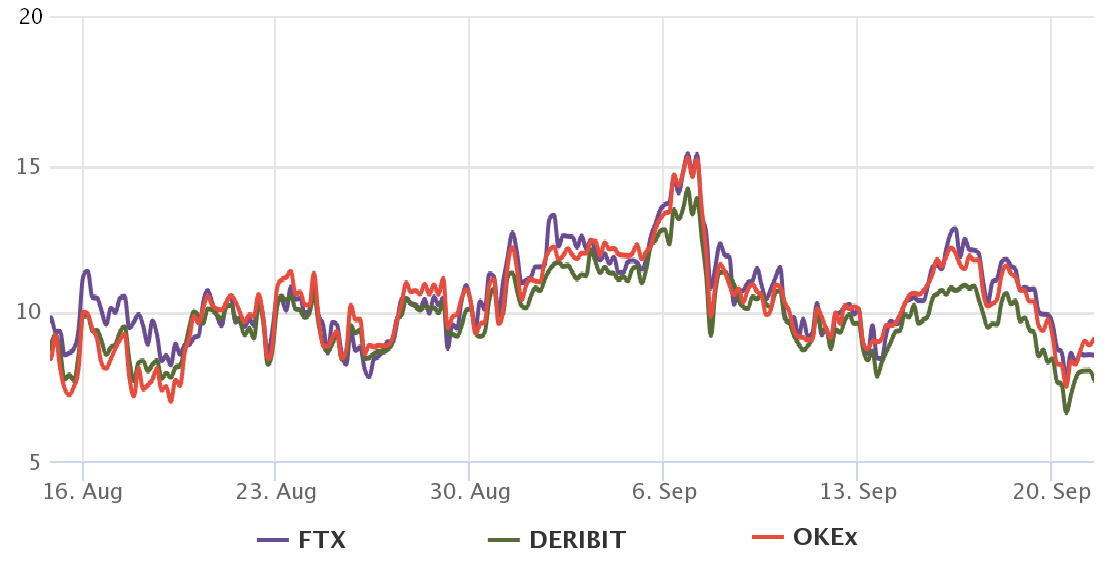 As shown above, the premium for Ether futures contracts increased to 15% on September 6 as the ETH price tested the $4,000 resistance level. Aside from that brief overshoot, the basis indicator ranged from 8% to 12% over the previous month, which is considered healthy and bullish.
The drop to below $3,000 in the early hours of September 21 did not frighten seasoned traders. More importantly, US Securities and Exchange Commission chairman Gary Gensler's interview on cryptocurrency regulation had no discernible impact on the price of Ether. If there had been widespread fear, the Ether futures premium would have reflected this.
The author's views and opinions are solely his or her own and do not necessarily reflect those of CoinNewsDaily. Every investment and trading move involves risk; therefore, before making a decision, you should conduct your own research.