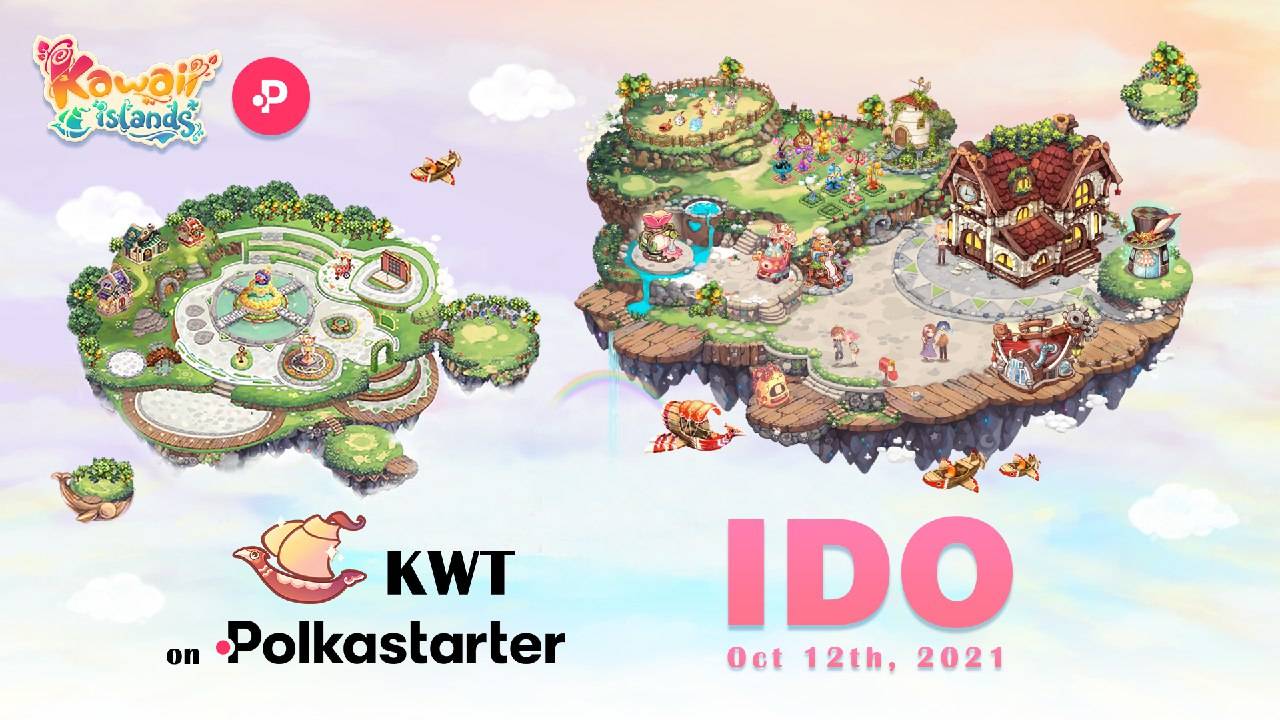 Kawaii Islands, the Anime Metaverse dedicated to gaming the decentralized finance (DeFi) ecosystem, will conduct its initial decentralized offering (IDO) through Polkastarter. The token sale for the project is scheduled to commence on October 12, 2021, and people can begin registering for the whitelisting procedure immediately.
This year, blockchain gaming with a play-to-earn concept has grown in popularity. Kawaii Islands is notable for being the first Anime Metaverse to create a simulation world in which people may engage in interactive activities. Players can experiment with a variety of customisation choices, including creating, decorating their homes, dressing their favorite characters, and social networking. There are various different customization choices, with more to come in the near future. As stated in the announcement, Kawaii Islands is not your usual blockchain or distributed ledger technology (DLT) game focused on NFT. The Alpha version of the game makes use of a temporary AIRI token – backed by Marketplace partner aiRight – to aid in the overall economy's balance.
The native KWT crypto token will act as the principal currency following the beta release in October of this year. However, all assets from the Alpha version will be retained in the beta version, which should aid in preventing players from losing progress. The KWT token is a critical asset for Kawaii Islands, as it can be used as a governance token and also has a variety of other uses. Players can receive unique incentives in the form of KWT tokens, which they can use to pay for in-game expenses. By fulfilling Delivery Orders via the Leaderboard or by selling and staking various products, users can earn additional KWT tokens. These tokens can then be used to make and purchase items, bypass lengthy waiting times, or even participate in crucial events. The Kawaii Islands team confirmed that starting October 12, 2021, they would offer the KWT token via an IDO on Polkastarter. The tokens will be listed at a price of $0.03, with a maximum quantity of 1 billion KWT.
Polkastarter, as mentioned in the update, enables projects to raise funds in a decentralized, permissionless, and interoperable environment. Additionally, it is a supporter of the Kawaii Islands effort. Additionally, the team stated that they will share additional information on the IDO whitelisting process via Kawaii Island's official social media outlets.
As previously stated in a release, the Kawaii Islands team sold out two different presale events for 2,100 Starter Packs of non-fungible game item tokens (NFTs).
Additionally, the team raised $2.4 million in private fundraising from investors in the crypto and blockchain industries, including MapleBlock, Signum, AU21, SkyVision Capital, Master Venture, Polkastarter, and Polygon. Kawaii Islands' financial resources and industry expertise should assist it in linking other anime games into an intriguing anime metaverse.
Kawaii Islands, a collaborative venture between Imba Games Studio and Oraichain, aims to strike a balance between gaming and blockchain development.
The NFT-based play-to-earn business model strives to ensure that everyone can access and enjoy the game without having to make significant financial expenditures. As stated in the release, Kawaii Islands is a collaborative effort between Imba Games Studio, an established game development studio with over 14 million clients and more than six years of game development experience, and strategic partner Oraichain, the world's first AI-enhanced data Oracle and ecosystem for blockchain or distributed ledger technology (DLT) networks. Kawaii Islands is a non-financial-transaction (NFT) play-to-earn game that promises to create a fantasy environment on the Cloud for multiple users to engage in interactive simulation gaming activities such as designing, building, crafting, farming, and social networking.
Kawaii Islands' exclusive NFTs Marketplace on aiRight aims to create an environment where users may earn significant money while playing their favorite games. Polkastarter, as explained in the announcement, is a completely decentralized mechanism for proposing new thoughts or ideas. Their selection approach and industry connections enable them to give the best new blockchain and crypto-asset ventures.
Polkastarter enables decentralized initiatives to raise awareness, build a dedicated audience, and secure long-term funding. Users of the platform can participate in a secure and compliant environment and utilize assets that are not limited to the existing ERC-20 token standard.
Disclaimer: This article is provided for informational purposes only. It is not offered or intended to be used as legal, tax, investment, financial, or other advice.