ADA LAGGING BEHIND BTC & OTHER LARGE CAPS
This week, Bitcoin (BTC/USD) increased by 16.2 percent, while many large-cap coins such as XRP (XRP/USD), Polkadot (DOT/USD), and Doge (DOGE/USD) also saw significant gains (+13.1 percent, +11.2 percent, and +0.3 percent, respectively), while the price of ETH (ETH/USD) increased by a solid 4.2 percent.
One thing we haven't seen in recent weeks is any sign of Cardano's native token, ADA (ADA/USD).
It's as if its price is on vacation with IOHK CEO Charles Hoskinson, in some region that's extremely hot, excessively humid, and generally inhospitable to any activity requiring mental or physical effort.
Perhaps Thailand, or he may have specified his own ranch—it makes no difference as long as the blockchain's founder returns quickly and in good health.
Two weeks after The Cardano Summit concluded, Hoskinson's focus will shift to multiple African countries in order to meet potential new business clients and partners who may be next in line to get involved with the world's third largest blockchain ($71.5 billion in market capitalization, compared to Bitcoin's $1038 billion) and one that has already seen some impressive growth in its ecosystem this year, particularly since the smart contract launch.
Cardano can already boast partnerships with an impressive number of projects across a wide variety of industries, including DeFi, Payments, IDOs, NFTs, AMM, Stablecoins, Oracles, and Insurance — the list goes on and on.
Yet, in the eyes of many investors, founder Charles Hoskinson remains Cardano's most valuable asset, and his return should help the native token ADA maintain its dollar value during the final quarter of this year, which could conceivably be the final leg of the cryptocurrency industry's ongoing bull run.
Bear in mind that he has a sizable social media following (725k Twitter followers and a prominent YouTube channel), which is critical in terms of the network effect in the cryptoworld.
ADA'S PRICE ACTION AND THE MOST LIKELY SCENARIO
My Technical Analysis part in my last two weekly articles on ADA (ADA/USD) was mostly focused on the descending triangle pattern, and I predicted a break-out from this formation before 9th October. We eventually achieved our breakthrough upward movement precisely three days before the deadline — on 6th October, the price soared by 13% to an intraday high of $2.37. The volume on the move was the greatest in two weeks, but it was still somewhat unimpressive, and there was no further dramatic price action. At least for the time being. Indeed, ADA is trading almost identically to where it was a week ago and also a fortnight ago, as the Summit neared its conclusion on Sunday 26th September.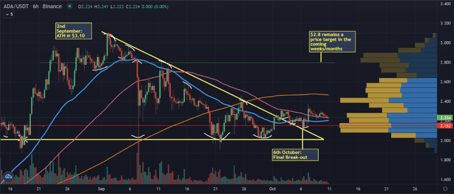 However, what has improved is that Cardano's native coin is now comfortably above its critical moving averages (MA 100 – thick pink line and MA 50 – thick blue line). Both are providing good support for the time being, having been critical levels to monitor for months, particularly the 50 MA, which proved to be a difficult nut to crack on several times. Below these moving averages, there appears to be a solid region of potential support extending from $2.15 (VPVR's red horizontal line) to the $2 mark (the bottom of the descending triangle ADA just left behind, as well as a significant psychological barrier).
While all of the foregoing is bullish in and of itself, let's analyze some other indicators for more information before we activate bull mode.
Pull up the daily chart and instantly notice that the RSI has been indicating bullish divergence and has yet to manifest – another affirmative sign for those considering an upside trade or even a spot purchase to add to their portfolio. Additionally, the MACD crossed bullish on October 2nd, which has historically been nothing but positive news. A quick glance at the ADA/BTC and ADA/ETH charts reveals that Cardano's token has been losing ground in relation to the world's largest and second largest cryptocurrencies for over two weeks, although the rate of decline has slowed significantly in recent days, possibly indicating an impending reversal of the downtrend in these pairs.
To summarize, ADA appears to be ready for a long-awaited period of upward momentum. If the currency receives positive coverage in various crypto news outlets as a result of Hoskinson's upcoming business tour of African countries, which is expected to begin in the next couple of days, that should be enough to propel the price of this crypto asset upward. Clearly, the longer Bitcoin (BTC/USD) maintains a price above the recently conquered crucial level of $53k, the more likely this scenario will play out.
Disclaimer: This article is provided for informational purposes only. It is not offered or intended to be used as legal, tax, investment, financial, or other advice.