Avalanche (AVAX) has emerged as one of the worst-performing cryptocurrencies among the top-ranking tokens in the last 24 hours, partially due to fears connected to Terra (LUNA) and it's a near-dead UST algorithmic stablecoin project.
Avalanche price dips amid Terra's tax evasion FUD
AVAX's price plunged by nearly 14% between May 18, where it traded near $35 to May 19 when the price dipped to $28.50. The dip coincided with a South Korean news agency report that claims Terraforms Labs, the developer of the Terra blockchain, owes 100 billion won (approximately $78.5 million) to the regional tax agency.
#Terra owes $78.5M in taxes to South Korea's government

— Market Rebellion (@MarketRebels) May 18, 2022
The news came three days after Luna Foundation Guard (LFG), a nonprofit subsidiary of TerraForms, revealed that it had around 1.97 million AVAX tokens (worth $58.39 million at May 19's price) in the reserves that were supposed to back its benchmark UST stablecoin.
In the same pool, LFG also holds Bitcoin (BTC), Binance Coin (BNB) and LUNA. The firm had earlier sold a good portion of its holdings to shore up UST's value following its "depeg" from the U.S. dollar.
Interestingly, LFG has not sold any AVAX, nonetheless, the panic around the Terra fiasco prompted the Avalanche token to plunge by nearly 50% month-to-date, including a 30% intraday decline on May 11.
Related: Tether to move over 1B USDT from Tron to Ethereum and Avalanche
Technical analysis projects further downside for AVAX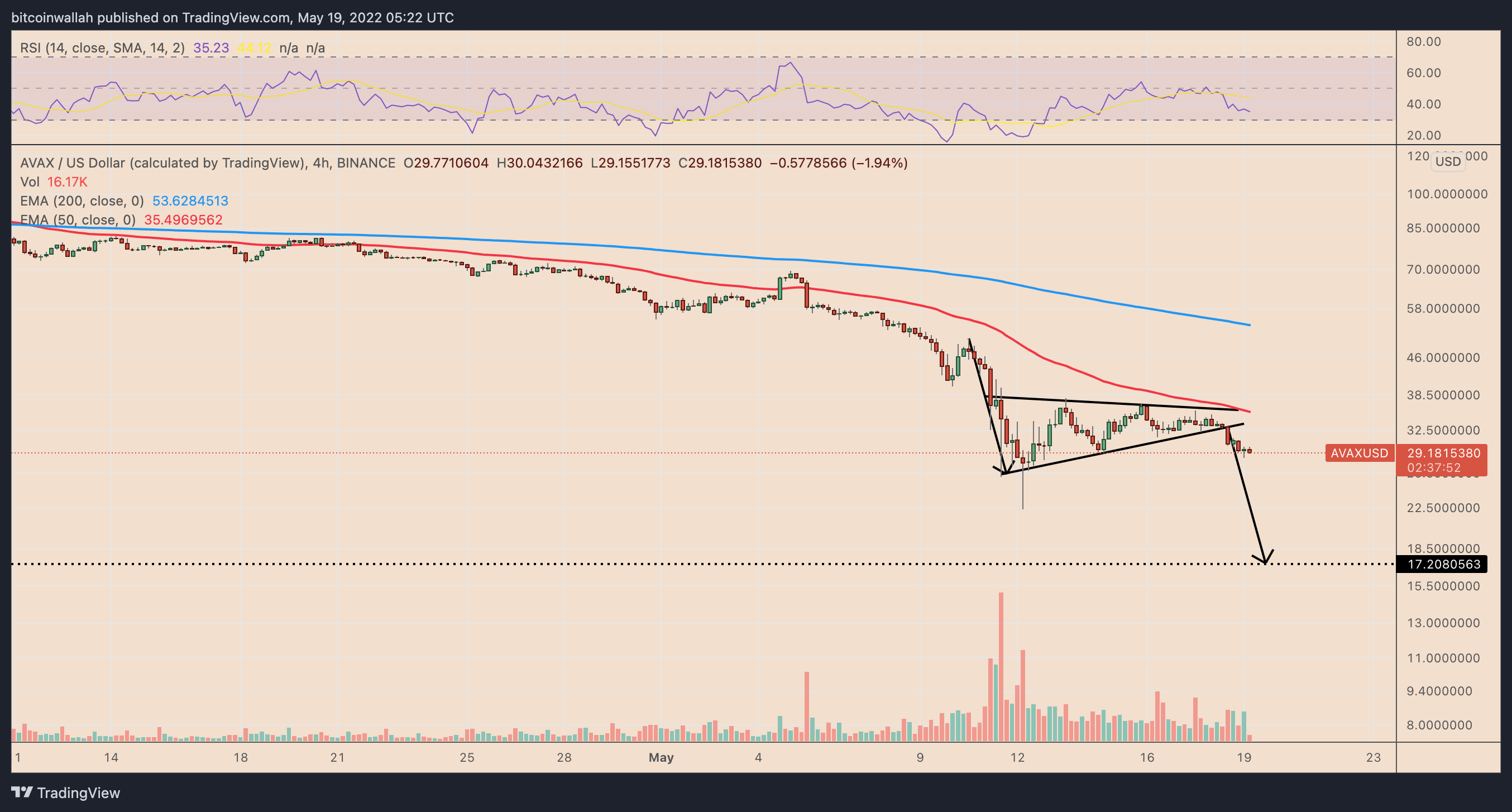 From a technical perspective, AVAX's price could fall by another 40% in May as it breaks out of its prevailing bearish continuation setup.
Dubbed "bear pennant," the pattern appears when the price consolidates inside a range—defined by a falling upper trendline and a rising lower trendline—after a strong move downward. It resolves after the price breaks below the lower trendline and, as a rule of technical analysis, falls by as much as the flagpole of the previous downtrend.
The bear pennant setup puts AVAX en route to around $17 in May, down about 40% from May 19's price.
The views and opinions expressed here are solely those of the author and do not necessarily reflect the views of Cointelegraph.com. Every investment and trading move involves risk, you should conduct your own research when making a decision.
Avalanche (AVAX) is one of the most talked-about cryptocurrencies in the crypto space. The decentralized finance (DeFi) platform has experienced explosive growth since its launch earlier this year, and now it's receiving considerable attention due to the upcoming integration of its native token, AVAX, with Terra's algorithmic stablecoin network.
Terra already has a host of coins listed as collateral on its network, including USDC and DAI. But AVAX will be the first native collateral on the platform, and its acceptance could have a significant impact on the AVAX price.
Since the Terra network is built on an algorithmic money market, its stablecoins are designed to track the market value of their underlying assets. When AVAX tokens are used as collateral for Terra's stablecoins, the Terra network will be able to generate more stablecoins backed by AVAX, which will add more liquidity to the ecosystem and encourage more users to adopt AVAX as a preferred currency.
The addition of AVAX as an accepted currency on the Terra network could set off a chain reaction that could result in an avalanche of liquidity in the AVAX market. This increase in liquidity could help drive up the price of AVAX, as more users flock to the coin. This in turn, could encourage more users to adopt AVAX, and create a "snowball effect" that could push the AVAX price all the way up to $15.
In addition to the potential financial gain, AVAX's acceptance on the Terra network will also provide the coin with more widespread use cases and a larger network of users. This could be beneficial for the long-term outlook of the coin, as it could help to attract more interest from mainstream investors and increase institutional acceptance of AVAX.
The integration of AVAX into the Terra network is an exciting development that could have a positive effect on the AVAX price. If the chain reaction continues to snowball in the right direction, AVAX could reach dizzying new heights in the near future.