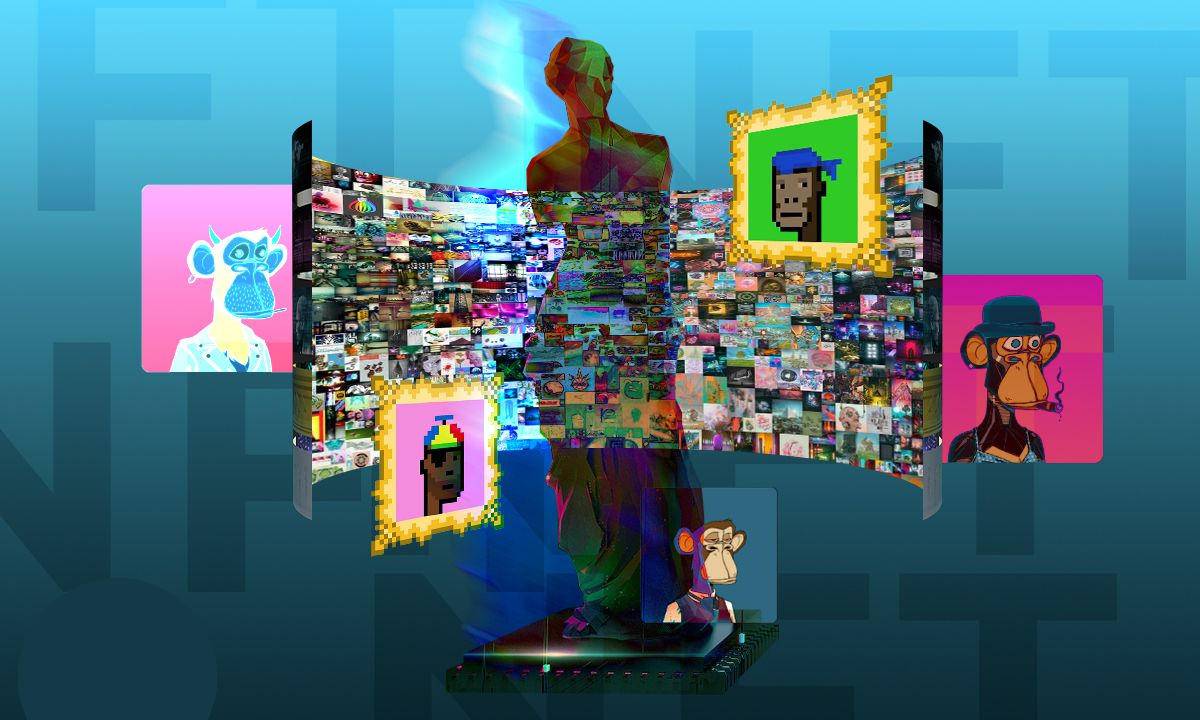 If you don't have a plan, you can't invest in or trade any kind of asset, like stocks, bonds, or crypto, because you don't know how to do it.
There is the same rule for NFTs.
With the rise in the NFT market last year, we've seen more investors put money into NFTs.
With that, a lot of different NFT investment and trading strategies came up that anyone could use for their JPEGs and digital art.
Then, read on to learn what to look for when investing in NFTs, as well as a list of the most popular NFT trading strategies.
What to look at when investing in NFTs
If you want to make money when you trade your NFTs, things aren't as simple as they seem.
It's important for investors to spend some time looking into future NFT projects before they invest their money in them.
It's not a good idea to buy an NFT when it's popular on Twitter.
Why?
Because prices have already gone up when it starts to go up.
It's still possible to find good NFT projects if you spend more time looking into future projects, though.
So, what should you look for when you buy NFTs?
Market capitalization
A good place to start is to think about an NFT's market capitalization. This will show you how liquid an NFT is.
People who own NFTs make up the market cap by multiplying the total number of people who own them by the average price of a single NFT from a set of them.
When you want to leave your job, you can figure out how much an NFT collection is worth now and how likely it is that your NFT will be sold again when you do.
Today, there are a lot of tools that can help investors get the information they need to make the right choice.
The NFT's utility
There are more and more NFT collections that can be used in some way.
Utility can come in the form of token and NFT airdrops, VIP events, limited-edition goods, and more.
There are also NFTs that give you the right to own something in the real world.
If you want to invest in NFTs, look at how useful they are compared to other drops.
Scarcity of an NFT
In addition to being one-of-a-kind, each NFT comes in a set of NFTs that have different attributes.
NFT collections can have a lot of different items in them, but some of them may be rarer than others, which makes them worth a lot of money
The more rare things are, the more expensive they are.
They also tend to be more popular, which means they sell for more money and more quickly.
To figure out how rare an NFT is before you invest, use a tool to figure out how many there are.
Number of unique holders
Another way to figure out how valuable an NFT is now or how valuable it could be in the future is to look at how many unique holders it has.
This can help you figure out how big the community is that supports that NFT project.
If you want to invest in a profitable NFT, one of the most important things you can't forget about is the people who use it.
Word-of-mouth marketing is more likely to happen if there is a bigger group of people who know each other.
The team's reputation
Before you invest in an NFT project, you need to learn more about the people who work on it.
You need to do a background check on the developers and their history, because there have been many anonymous NFT drops that have led to rug pulls.
Then, before you invest your hard-earned money in an NFT project, do your research on the people who are in charge of it.
If they aren't named, you know the risks.
Trading Volume
Another important thing to look at when you're looking into NFT projects is how many people are trading.
If a certain NFT collection's trading volume is high or keeps going up, that shows that more people are interested in the project.
A decrease in the number of copies may mean that people aren't interested in the collection anymore.
NFT trading approaches
During the NFT boom in 2021, a lot of different strategies for trading NFTs came up as more and more crypto-savvy investors "jumped" into NFT trading.
Let's take a look at five popular ways to invest in NFTs.
Buy the blue chips
Companies that are the most popular on the stock market are called blue chips, and they are called blue chips because they are the most popular.
A blue chip is a collection of the best NFTs, like Bored Ape Yacht Club and CryptoPunks. They are also called "art blocks."
There is a good chance that the value of blue-chip NFTs will go up over time, but it also won't go down too much in a downturn.
Buy the floor
NFTs had a good year in 2021, and the momentum is expected to keep going for a long time to come, as well.
This means that you could buy NFTs when their floor prices are low.
Floor price: The lowest price you can buy an NFT from a certain collection for is the floor price of the NFT itself.
Buying NFTs just because they are cheap isn't a good idea. You should look for an NFT project that interests you, not just the price.
You can buy the floor of an NFT trading strategy to make money if the NFT collection grows in popularity.
In simple terms, buying the floor gives you a front-row seat to the NFT brand's possible price rise.
Buy the ceiling
In contrast, another common NFT trading strategy is to buy the ceiling.
The term "buying the ceiling" means buying the most expensive NFTs in a group.
NFTs that have a lot of money tend to be popular with investors who have money.
In popular collections, ceiling NFTs, which are the most sought-after NFTs in the collection, are likely to rise in price.
Some people can't afford ceiling NFTs because they are so pricey.
As a result, if the popularity of a ceiling NFT drops, its owners may lose a lot of money, forcing them to sell their NFTs at a much lower price.
Buy the trend
People who have been in the NFT space for years can still see if it's still popular by looking at the trend of a certain type of thing on Google.
Use Google Trends to find out what people think about a certain word or topic. The number of searches for that word can be scaled from 0 to 100.
To figure out if it's a good time to buy something, look at how many people are interested.
However, if the rating is low or the trend is going down, it means that fewer people are interested in the NFT collection and you should be careful.
Buy NFTs with few sellers
If an NFT collectible has a lot of sellers or more sellers, this could mean that there is less interest in an NFT collection.
Choosing NFTs in collections where there are few sellers is another common way to invest in NFTs.
Start by looking at the prices of the NFTs to see if they are higher than the prices of the most recent sales.
Besides that, look at the distance between the sale price and see if the sellers were impatient and willing to sell for almost any price.
You may be able to get some NFTs for cheap from sellers, but you should be careful if there is a lot of pressure from investors to sell. This could mean that they are taking money out of that collection.
Before you ape in
NFTs are a new type of digital asset that can be very risky, but they are also very new.
So, don't invest more than you can afford to lose.
If you want to invest in NFT projects, do your research and choose ones that have the chance to rise in value.
But keep in mind that when the market turns and the hype dies down, you may not be able to find a buyer for the price you paid.