This week, cryptocurrency traders turned their attention to the pack of dog-themed meme tokens, with altcoins such as Shiba Inu (SHIB) and Dogecoin (DOGE) seeing a spike in trading volume. As a result, SHIB reached a new all-time high and the remaining Dogecoin clones saw some significant price increases as well.
A debate is raging among traders over whether the launch of the first Bitcoin (BTC) exchange-traded fund (ETF) marked the beginning of the next leg of the bull market, as well as whether a rally in meme-tokens is a top signal.
While SHIB, DOGE, and Samoyedcoin are the most popular cryptocurrencies this week, there are a number of other cryptocurrencies that are equally positive and have stronger fundamentals. Take, for example, the native CRV token of the Curve protocol, which recently reached a level that was close to its all-time high.
CRV's price has increased by 168 percent since hitting a low of $2.05 on Sept. 26, according to data from TradingView. The stock's 24-hour trading volume has increased by 89 percent to $1.3 billion since the low on Sept. 26.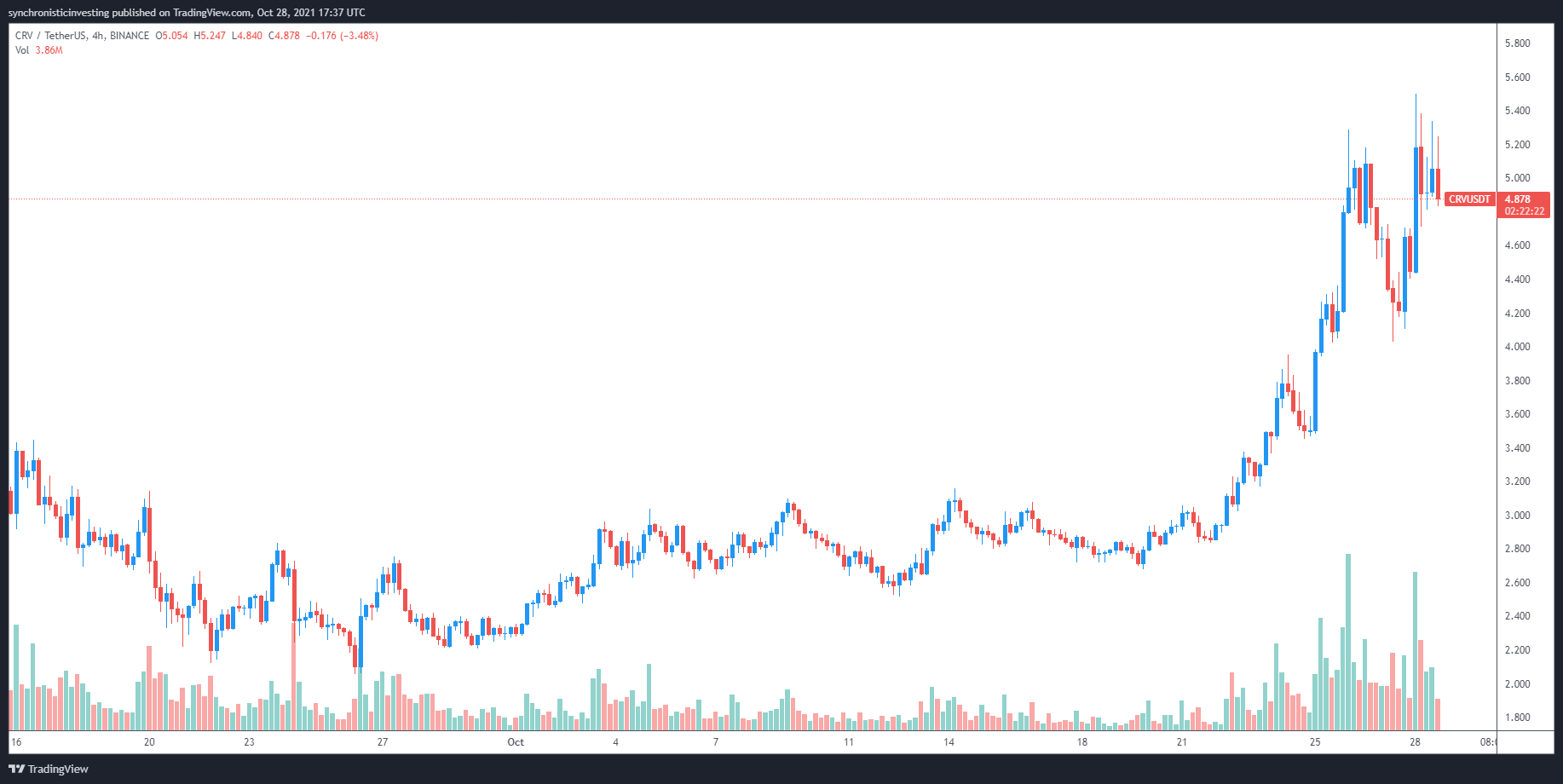 The fact that a majority of the circulating supply of CRV has been locked, "Curve wars" in which DeFi protocols are competing for CRV deposits, and the increasing total value of CRV locked on the Curve protocol are just a few of the factors contributing to the upward trend in CRV price.
Multi-year staking decrease CRV's circulating supply
Curve's incentives for token holders who choose to keep their tokens on the network for the long term and earn rewards from staking have played a significant role in the cryptocurrency's rise.
The Curve protocol is now locked on the Curve network due to these incentives. According to Curve's data, more than 347.8 million CRV (or 88.75 percent of the circulating supply) is locked on the Curve network with an average vesting time of 3.68 years.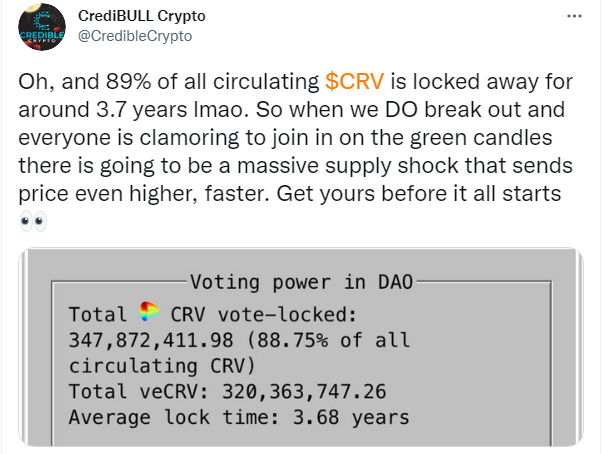 Convex Finance leads the "Curve Wars"
One of the factors contributing to the recent increase in the price of CRV is the ongoing Curve War between protocols such as Yearn.finance and Convex Finance, which has seen them trying to offer the most attractive yields in order to persuade CRV holders to keep their tokens in their vaults.
It has been 160 days since @ConvexFinance launched. In that time, 69.3m CRV has been farmed.

At the current rate, $CRV is being farmed at 433k per day…so $CVX emissions will be 80% complete in 70.9days at 100m $CRV farmed….which means January 3rd will be a REALLY GOOD day pic.twitter.com/7fphyoK48c

— CryptoCondom (@crypto_condom) October 24, 2021
This has resulted in a slight supply squeeze, and it is reasonable to expect that the dynamic will continue to gain momentum, especially given that prominent DeFi platforms such as Abracadabra.money are boosting their marketshare of CRV deposits as well as their overall marketshare.
The gist of it is that each protocol is "bribing" CRV holders with attractive returns in the hopes that they would utilize the governance power conferred on them by staking their CRV and holding VeCRV to vote for a bigger allocation of stablecoins to the particular DeFi protocol in issue. This method has been referred to as "buying votes" by many people.
Curve's TVL soars
Curve's total value locked (TVL) continues to rise, and the platform is home to some of the largest stablecoin pools in the DeFi ecosystem, according to the latest data.
According to data from Defi Llama, the TVL on Curve has reached a new high of $18.84 billion, putting Curve the second-largest protocol in terms of TVL behind Bitcoin.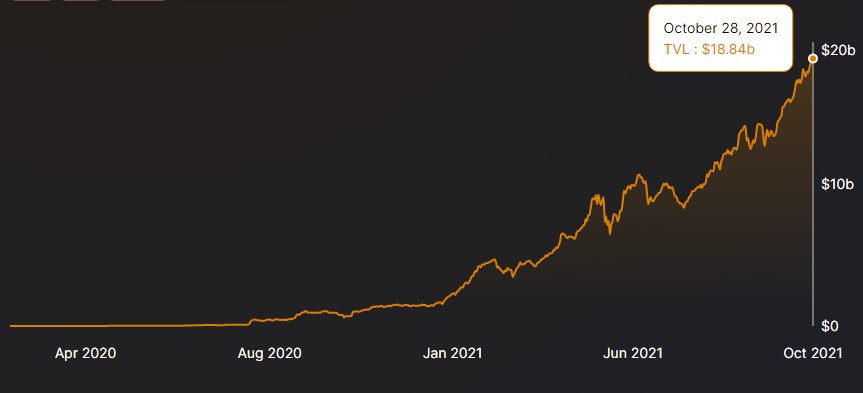 Curve's success in integrating with several of the leading layer-one and layer-two protocols with active DeFi ecosystems, such as Ethereum (ETH), Avalanche (AVAX), Harmony (ONE), Polygon (MATIC), xDAI (STAKE), and Fantom (FANTOM), was a major factor in the increase in TVL (FTM).
According to statistics the market for CRV has been in a positive state for quite some time already.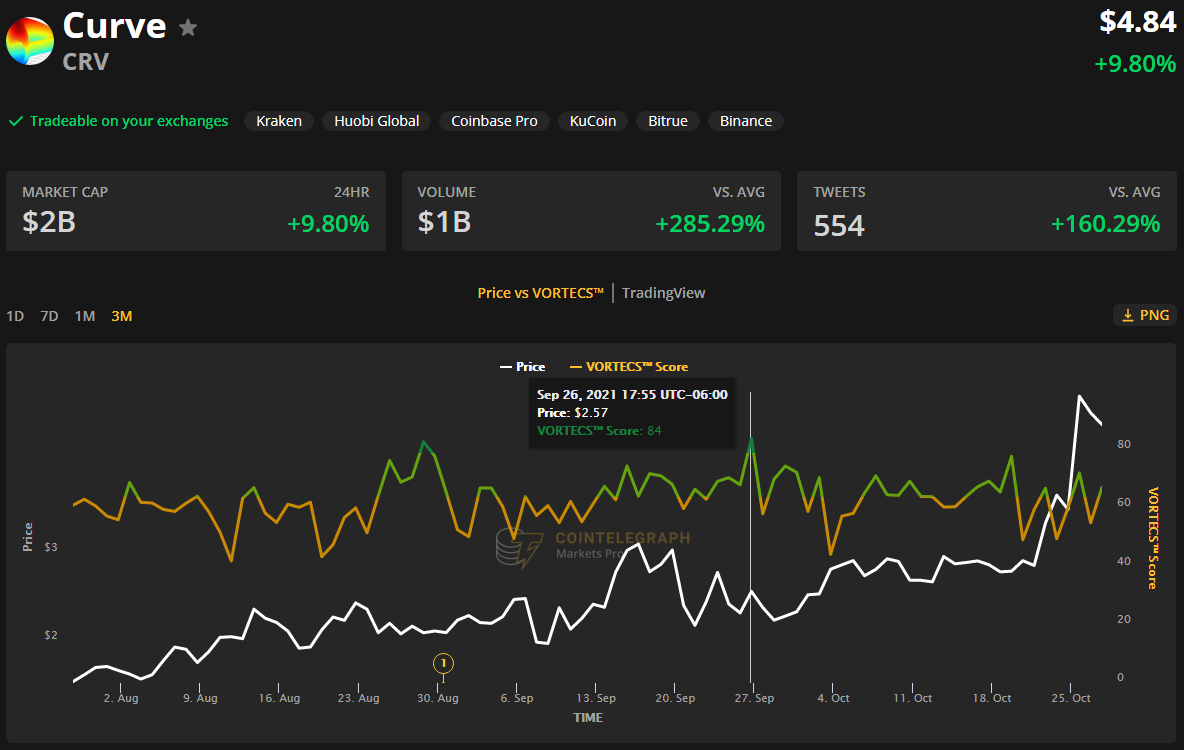 For example, as seen in the chart above, CRV first entered the green zone on September 22 and achieved an all-time high of 84 on September 26, just 48 hours before its price began to rise by more than 150 percent during the following month.
The author's thoughts and opinions are entirely his or her own and do not necessarily reflect those of CoinNewsDaily. Each investing and trading action entails risk; before making a decision, you should conduct your own research.