According to the ETH/USD price indexes on Coinmarketcap, the price of Ethereum (ETH) has risen to a new all-time high (ATH) today, reaching $4,400.97 at roughly 1:02 a.m. UTC.
Ethereum (ETH) is now trading at $4,359 per coin at the time of writing, with the currency having gained approximately 46.6 percent since the beginning of October. According to Coinmarketcap's price index, the asset's previous all-time high (ATH) occurred only eight days ago, on October 21, when it reached a price of $4,308.48.
The cryptocurrency has been on a bullish rampage since it dropped to roughly $1,780 on July 21, and has gained 147 percent since then to reach a new point of discovery in terms of price.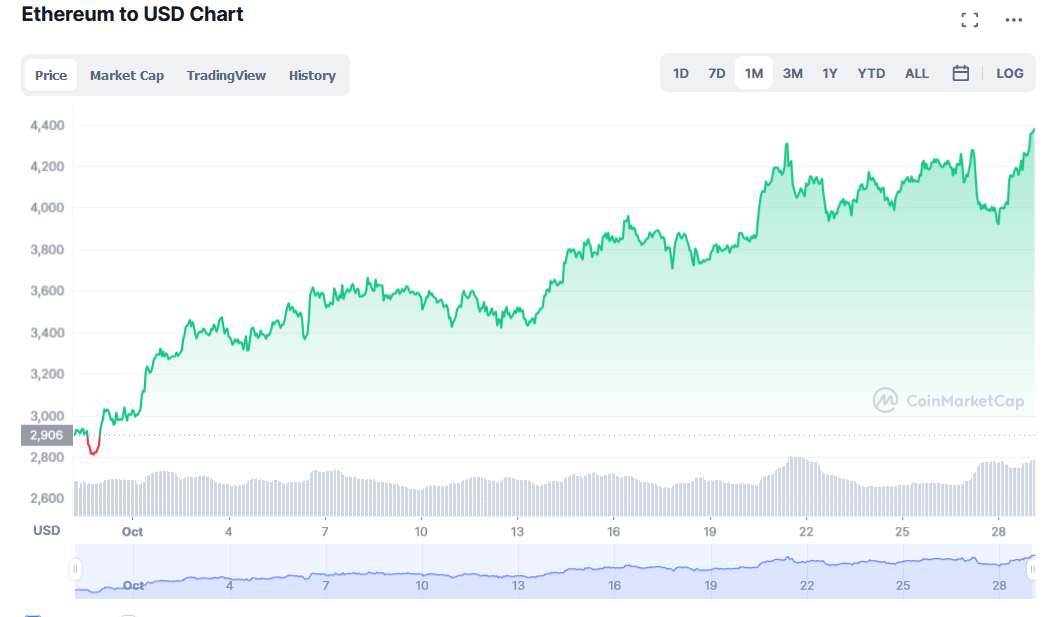 As previously reported, the Ethereum 2.0 Altair Beacon Chain update got off to a successful start, with 98.7 percent of nodes having been upgraded at the time of publication. A successful Altair upgrade to the Beacon Chain was widely seen as a critical step toward the integration of the Ethereum mainnet and the move to a proof-of-stake (PoS) consensus mechanism in Ethereum 2.0.
Decentralized finance (DeFi) and nonfungible token (NFT) are two of the fastest-growing areas on the Ethereum blockchain, and their use is fueling the platform's growth. They point to continued growth in demand for Ether in the future, which will provide additional tailwinds for the cryptocurrency's bullish outlook in Q4 2021 and maybe into 2022.
Just so we are clear – I am more than irresponsibly long ETH right now. I now have leverage but via calls. This is by far and away the biggest personal position of my entire life by a factor of 10 (or more).

My view horizon for this part of the trade is 6 to 9 months.

— Raoul Pal (@RaoulGMI) October 29, 2021
Since July, Ethereum has also experienced significant modifications, such as the London Hard Fork, which added a deflationary burning mechanism to the asset as part of the network's fee structure as part of its fee structure.
As a result of the SEC's approval of various Bitcoin futures-based exchange-traded funds to list on the New York Stock Exchange, the overall market sentiment in cryptocurrency has improved recently. Immediately following the announcement, Bitcoin values reached fresh all-time highs.