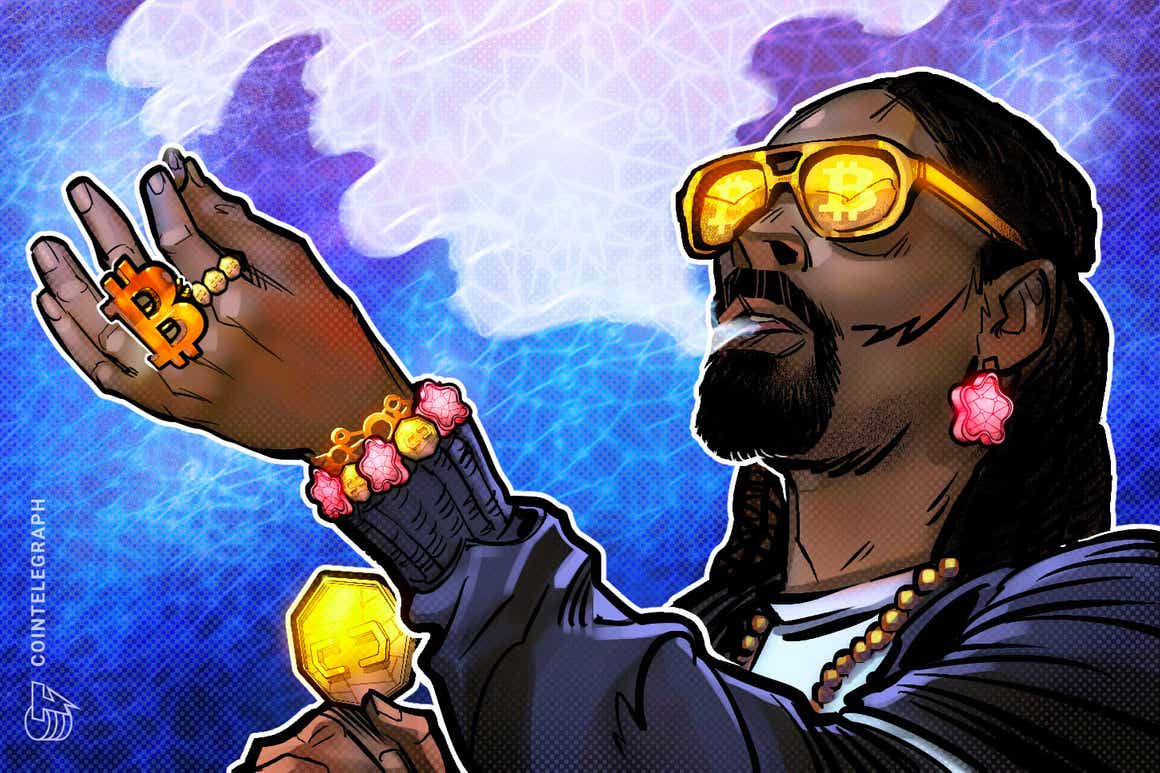 Web3 is open-source and decentralized, driving many to explore for methods to benefit from its capabilities, especially with the burgeoning Metaverse.
Ahead of many companies and investors, famed musician and nonfungible token collector Snoop Dogg seems to have found his groove.
Aficionado of cannabis and NFT revealed his affiliation with the digitally native lifestyle and gaming platform FaZe Clan on March 7.
Snoop Dogg has been a major voice in the Web3 sector thanks to his involvement with digital collectibles.
Joined @FaZeClan. pic.twitter.com/jQWWpsHO5L

— Snoop Dogg (@SnoopDogg) March 7, 2022
Snoop Dogg's digital footprint is undeniable, from Snoopverse in The Sandbox to the online persona "Cozomo de' Medici."
One investor paid upwards of $450,000 for a block of digital land adjacent to the rapper's virtual estate, demonstrating the rapper's power and influence in the sector.
Snoop's involvement in Web3 emphasizes innovation, content development, and ownership.
As a result, some say he is the present face of Web3 and is paving the way for other artists.
New avenues are opening up for music NFTs
Music NFTs are gaining popularity, and certain strategic agreements are now developing.
Such as Snoop Dogg's recent acquisition of Death Row Records as the first NFT record company in the Metaverse.
Others are finding success via collaboration.
Artists may connect with their followers while directly collecting cash from their creations by using Royal, an NFT royalty platform founded by DJ and music producer 3lau.
But it's not just the big names who are looking to the technology and sector.
music NFTs are gunna have their PFP moment soon enough so consider yourself not only early, but lucky!

"ford or a hemi" is now available on @catalogworks (you can listen for free, check it out!)https://t.co/lcKnleIUZk

— ✨Freddy Got Magic✨ (@SupaBwe) March 12, 2022
The Metaverse's creative freedom excites Web3 commentators, who see NFTs as a way to fairly recompense artists.
"I had one individual buy my song for the amount it would have took a million streams," Iman Europe, a musician and the head of artist relations at NFT music startup Sound, told Bloomberg.
With the help of Sound, Snoop Dogg sold out a music NFT on March 14th, raising $100,000.
Creators are improving structures within music NFTs after browsing Web2 streaming models.
Latashá, an artist and community manager at NFT marketplace protocol Zora, has sold over 50 music and multimedia nonfungible tokens, with an average price of $20,000 per 1/1 artwork.
Unlike the Web2 model, where artists need hundreds of streams to generate $1, Web3's infrastructure includes ownership.
Just so you know…… pic.twitter.com/t8m3PerxT9

— T-Pain (@TPAIN) December 29, 2021
Artists retain ownership rights to their music NFTs through platforms like Sound, Audius, Zora, Royal, and Catalog.
Due to the blockchain and information backing music NFTs, difficulties of giving up intellectual property rights are reduced.
Blockchains also help track content usage and distribution.
Artists can now be paid directly.
Snoop Dogg may represent what happens when independent musicians sign with major labels.
He and other Web3 inhabitants have raised awareness of potential listen-and-earn rewards through music NFTs.
Music NFTs haven't seen the same growth as PFP NFTs, but their utility and functionality has grown beyond merely being audio files.
The creative economy has been changed by Web3 and blockchain infrastructure.
Creator economies are built for Web3
Web3 is the next edition of the internet, and it benefits creators and creatives.
Because Web3's infrastructure is founded on blockchain, artists want autonomy and transparency.
Data governance, management, and ownership are not Web2 ideals.
It also allows users to own and profit from their work.
"What I found in my pursuit of continued creative autonomy in web3 last year was freedom and the ability to exhale for the first time in a long time. It's been a nonstop rollercoaster of ideation, creation and execution."

— cdixon.eth (@cdixon) January 7, 2022
Following in the footsteps of YouTube, platforms are gradually incorporating Web3-based ownership elements into their models.
Its revenue streams include smart contracts, royalties, and other revenue streams.
Due of provenance, Web3 ownership helps both creators and their communities.
Given that content license may be captured on blockchain networks, the idea is to put an end to continuous piracy.
Music industry's anti-piracy operations putting the focus on NFTs and the metaverse https://t.co/akSkAr9IsC @CMU pic.twitter.com/gvqAIyTm7b

— Adrian Fusiarski (@Buzzsonic) February 16, 2022
Web3 emerged with the rise of NFTs and touched several industries.
Beyond visual and musical arts, blockchain and Web3 have influenced significant actors in gaming.
Ryan Watt, former YouTube head of gaming, is now CEO of Polygon Studios, a blockchain gaming and Web3 studio.
As blockchain gaming gets more popular, the creator and streamer will converge.
With more initiatives in the works, more content is needed to attract new users and keep existing ones engaged.
Web3 is slowly changing not only who consumes content but also how it is created.
Snoop Dogg's collaboration with FaZe Clan shows that creators are no longer bound by industry.
Creators, streamers, and gamers will no longer need to rely on centralized platforms like YouTube or Twitch to monetise their work.
Artists are using Web3's decentralized feature for the greater good, not only for financial gain.
Consider the Russian protest organization Pussy Riot, which uses its platform to help UkraineDAO.
Web3 can thus help citizens interact and act without the customary red tape.
Web3 has only lately entered the media lexicon and is already causing massive industry shifts.
Snoop Dogg, as an early adopter of Web3, may be setting an example for other creators to follow.
The author's thoughts and opinions are entirely his or her own and do not necessarily reflect those of CoinNewsDaily. Each investing and trading action entails risk; before making a decision, you should conduct your own research.