Today, we are going to jam up with you about the Solana Price Prediction for 2021,2022 and beyond. We will talk about in general on what is Solana to how this coins is helping the DeFi world revolutionizing. Later on, we shall share our own as well as market opinions on the price predictions of Solana (SOL). So, without wasting any further time, let's dive into the crux of this blog and see where it can lead us.
What is Solana?
Solana (SOL) is an Open Technology blockchain and cryptocurrency with greater scalability. The network incorporates different new and groundbreaking solutions to ensure customers unmatched transaction rates and company safety. Consequently, since its launch in 2017, the network has seen significant expansion.
History of Solana
Solana's history starts in 2017. At that time the project was created by Anatoly Yakovenko. He soon joined in his efforts to develop a blockchain that is infinitely scalable with Greg Fitzgerald and Eric Williams.
In particular, Yakovenko made use of his previous experience as a Dropbox engineer to assist Solana to accomplish the important objectives. Solana is now considered to be an evolutionary blockchain of 4th century.
Shortly after its launch, Solana collaborated with another upcoming blockchain Serum protocol to build a DEX. Serum used the sophisticated Solana method designed to establish a non-custodial location and trade of derivatives. Because of its latest functionality DEX was pleased by the crypto community. In particular, Serum has developed a Central Limit Order Book (CLOB) in Chain that updates every 400 milliseconds to ensure that traders have the most correct price.
Solana (SOL) market Cap and Supply Details
SOL has corrected down to the bottom, before again rapidly growing by the end of December 2020 after it reached its all-time highs. The price of SOL was $44.46 at the time of writing, a decrease of 3.36% percent in last 24-hours.
The down in price is resulting to make a huge change in supple and market cap of SOL. The estimated supply in circulation is 270,001,839 SOL, which will make Solana the fourth-most worth of cryptocurrencies, with a market cap of $11,933,094,363. It's a rough patch of journey for the coin, but as soon as the price of bitcoin hikes, there is an upsurge expected for Solana and all other cryptocurrencies.
Solana (SOL) Price History and Technical Analysis
On 10 April 2020 Solana began its crypto trading journey with $0.79 as per Coinmarketcap. The price then began to increase and by mid-May fell to $0.52. At the end of June, the price began to rebound and hit $0.99. It is interesting to note that the price rose to 1.33 dollars by mid-July. At the end of July, the digital currency increased to $1.84. Going up, the coin struck 3.77 dollars by the middle of August and fell to 2.82 dollars later that year.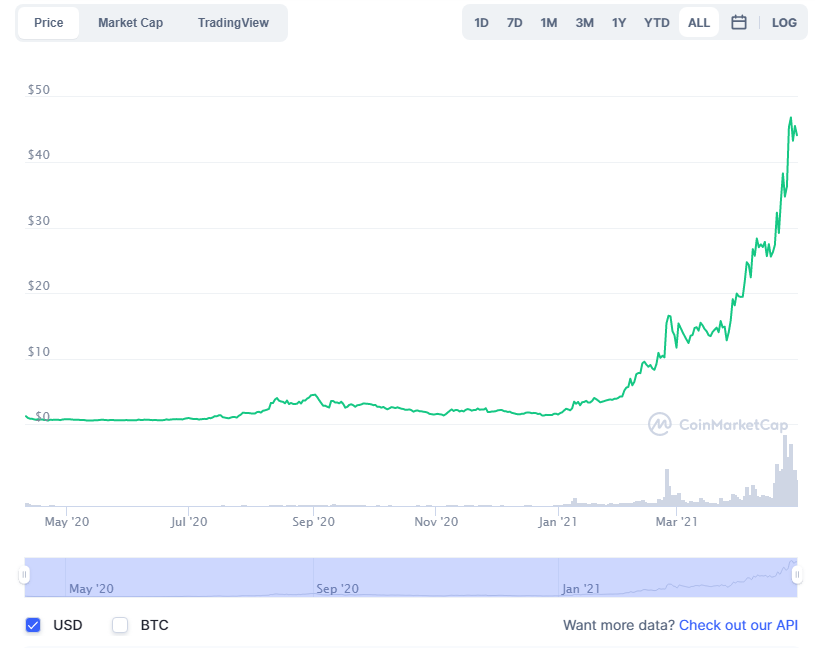 Indeed, at the beginning of September SOL increased its price record to $4.84 in order to hit an all-time high. Shockingly, in a couple of days, the price fell to $2.40, which indicated it was Time-High and began to rise. Solana reached $3.80 in stability and struggled to stay stable, but it dropped to $2.56 again. SOL traded at $2.96 at the end of September.
Solana succeeded in reaching the $2 range during October with several variations. At the beginning of November the price fell desperately to $1.35 due to huge user spending and strong selling pressure. The price began to rebound later in November and hit $2.41 as Bitcoin resumed its pricing rally. In December, Solana decreased more to $1.47 when the bears pulled the values.
Solana Price Prediction for 2021
In the context of the Solana's soprano, we have been able to add a highly bullish feeling from the available algorithmic models.
In view of the fact that decentralized financial networks were only swelled to a locked price of $22 billion at January 2021, Solana is a strong alternative to Ethereum for high-growth apps and platforms. Therefore, we might see the all-time maximum SOL burst in the middle of 2021. If we would be very open to you, we are expecting $60 average price by the end of 2021.
Solana (SOL) Price Prediction for 2023
At present the greatest obstacle against Solana is that well-established blockchains like Ethereum or EOS are upgrading their network in order to overcome the crisis of scalability problems, including long transaction times and high charges.
However, the numerous advancements of Solana could also make it stronger against its competitors, including widely awaited improvements that allow improved cross-chain compatibility between Solana and other SOL tokens. With the help of this upgrade, a turnover in prices is also expected. By 2023, the price of 1Solana token will be around $100 to $150.
Solana Price Prediction for 2025
It is impossible to predict how far the financial landscape would improve in four long years, but we will greatly bet that the importance of decentralization will make significant progress through decentralized financing (DeFi) and increased use of mobile applications in most of our everyday life (DAPPs).
The strong scalability of Solana makes it a stable platform future-proof alternative. SOL is an extremely attractive investment chance as the native currency of this blockchain makes it resilient and efficient.
Moreover, the price prediction for this long term period would be a huge task to perform. Well, it is expected that the price of Solana might reach $300 mark by 2025. We know that this is very hard to believe case, but the way the coin is reaching to heights, we are waiting for the prices to move around a little bit.
What other Media think about Solana (SOL)
Let us take a look at the renowned publication and figures and their estimates about the Solana price, which will give us another view:
TradingBeasts Solana (SOL) Price Prediction
Solana will be traded at 53.477 dollars by the end of 2021, and 116.47 dollars by 2024, according to the analysis of TradingBeasts.
Gov.capital Solana (SOL) Price Prediction
By the end of 2021 Solana will be exchanged for $ 68.683, while by 2025, $248.74 will be sold as per Gov.capital.
WalletInvestor Solana (SOL) Price Prediction
Solana may be a remarkable long-term bet, according to WalletInvestor. By the end of 2021 they were expected to sell at $107.65 and by the end of 2025 $468.00.

Coin Arbitrage Solana (SOL) Price Prediction
The price of Solana may be 49.221 at the end of the 2021 according to Coin Arbitrage. For the coming three years, Solana will be at the $71.241 peak price and the $60.7790 lowest price.
Our Solana (SOL) Price Prediction
The exchange price of Solana in 2021, was 1.60 dollars. The altcoin began to climb higher on a bullish note. Because Solana is a new DeFi coin it might well boom its price.
It could focus on those alliances in order to link its assets to DeFi. It would stimulate new start-ups and may be a strong competitive player on the market for other currencies. At the end of 2021, it might exchange between 100 dollars and expect to hit 150 dollars in the near future.
How to buy and store Solana?
The following exchanges are used for this common token: Binance, Huobi Global & OKEx. The safest alternative is Binance. SOL/USDT is a very common trading pair in Binance. It's also quick to store your SOL. The creators of the project suggest the Trust Wallet specifically. The mobile wallet can be downloaded from Apple and Android free. Coin98 is another smartphone range to ease your stocking needs, and it offers fun features. A hardware wallet is, of course, the best alternative.
Solana (SOL) Price Prediction FAQs
Is Solana a DeFi?
Solana is intended to promote the development and support of a decentralised application (DApp) (DeFi). It seeks to enhance scalability by adding a proof of history consensus (PoH) in combination with the underlying demonstration of stake consensus (PoS).
Is Solana (SOL) a good investment?
As seen in Solana's prediction, Solana's SOL provides a solid theoretical base for achieving greater value by deflation thanks to its high versatility as a utility token and its long-term deflationary economic model.
In coming years, it is hope that the coin will perform well as it has performed now in the past few weeks.
Where can I buy Solana?
If you would like to buy Solana (SOL), there are many high end exchanges that are providing extremely unmatched services to its customers. Exchanges like Binance, OKEx are one of the few exchange that can be trusted without making any other argument.
The Bottom Line – This Coin needs your attention
DeFi burst into the scene just a couple of years ago from almost nowhere. We were eventually seeing the beginning of modernization of the financial industry after long and sustained dominance by major banks and institutions.
The future of how human beings communicate with financial institutions is ready and prepared for DeFi, offering open, low-cost, transparent and equitable access to them all. But taking action into the future, as with everything in life, means that you end up with some difficulties.
Solana is actually one of the most popular blockchains. The project creators were able to create a network to overcome payment processors particularly in terms of tps and usability. As such, more developers are expected to migrate to Solana because their original blockchains continue to experience scalability issues.
Rest assured, if you're still confused on anything, feel free to ping us in comment section. We would love to hear your side of story.