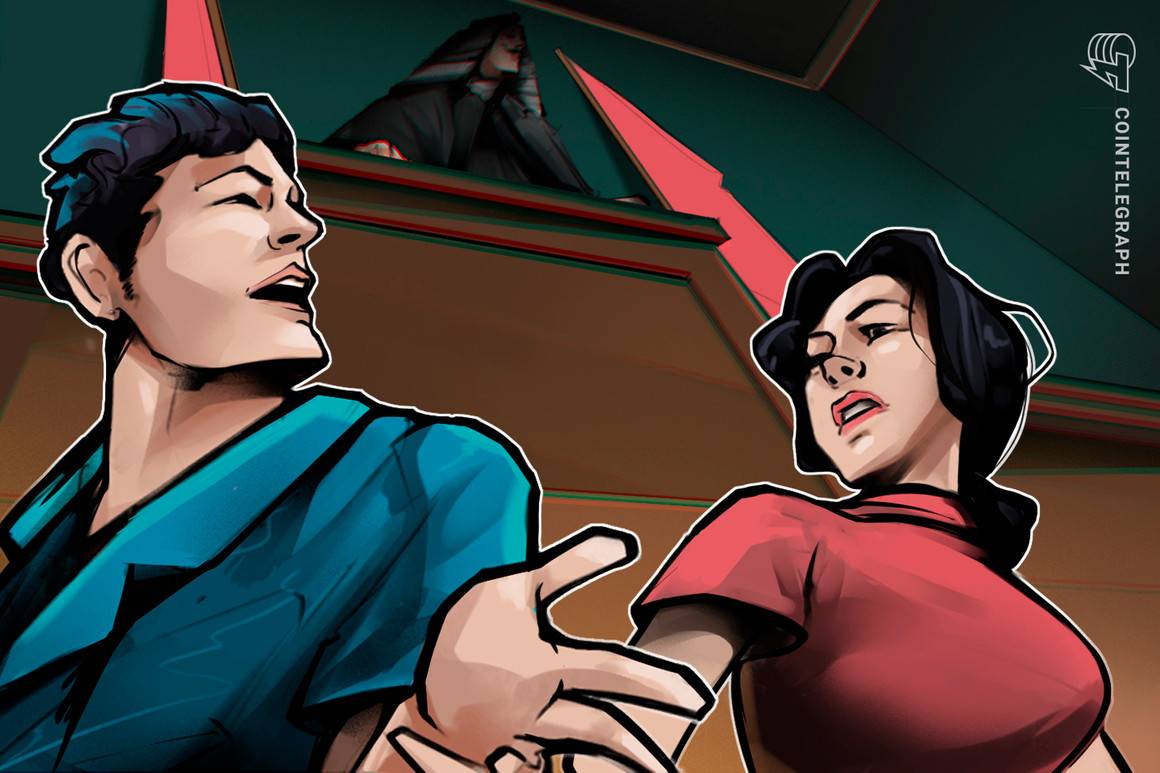 Square peg, meet round hole: a decentralized autonomous organization is pondering taking a rival fork to court.
Earlier today, a member of this Curve Finance community made a post in Curve's governance forum titled"Enforce Curve's IP Rights."
"Curve has proven hugely popular, with over $10B deposited, hundreds of millions in daily quantity, and around $1M/week in earnings to veCRV holders. This places it among the best of markets in crypto today, even rivaling publicly-traded CEX's," the post reads. "[…] People CEX's protect their IP on behalf of the shareholders and there is no reason why Curve, simply by virtue of its DAO firm, shouldn't protect itself for the advantage of veCRV holders too."
The goal of this IP enforcement in this case is Saddle. Saddle — that the official Curve Twitter handle characterized as a"line-by-line translation from 1 language to another," possibly a violation of Curve's permit — established in January this year to significant fanfare and with important VC backing. Additionally, it allowed a couple of crazy mediation transactions on the day of launch, which some characterized as an exploit.
Some observers immediately griped that, similar to Uniswap v3's business permits, such an action wouldn't be consistent with DeFi's open-source ethos.
But, Sam Miorelli, a cybersecurity specialist by day and a budding protocol politician at nighttime who penned the proposal, argues that protecting the value of intellectual function is a fundamental right:
"IP is an increasingly important part of hundreds of years of innovation in every aspect of society and the economy. Decentralization doesn't change that founders have a natural right (protected by legislation in efficiently every jurisdiction) to the fruits of these creations."
While Saddle has been live for nearly half an hour and has mostly neglected to consume to Curve's TVL (Curve is presently the 2nd-largest DeFi protocol with $10.49 billion in total worth locked, while Saddle sits in only under $59 million), part of what totaled Miorelli into activity may be a significant depositor taking their pools to Saddle.
When's the very first IP violation lawsuit? As a $veCRV holder I want @CurveFinance to assert and protect its position aggressively. https://t.co/XjNE3uF7t2
Alchemix — a protocol that offers loans of synthetic assets based on prospective return from assets deposited to the Yearn.Finance protocol — recently opted to start an alETH pool on Saddle, although their alUSD pool is on Curve and will be the third-largest only pool on the stage.
The particulars of how to move forward to secure their moat are tremendously complex, however. "Charlie," a member of Cruve's core staff told Cointelegraph the Curve DAO includes a license granted by Swiss Stake GmbH, although the Curve DAO itself isn't a legal entity and has an open source license.
What's more, it's unclear if Saddle likewise holds a legal entity, if VC investors might be responsible, or if trying to enforce the license could make CRV a security.
The staff member who manages the Curve Twitter handle supposed that, because of these complications and the prices, moving forward may not make sense (no matter how badly they Might Want to take action ):
It's also a question if it makes sense to go from business standpoint. Suing a high tier VC backed startup sounds extremely arousing in principle, but not if it is a worthless one

— Curve Finance (@CurveFinance) June 16, 2021
Miorelli noted that no matter whether Curve moves forward with legal actions,"lots of DAOs will need to pay additional attention to the subject" because maintaining"profits using a DAO rather than going to well heeled VCs, is fundamental to the DeFi ethos – even if it takes something like courts to do it."
Ultimately, the decision to litigate will be one about fundamentals before possible financial rewards, he included:
"Sometimes those rights are easy or rewarding to enforce, sometimes they are not. But profitability is a matter you inquire after you first decide'do I want to even try enforcing my rights?' That's the crux of my proposal: does Curve want to start that conversation?"