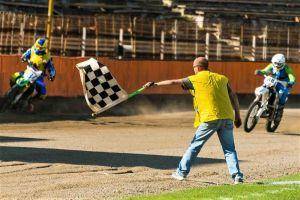 Perhaps surprisingly, July turned out to be a green month.
Despite the drops and sideways trading, the second half of the month saw an increase in cryptocurrency markets, bringing the month back into the green.
This comes after the crypto markets ended June in the red, with no clear winner among the top ten coins in terms of market capitalization and only five among the top 50.
At the time, bitcoin's (BTC) drop of 7% was the smallest, followed by ethereum's (ETH) drop of 13%.
BTC began the month of July by gradually declining from the USD 35,600 level to the USD 29,500 level, which was reached in the second half of the month, around the 20th.
That is when it began to rise, eventually reaching nearly USD 42,000 by the end of the month.
Similarly, ETH initially fell from around USD 2,300 at the start of the month to around USD 1,500 around July 20, before recovering and ending the month at USD 2,600.
Two significant developments are underway in these two networks: Bitcoin's major Taproot upgrade is currently being tested on the testnet, and preparations for Ethereum's upcoming London upgrade are also well underway.
Top 10 Coins in July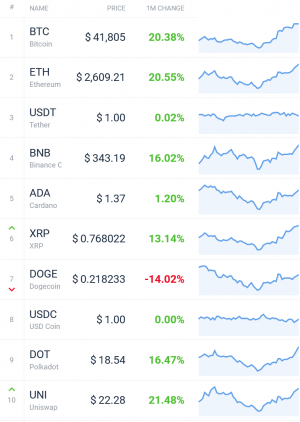 All but one of the top ten coins had increased in value during July, some more than others.
Although the race was close, the winner of the month was uniswap (UNI), which saw a 21.5 percent increase in its price.
Following closely behind were ethereum and bitcoin, which both crossed the finish line with gains of more than 20%.
As previously reported, Uniswap saw some significant developments in July, most notably the launch of the long-awaited Alpha layer-two (L2) solution for major decentralized exchange (DEX) Uniswap via the Optimistic Ethereum (O) mainnet by decentralized finance (DeFi) startup Optimism.
Uniswap, on the other hand, encountered significant governance difficulties.
Three additional coins saw double-digit gains, including polkadot (DOT) and binance coin (BNB), both of which increased by around 16 percent, and XRP, which increased by around 13 percent.
Notably, BNB rallied despite the crypto exchange Binance's ongoing regulatory issues.
Meanwhile, Ripple strengthened its relationship with its largest Asian partner, Japan's financial behemoth SBI, through a remittance deal it dubbed the "first live on-demand liquidity offering in Japan."
Finally, cardano (ADA) was up 1% – and has been one of the year's best performers.
The only coin that fell in July was dogecoin (DOGE), which was crowned 2021's second quarter and first half winner.
It is down 14%.
Top winners in July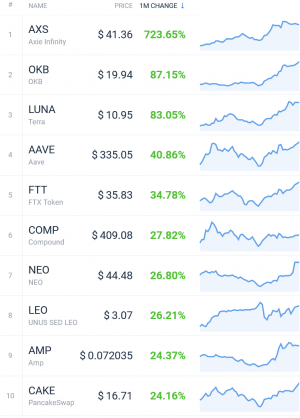 And we've compiled a comprehensive list of the top 10 best-performing coins among the top 50 most valuable coins by market capitalization.
Axie Infinity (AXS) is the clear leader, with a gain of nearly 724 percent since the beginning of the year.
During the month of July, the coin reached a number of new all-time highs.
They also announced that they would be deploying dedicated servers specifically for esports events over the next few months in a post published in mid-July by the team behind it, who stated that they were "continuing to see unparalleled growth."
OKB and terra (LUNA), which increased by 87 percent and 83 percent, respectively, are in second and third place, respectively, in a very distant third place.
AAVE increased by 41 percent, FTT by 44 percent, and the remaining four saw increases ranging from 24 percent to 28 percent each.
Top losers in July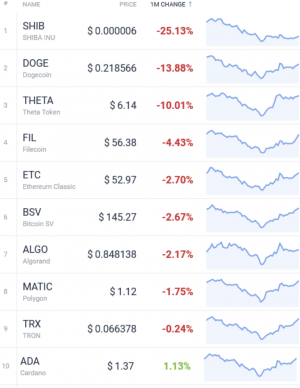 Despite the fact that the green list is completely exhausted, the red list is as well.
However, the decreases are not as significant as the increases when compared to one another.
The shiba inu, who was one of the winners in June, is at the top of this list (SHIB).
In the month of July, it fell by more than 25 percent.
It is the only coin to have experienced a drop of more than 20%, with only two others experiencing double-digit drops: DOGE and THETA.
In contrast to filecoin (FIL), which has lost nearly 5 percent of its value, ethereum classic (ETC), bitcoin sv (BSV), and algorand (ALGO) have all lost between 2 percent and almost 3 percent in value.
The last two stocks to fall were polygon (MATIC) and tron (TRX), both of which fell by less than 2 percent each.
Winners & losers from top 100
According to market capitalization, AXS ranks first, followed by FLOW and quant network (QNT), which saw gains of 147 and 118 percent, respectively, in the top ten best performers among the top 100 most valuable companies in the world.
When it comes to price drops, the most significant is that of mdex (MDX), which fell by 30 percent. This was followed by SAFEMOON, telcoin (TEL), and SHIB, which all fell by 25 percent to 26 percent.