Bitcoin reached a new all-time high of $69,000, while Ether continued its long march toward $5,000, having reached a new all-time high of $4,868 earlier today.
However, just after reaching this new milestone, traders began taking profits, resulting in a nearly $7,000 decrease that brought BTC's price below $63,000.
Interestingly, this morning's breakout occurred immediately after the United States Bureau of Labor Statistics reported a steep 6.2 percent annual increase in the Consumer Price Index, the highest level in 30 years.
According to the BLS, rising energy costs fuelled the CPI increase, but analysts have been tracking the growing costs of food and other items for at least six months. The current CPI reading is the highest since October 1990. Core inflation, which excludes the effect of rising commodity prices, increased by 4.6 percent, the highest level since 1991.

While the Federal Reserve and the Biden administration continue to emphasize that inflation is "under control," equity markets took a negative reaction to the news.
Despite the troubling news and a slight pullback in traditional markets, BTC and Ether prices increased, a phenomenon that analysts such as Anthony Pompliano refer to as "asymetric price action," in which investors see a raging stock market and unsustainable central bank monetary policy as attractive investments and hedges against gold, the dollar, and inflation.
According to Sam Bourgi, Bitcoin is often regarded as the finest alternative to sovereign currencies in terms of "hard money" and:
"Bitcoin has outperformed gold, the most widely regarded inflation hedge, by a considerable margin year-to-date, having gained over 130% compared with gold's 4% decline."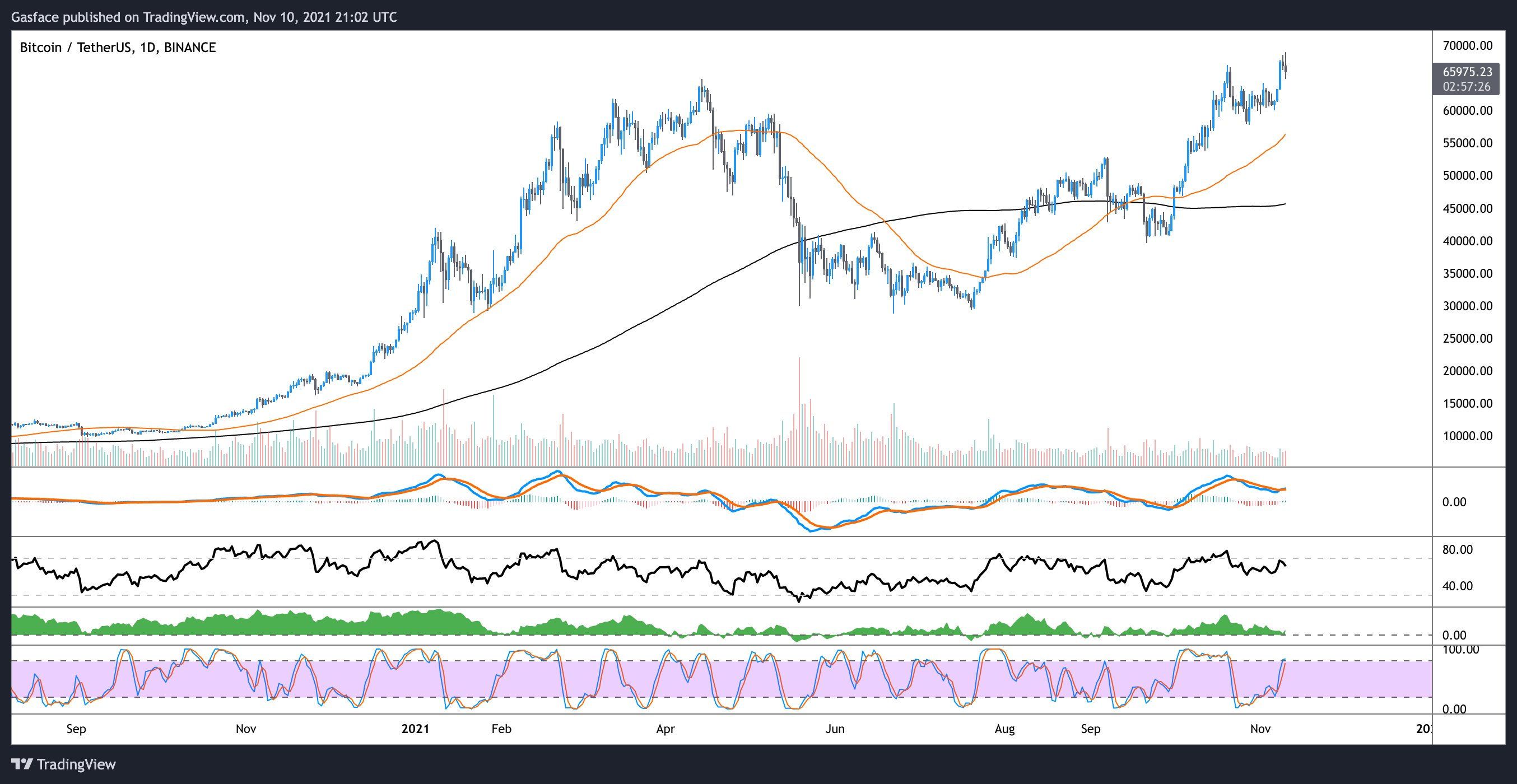 Shortly after reaching these new astronomical heights, Bitcoin's price plummeted to roughly $62,700 before recovering slightly to around $64,500, while the majority of altcoins suffered double-digit losses.
While the latest negative move is certain to surprise some investors, little corrections following new all-time highs are a common occurrence for Bitcoin.
Technical analysis suggests that profit taking around all-time highs and the need for a retest of lower support levels are both regular procedures for the majority of cryptocurrencies. Indeed, a cursory scan at many analysts' and traders' Twitter discussions reveals that the majority expected BTC to return lower support levels near $64,000 and below before regaining positive momentum and heading higher.
The whole cryptocurrency market capitalization now stands at $2.91 trillion, with Bitcoin commanding a 41.9 percent market share.