Bitcoin (BTC) hit 48-hour highs overnight into May 20 as U.S. dollar weakness gave bulls some much-needed respite.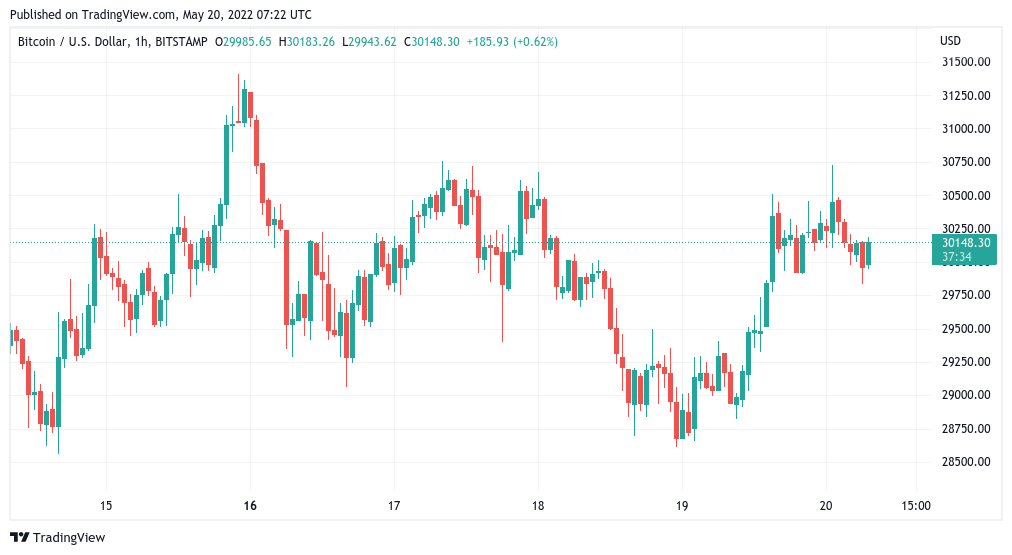 Dollar strength declines after 20-year record
Data from Cointelegraph Markets Pro and TradingView recorded a high of $30,725 for BTC/USD on Bitstamp.
Still struggling to flip $30,000 to reliable support, the pair nonetheless avoided a deeper retracement, helping calm fears that last week's $23,800 capitulation event did not mark the bottom.
The U.S. dollar index (DXY) provided the background to Bitcoin's relatively solid performance, this coming off two-decade highs to dip 2% in a week.
This appeared to relieve some pressure on stock markets, the S&P 500 finishing May 19 down a more modest 0.58% compared to previously in the week, the Nasdaq 100 less.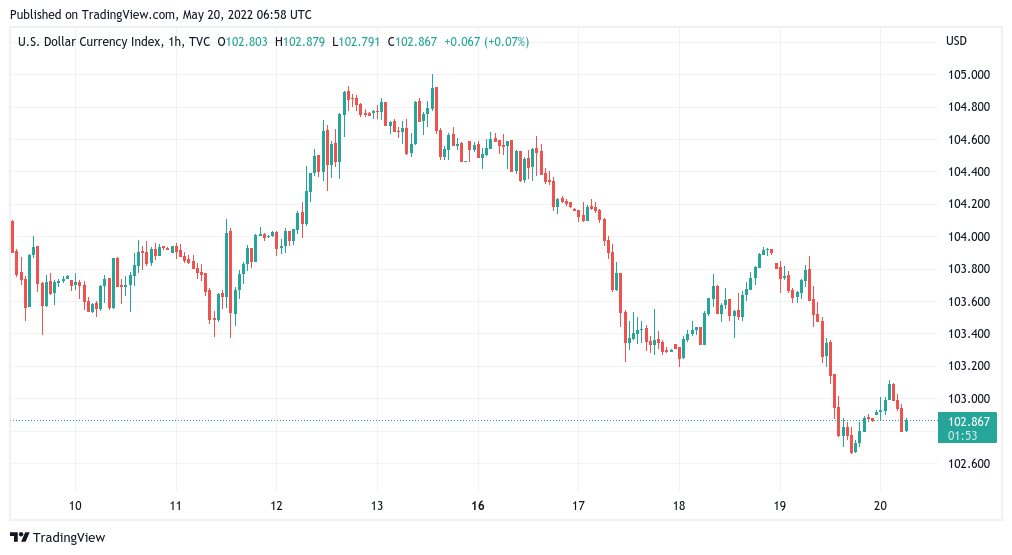 While treading water more than 50% below its all-time highs, the largest cryptocurrency had punished latecomers to the market, one analyst noted.
"Today, newbies who joined last year are in -34% loss," Ki Young Ju, CEO of analytics platform CryptoQuant, wrote in a series of tweets on the day.
Ki highlighted a chart of bands of unspent transaction outputs (UTXOs) showing the age of investments. Those who had only experienced one "bear cycle" before were now down 39%, he concluded, while older coins were still in profit.
"So here's hopium for bears. If $BTC crashed so hard due to the macro crisis and all Bitcoiner institutions go underwater, it could go $14k based on historical MDD," he added.
As Cointelegraph reported, multiple predictions of a major BTC price retracement, some under $14,000, continue to circulate.
Altcoins roll over
Meanwhile, attention focused on Bitcoin's increasing market presence over altcoins.
Related: Bitcoin must defend these price levels to avoid 'much deeper' fall: Analysis
After the Terra LUNA debacle, the mood had turned cold outside BTC, and now, signs were there that alts could cede dominance rapidly.
At 44.8%, Bitcoin's share of the overall cryptocurrency market cap was at its highest since October 2021 at the time of writing.
"We could see dominance rally all the way back to 60%," popular Twitter account IncomeSharks forecast.
"This is why you need to be cautious on alts and trade them with tight stops. There's a good chance we could see money leave alts and start going back to BTC."
60% BTC market dominance would represent a level not seen since March last year.
"Most alts I've been watching haven't been able to break their H4 trends despite yesterday's move on BTC," fellow popular analyst Pierre warned.
"Would still expect most of them to die twice harder if btc was to remain stuck within this same range, or resolve to the downside."
The views and opinions expressed here are solely those of the author and do not necessarily reflect the views of Cointelegraph.com. Every investment and trading move involves risk, you should conduct your own research when making a decision.
The digital currency Bitcoin has seen a major uptick in its value due to the recent weakening of the US dollar. The price of Bitcoin has risen to $30,700, its highest level yet, as analysts predict the cryptocurrency could account for 60% of the crypto market in the future.
The weakened US dollar has helped fuel the surge in Bitcoin's value due to the strong correlation between the two. As the US dollar weakens, investors look for alternative safe havens, and Bitcoin has become the preferred currency of choice.
In addition to the weakening US dollar, Bitcoin has also seen an upswing in its value due to institutional investors entering the market. Retail investors have long been at the forefront of Bitcoin investing, but large institutions have recently begun to dip their toes in the market as well. This has added strength to the market, and pushed prices up even further.
Furthermore, there has been increased interest in the cryptocurrency from financial institutions, as well as tech companies looking to take advantage of the technology behind it. This has given Bitcoin a boost in credibility, causing speculators to invest even more heavily in the currency.
Analysts have predicted that Bitcoin could account for 60% of the overall crypto market in the near future. This level of dominance would be unprecedented in the market, and could lead to larger price increases in the coming months.
Overall, the combination of the weakened US dollar, institutional investors entering the market, and an increase in interest from financial institutions have all contributed to the recent surge in Bitcoin's value. With further market domination predicted, and prices hitting all-time highs, it's likely that we'll see further gains in the cryptocurrency over the long-term.