It's been an incredible weekend for Avalanche ($AVAX), the native token of smart contracts platform Avalanche, which has surpassed the extremely popular dog joke cryptocurrency Shiba Inu ($SHIB) to become the eleventh most valuable cryptocurrency by market capitalization.
What is Avalanche ($AVAX)?
According to the developer documentation, the following is a brief summary of Avalanche:
"Avalanche is an open-source platform for launching decentralized applications and enterprise blockchain deployments in one interoperable, highly scalable ecosystem. Avalanche is the first decentralized smart contracts platform built for the scale of global finance, with near-instant transaction finality. Ethereum developers can quickly build on Avalanche as Solidity works out-of-the-box.
"A key difference between Avalanche and other decentralized networks is the consensus protocol. Over time, people have come to a false understanding that blockchains have to be slow and not scalable. The Avalanche protocol employs a novel approach to consensus to achieve its strong safety guarantees, quick finality, and high-throughput without compromising decentralization.
"AVAX is the native token of Avalanche. It's a hard-capped, scarce asset that is used to pay for fees, secure the platform through staking, and provide a basic unit of account between the multiple subnets created on Avalanche. 1 nAVAX is equal to 0.000000001 AVAX."
Avalanche is being developed by Ava Labs, a blockchain startup founded in Brooklyn, New York in 2018 by Professor Emin Gün Sirer (CEO), who conducts computer science research at Cornell University, Kevin Sekniqi (COO), and Ted Yin. Professor Emin Gün Sirer (CEO) is a computer science researcher at Cornell University (Chief Protocol Architect).
$AVAX's Price Action
According to TradingView statistics, on the cryptocurrency exchange Binance, the $AVAX price reached a high of $146.3250 at 14:13 p.m. UTC on November 21, allowing it to surpass Dogecoin ($DOGE) to take 10th place and create a new all-time high.
It was this that prompted crypto-quant Benjamin Cowen to tweet: However, since then, the price of $AVAX has given back some of today's earlier gains, most likely as a result of shorting and profit-taking. $AVAX is currently trading around $132.14, representing a 7.65 percent gain over the previous 24-hour period (i.e. as of 05:45 p.m. UTC).
$AVAX began the year at $3.19 per share. In other words, the return on investment (in terms of dollars) for the year-to-date period (YTD) is an amazing 4042 percent.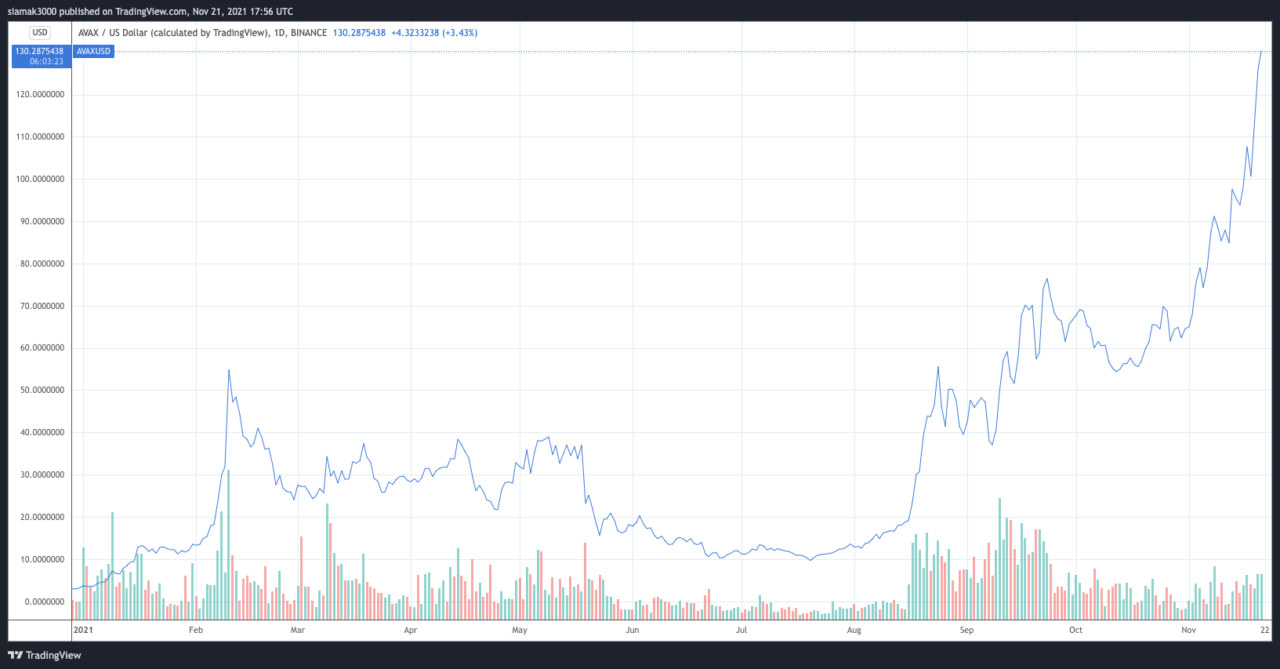 Layah Heilpern, a crypto influencer, is one among the many people who is today remorseful about not investing in $AVAX when it was far cheaper:
Josh Rager, a cryptocurrency analyst, does not appear to believe that it is too late to invest in $AVAX, claiming that even a 2X increase from here (in the next few weeks/months) is a realistic target given the amount of money being invested in the Avalanche ecosystem and the number of Avalanche-powered projects being built, and he believes that Avalanche is a serious threat to Solana ($SOL).
The fact that Grayscale Investments, a subsidiary of Digital Currency Group (DCG), declared on November 2 that it has added $AVAX to its list of "assets under consideration" indicates that the company may in the future offer a $AVAX investment product is worth mentioning at this time.
The following infographics, created by Coin98, provide a rough estimate of how much and how quickly the Avalanche ecosystem has grown:
Kyle Davies, Co-Founder and Chairman of Singapore-based crypto-focused hedge fund Three Arrows Capital, forecasted yesterday that the number of projects powered by Avalanche would more than double in the next three months, compared to the present number of projects.
Disclaimer: The author's thoughts and opinions are entirely his or her own and do not necessarily reflect those of CoinNewsDaily. Each investing and trading action entails risk; before making a decision, you should conduct your own research.