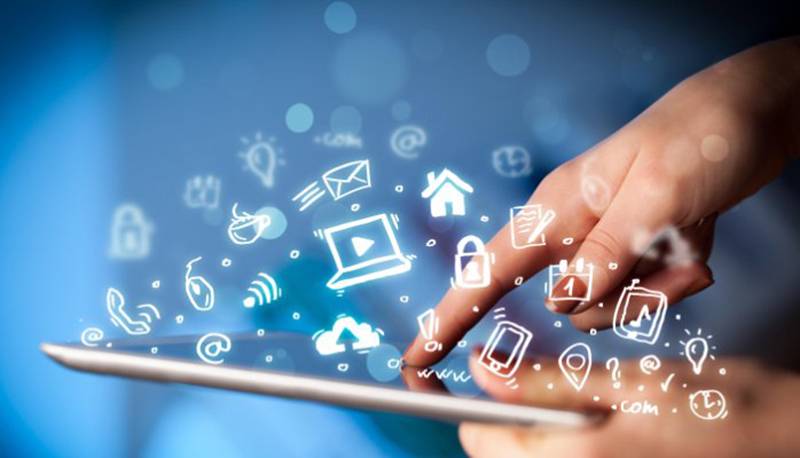 The pandemic has forced the closure of hundreds of thousands of firms, forced others to go out of business, and ravaged large swaths of the economy.
Cryptography, on the other hand, thrived in this scattered setting. As the world tightened its grip and everyone was compelled to decentralize, the cryptographic world shone brightly.
Perhaps it is because crypto was born out of a crisis that it feels most at ease in one. Working from home has been where we have all spent the most of our time during this crisis.
Tovekar serves as the CEO and co-founder of Indorse, a blockchain-based corporate SaaS platform that he founded in 2013. He claims that the company was well-positioned to weather the storm because the entire staff had never worked in the same physical location since the company's founding.
"Although the pandemic accelerated remote work and the adoption of decentralization in the workforce globally on an unprecedented scale, it was already a norm within the crypto industry well before the pandemic struck."
He points out that, despite the fact that the company had previously had offices in Singapore and London, he had already traded them out for hot desks in co-working spaces prior to the epidemic.
That way, those of us who want to get together once or twice a week and socialize can continue to do so in the office even though we are working from home the bulk of the time.
"Over the course of the last year and a half, we have altered our work methods and become accustomed to this new normal.
I am confident that we as a firm will not be leasing luxurious office buildings any time soon, but will instead give better flexibility and other incentives that will make working from home more joyful for our team," he says in his closing remarks.
7) I'm (in)famous for playing League of Legends while on phone calls.

I'll also try to avoid restarting my RAM if possible.

One side advantage of the bean bags: if I sleep in the office, my mind stays in work mode, and I don't have to reload everything the next day. pic.twitter.com/AKlQm7wneI

— SBF (@SBF_FTX) February 4, 2021
Office as a luxury?
Former Bitcoin.com CEO Stefan Rust, now the CEO and co-founder of Sonic Capital, is adopting a different approach to remote working than most other business leaders. He has just secured a lease for a "swanky office" in Hong Kong – albeit at a significant reduction compared to the market rate. He aims to exploit this real estate luxury as a reward for his primarily remote employees, which will benefit from it.
"I have plans to create enormous open plan spaces with sofas, televisions, screens, and hot desks," says the designer. The ability to come in and relax, spend time with their coworkers, attend meetings, or simply unwind is something I desire for my employees. "It's important that the new office is a place where people want to come – it's all about choice," he explains.
Consequently, if regulatory limitations are eased, an office may be considered a luxury perk for tech and crypto enterprises, serving as a central clubhouse that workers can come and go as they see fit.
Throughout the pandemic in January 2021, Ramadan Ameen, CFO of privacy company Panther Protocol, comments on how his multinational staff was put in place during the pandemic. It is not only true that his team has never all been in one place at the same time, but it is also true that the vast majority of the twenty members of his team have never met in person. For Ameen, a team meeting and bonding session takes precedence over the company's physical location for the time being.
"The team has met in person, but it is dispersed around North and South America, Asia, and Europe. We are looking forward to a team get-together in the fall, subject to Covid's requirements. Due to the restricted number of options available to us at this time, we are still debating between a few strategic locations."
Zoom zoom
The lockdown resulted in a very beneficial outcome for the Unique.network, a next-generation NFT chain for the Polkadot and Kusama ecosystems. According to CEO Alex Mitrovic, his dispersed team put their collective heads down and focused only on the project's objectives. They participated in a large Hackathon on Kusama in January 2020 with the goal of "building a blockchain" and won. This put them in a position to secure more Web 3.0 Foundation funding before being accepted into the Outlier Ventures accelerator program, which was founded by Jamie Burke, CEO of Outlier Ventures, at the beginning of this year.
"Working with a team that is distributed throughout the globe is nothing new for me; lockdown only made things a little tighter," he says. "People, who were frequently restricted to specific regions, desired to interact, and so we made it happen.
We re-entered a bull run as lockdown progressed, and that didn't hurt at all, according to the captain.
One thing that unites remote workers in the crypto sector, according to Mitrovich, is their enthusiasm for and commitment to the industry.
"To work remotely often requires a degree of self-motivation and discipline. These are the very hallmarks of people in this space. And everyone gets the decentralized approach — it is part of the territory."
Mitrovich claims that remote work opens up a plethora of opportunities for competent professionals in the blockchain industry as well.
"There are more options for people," he explains. "If they don't like someone or anything, they have the option to leave and find something else. They may be constrained in terms of geography, but they are not restricted in terms of options. The phrase "no jerk policy" is one of Jamie's that I like to quote since it makes me laugh while also being quite true. "I envision my team flourishing during this lockdown." They are more forthright in their assessment of their abilities and limitations. And it is my responsibility as CEO to assist them. There will be no more top-down management; it will all be done by consensus."
The etiquette of Zoom
Mitrovich believes that since since the entire planet was placed on lockdown, people have been looking for ways to communicate with one another.
Aside from that, it had the impression of democratizing the new workplace: the house, because few people were still working in conference rooms or office buildings.
According to him, it didn't matter where you were; everyone was reduced to a zoom screen. Interestingly, he claims that fewer individuals are arriving late for meetings these days.
Hundreds of thousands of video chats have been completed with complete reliability — it's almost like a mark of respect. "There is no need for anyone to travel, so it is much easier to be on time," he explains.
As Mitrovich raises funds and meets with investors from all over Asia, the cultural disparities in attitudes to video conversations are becoming more evident to him.
In my experience, Asian folks tend to turn off their videos, whilst Westerners tend to leave theirs running. Possibly due to the fact that, for example, viewing videos from China requires a VPN, or perhaps due to the fact that the connections are poor."
Apparently it's international dog day. pic.twitter.com/stzxvnMcH7

— CZ ? Binance (@cz_binance) August 26, 2021
Another group of leaders has actually set policies about the use of video, both on and off the job, feeling that it is a good method for employees to bond and preserve normal social interactions. Marie Tatibouet, CMO of the cryptocurrency exchange Gate.io, is rather vehement in her assertions on this subject:
If you are not in the office and seeing each other on a daily basis, interdepartmental synergy might be difficult to achieve in a large organization like ours, according to Ms. Sullivan. The team uses online workspaces such as Notion to ensure that everyone is aware of what their colleagues are working on. "We also have a weekly meeting that is half formal and half informal, with mandatory 'Video on.' Everyone will know what the team members look like, and they will be able to communicate with one another and exchange intriguing anecdotes from the industry and their everyday lives as a result."
Family time
Cryptocurrency requires balancing several different professions. Because the work is not done from 9 to 5, positions are fluid, and workers are expected to run with different jobs as the situation warrants. In most cases, there is no one, static job description. Crypto plus remote provides greater flexibility, which is especially important when families are involved.
At R.J. Fleming & Co, a private bank where he specialized in Islamic Finance, Khalid Howladar is the head of credit and Sukuk advisory services. Based in Dubai, he is currently transitioning to the role of chairman of a startup DeFi protocol, a position he claims he has loved working from a distance.
"My wife and I are fortunate in that our children are still small enough that homeschooling is not a challenge, but I have greatly appreciated the additional time I have been able to spend with them," he says. Previously, I was not a fan of taking breaks at work, but now I set out 15 to 30 minutes each day to relax and unwind.
Moreover, he realizes that, as he progresses in the crypto world, he will be required to wear multiple hats. Remote working is ideal for this new juggling act of business and family life.
"Also, as someone who tends to work late, I can put my son to bed and get back to work. For my wife having someone around at home for those 10/15 mins you might need to do something or take a break — is invaluable."
Retraining laid-off workers
Businesses went under as a result of the lockdowns, resulting in the loss of thousands of jobs for lower-paid workers. For those who live in high-cost areas of the world, retraining in the crypto and blockchain industries may be a viable option for them to get back on their feet. After all, the sector is experiencing a surge in demand for experienced workers, with the number of blockchain job openings more than doubling in recent months. The fact that they can typically work from any location brings up a plethora of career opportunities for them.
A blockchain educator and executive director, Ryan Williams collaborates with institutions and corporations to deliver high-quality blockchain training and accreditation. In Hawaii, he has found a suitable location for his specialized courses.
"Hawaii is a gorgeous place, but it is also a very costly place to live. In addition, the hospitality industry has been hit hard as a result of the shutdown. A approach to get around this problem and, in fact, give some long-term employment certainty and income equality is through cryptocurrency."
The Hawaiian government had been seeking for ways to upskill the local populace, and the Hawaiian Technology Development Corporation, or HTDC, was established as a result of their efforts. They reached out to The Blockchain Academy and agreed to collaborate with them in order to deliver fundamental courses in blockchain technology.
The DAO – or Decentralized Autonomous Organization
A Decentralized Autonomous Organization, often known as a DAO, is another opportunity that may be taken advantage of by anybody, anywhere who possesses the necessary qualifications. A decentralized autonomous organization (DAO) is created when a globally distributed community of contributors controls the overarching corporation as a cooperative enterprise without the need for centralized leadership. Anyone who has a better idea for how to achieve something can join and present it as a solution, which has the potential to supercharge the process of invention. Decisions are made from the bottom up (at least in theory), regulated by a community, and organized around a certain set of rules that are enforced on a distributed ledger technology called a blockchain.
Decisions are made through ideas that are voted on by the group over a predetermined period of time, as made popular by blockchain DAOs in DeFi.
Williams is cautiously hopeful about the prospects, particularly if the DAOs follow through on their commitments.
"Remote may mean we need to learn to be empathetic on purpose, but the inbuilt consensus mechanisms from a DAO means firstly, people have a vested interest in the organization and secondly, they have a say in the culture. It's not from the top down."
Working on my new #Bitcoin podcasting station. https://t.co/LlPrxc6JF3 pic.twitter.com/oLvBflk7QW

— Michael Saylor⚡️ (@michael_saylor) May 15, 2021
Owner of the Dallas Mavericks and crypto aficionado Mark Cuban is completely on board with this.
"The benefits of a DAO are a trickle-down effect. Trickle-down economics does not reflect the way a DAO operates, and that is precisely the idea. Participants have complete influence over what happens and does not happen," he explains. "The tokenomics are explicitly described so that everyone understands who benefits, how they benefit, and why they benefit. The benefit can accrue from the bottom up if the program is performed correctly and with adequate tokenomics. It is possible for everyone who works there to be granted tokens, allowing them to participate in the DAO.
"Any business that is community driven would benefit the most from being a DAO. It could be a company that offers healthcare services, it could be a local savings and loan. The value comes from the fact that the business can benefit from integration of the community."
Rust is also experimenting with a decentralized autonomous organization (DAO) as part of his sustainable cryptocurrency investing firm in Hong Kong.
"I have established a number of entities and registered them as firms in a variety of countries, depending on the requirements of the jurisdiction in question. Sonto, one of the company's business divisions, will be a pure DAO. It will not be incorporated in any jurisdiction, but will instead operate as a fully decentralized organization."
Regarding remuneration, this decentralized way of thinking will be extended to all of the remote employees.
"If half of the staff work from home or in a decentralized environment, I am not in the best position to assess their performance. Rather of a centralized authority, team leaders will make the decisions about resource allocations in each circumstance. "That makes a lot more sense to me," Rust continues.
Cuban, on the other hand, is less than bullish about the guaranteed success of DAOs, particularly the early ones, while being a supporter.
As a final point, he expresses concern that many of the early DAOs may fail due to a lack of experience and a likely unfair distribution of involvement. He cites a lack of experience and a possible unequal distribution of participation as grounds for his concern.
"Some holders are really involved and frequently try to work to the exclusion of others. This is a problem. It will also be necessary to consider the politics of involvement in DAOs. As he concludes, "the mechanics of how individuals cooperate will continue to be tough until there is a historical record of what works and what doesn't work for newcomers to learn from."