It's been interesting to talk about cryptocurrency mixers ever since cryptocurrencies came out and started being used by people all over the world.
A service called a "cryptocurrency mixer" is a service that focuses on one thing about a blockchain network: privacy.
Cryptocurrency mixers, also known as tumblers, keep transactions private so no one can find out who sent or received them. They also make it hard to track down the sender or receiver.
This can help protect the identities of people who want to be completely anonymous and not be able to be found.
There are ways that cryptocurrency mixers work. They break down the funds sent through the mixer and mix them with other transactions.
They break the link between the person who owns crypto and their identity.
CoinJoin is a way to hide cryptocurrency transactions. Gregory Maxwell, a Bitcoin (BTC) developer, came up with the idea for it in 2013.
This is what Maxwell said in a thread on the Bitcointalk forum about how these transactions are set up and how the privacy of the transactions can be significantly improved without making a lot of changes to the network itself.
Users get their transactions from a "mixing block box." This box has hundreds of transactions from a lot of different wallets in it.
If you want to mix your cryptocurrency, CoinJoin is one of the best mixers out there.
It's important to know that there are two main types of mixers: central and decentralized.
Centralized mixers take in cryptocurrency from users and send back different cryptocurrencies by charging a fee, but they don't do this all at once.
When people deposit cryptocurrency into the mixers, a program takes care of the transaction addresses of all of the people who do.
Cryptocurrencies that users get back aren't the same as the ones they put in, and they may come back to their account in more than one way.
Decentralized mixers, on the other hand, use other crypto protocols to hide transactions, either through a coordinated network or through peer-to-peer (P2P) networks.
We talked about the pros and cons of centralized and decentralized mixing with Marie Tatibouet, the chief marketing officer of the crypto exchange Gate.io, at CND. She told us what she thinks about them.
She said:
"Centralized services are obviously more accessible and more approachable. However, they will have access to your Bitcoin and IP addresses. Hence, they are not the most private service in the world. Decentralized mixers can be a little less approachable, but they are a lot more private."
However, cryptocurrency mixers and tumblers have a bad reputation because they can be used to hide money or hide huge amounts of money.
Even though it isn't against the law, the service providers could get caught up in a crypto money-laundering investigation.
There have been a lot of times when governments and jurisdictions have looked into how people use cryptocurrency mixers and how they use them.
Mixers could be in a gray area
Most recently, the National Crime Agency in the United Kingdom wants to regulate cryptocurrency mixers under the country's Anti-Money Laundering (AML) laws, which are very strict.
People who use transaction-mixing tools can keep the flow of criminal money going by not revealing where the money comes from, says the head of the agency's financial investigation, Gary Cathcart.
According to Cathcart, mixing services would have to follow AML laws if they wanted to make sure that they did thorough AML checks and looked at all the transactions that went through the mixer.
On the surface, this might seem like a good idea. There's a good chance that people won't want to use the mixer because of these checks.
People who work with crime don't have to be worried about things that aren't true.
A report from Chainalysis called "2022 Crypto Crime Report" found that in 2021, the total value of cryptocurrency that was sent to illegal addresses reached an all-time high of $14 billion. That's almost double what it was in the previous year, when it was just $7.8 billion.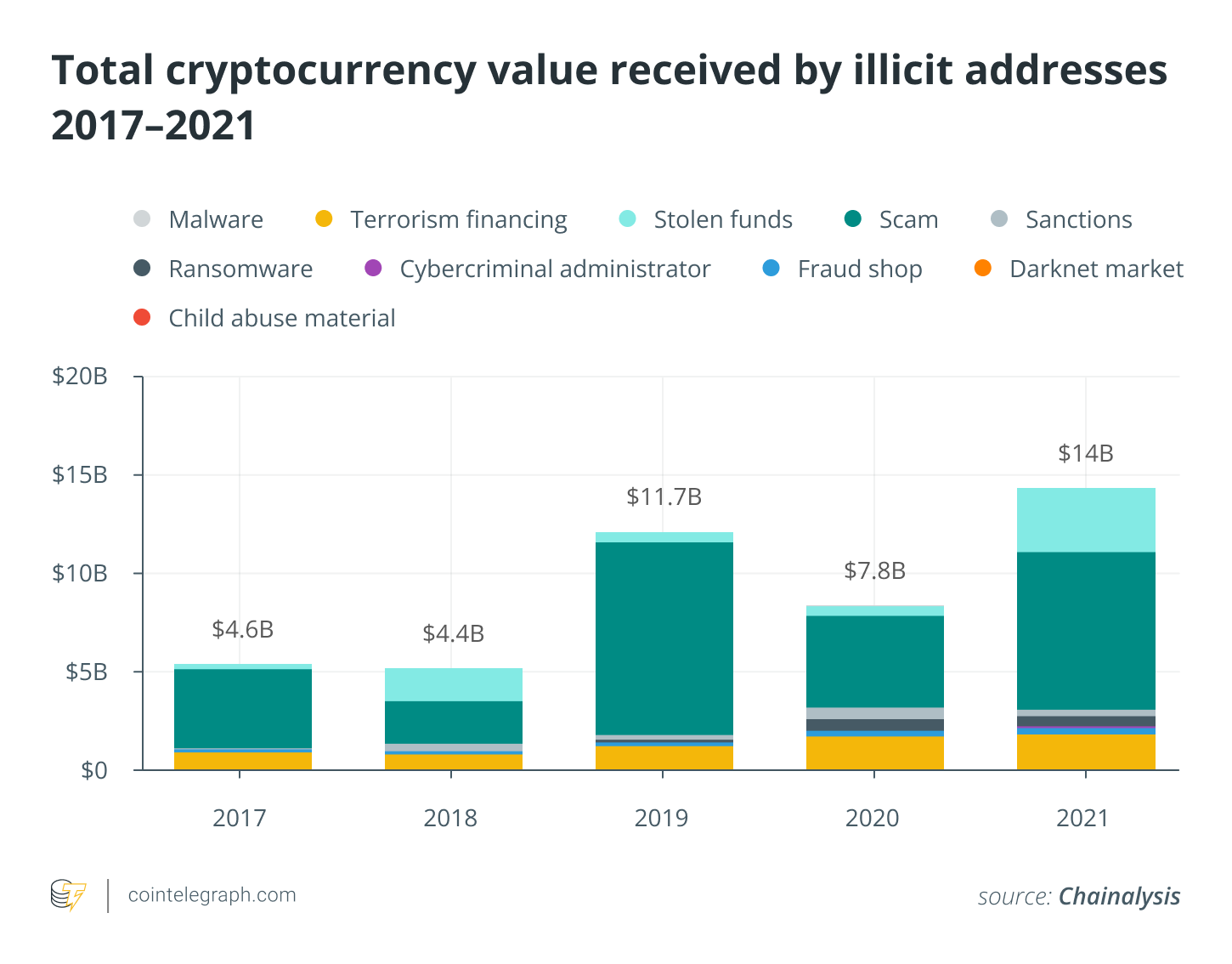 At the same time, it's important to note that the total value of the entire market has grown a lot as more and more people start investing in digital assets.
As part of its crime report, Chainalaysis also looks at the Illicit percentage share of all cryptocurrency currencies, which was 0.15 percent in 2021. This was a four-year low.
This means that as the digital asset market grows, the checks and balances being put in place by market participants have been deterring both criminals and people who want to hide money.
People who stole money from DeFi protocols like Wormhole and Poly Network in 2021 are behind most of the transactions that show up as suspicious.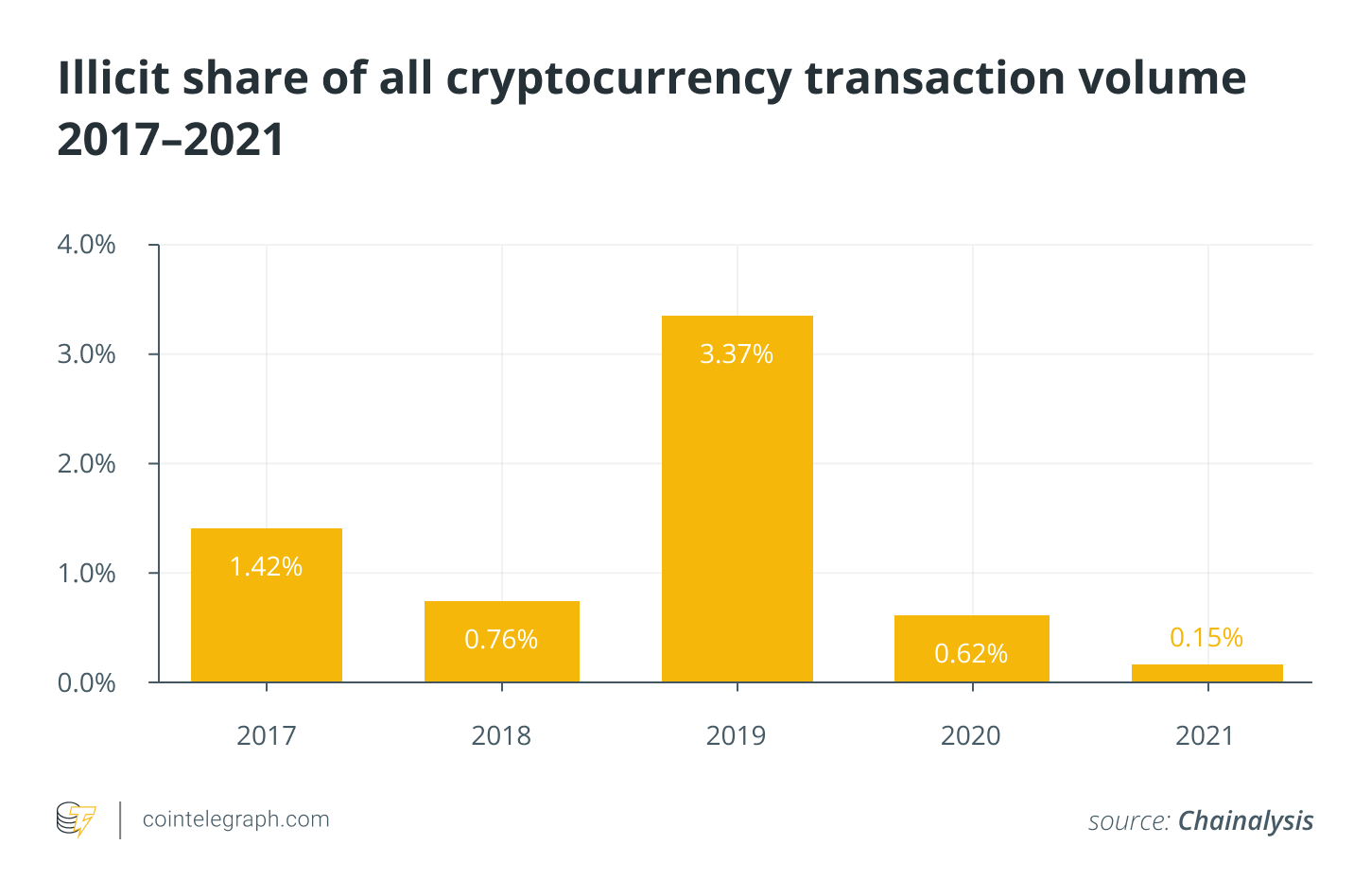 Anton Gulin who work for a crypto exchange called AAX say that mixing is not illegal by itself.
Some countries, on the other hand, are slowly putting in place the Financial Action Task Force's Travel Rules, which say that exchanges and other virtual asset market players must collect, verify, and send information about customers for every cryptocurrency transaction.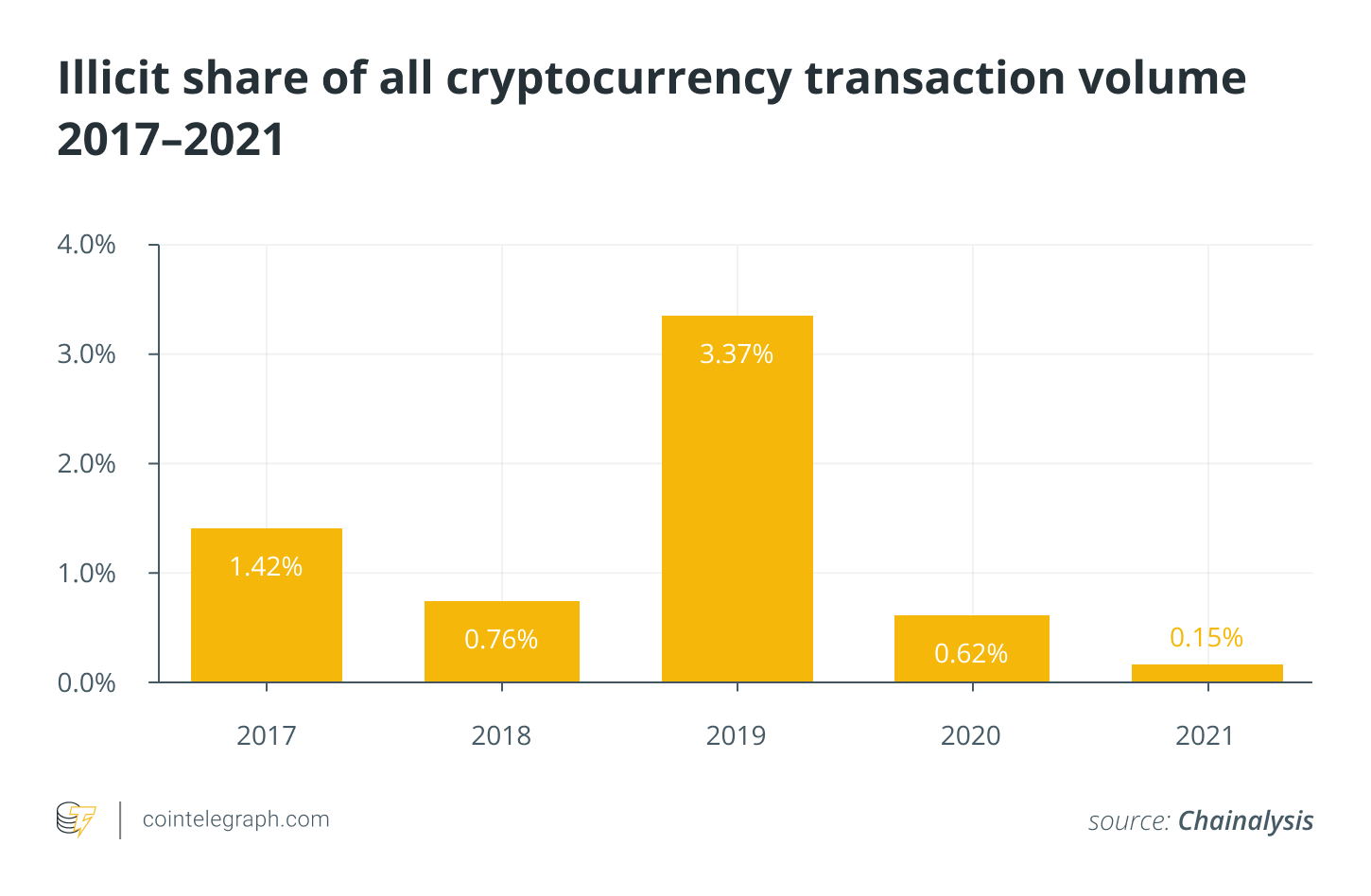 Because of this rule, regulated businesses, like centralized exchanges, can't get money from mixers, which puts the whole thing in question.
One of the people who works for a company that makes blockchain APIs called Covalent told me:
"They operate in a gray area because at a global level the regulations around fundamentals of what comprises virtual assets, whether they fall under money transfer regulations, and or commodity regulations and or securities regulations and or some new category is still being developed."
The FATF's new rule on the digital assets industry could even slow down the industry even more.
Survey: Notabene, which is a crypto compliance firm, did a survey of crypto businesses and found that 70% of them are either already following the Travel Rule or plan to start following it in early 2022.
Relevance of crypto mixers in 2022
Cryptocurrency mixers are meant to help people stay anonymous and private, but the development of blockchain technology and new ideas like whitelisting and decentralized identifier protocols could make them less important.
Guilin said that there is no reason to use a crypto mixer in 2022, because "by now, it's widely linked to something illegal and is, in fact, linked in the majority of cases."
Because of this, most of the mixer addresses have been clustered by Know Your Customer providers and are easy to find.
Because withdrawals from a mixer are marked, this means that users can't use their funds after they've mixed them without being traced by the other market participants. This goes against the idea of using a mixer in the first place.
Cryptocurrency mixers still have a good chance of appealing to the original crypto lovers who care a lot about the privacy and anonymity of their cryptocurrency transactions.
As a result of the retail adoption models and other checks and balances that are now used by the people in the ecosystem, their value may be going down today.
Since Maxwell talked about CoinJoin, the industry and blockchain technology have changed a lot. It might be important for service providers to know this as well.