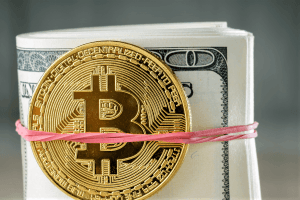 James Butterfill, Investment Strategist at major European digital asset investment firm CoinShares.
____
Inflation is beginning to show its ugly head in producer prices, which are becoming increasingly exposed to rising commodity prices.
With a growth rate of 7.1 percent for the developed world, we are now in the 90th percentile of all time figures.
During the pandemic, wage growth was unusually strong, a trend that was distorted by mass layoffs of lower-paid workers.
As these workers re-enter the labor market, the likelihood is that their wages will decrease rather than increase in the coming months.
According to the data currently available, it appears as though bitcoin (BTC) is beginning to serve as an inflation hedge.
Observing the relationship between changes in bitcoin's price and changes in the rate of inflation over time reveals that this relationship is becoming statistically significant.
While our forecast for inflation over the next five years is uncertain, we believe that diversifying portfolios with real assets is a prudent move to hedge against the tail risk of inflation spiraling out of control.
There is mounting evidence of a possible inflationary problem, with tightening employment conditions (and corresponding increases in wages) and rising producer prices globally serving as two of the most prominent indicators. When it comes to inflation expectations, investors can be divided into two camps: those who believe inflation effects will be more transitory and those who believe inflation will rise to a point where economic stability is jeopardized.
When historical trends and the current state of the world economy are considered, data indicate that current inflation is relatively low in comparison to previous periods. Recent data indicate that current levels are comparable to those observed in the aftermath of the 2008 financial crisis, placing them in the 55th percentile of all levels observed since 1970. Rather than in consumer prices, however, inflation is beginning to manifest itself in producer prices, which are particularly susceptible to rising commodity prices. The developed world's current growth rate of 7.1 percent places us in the 90th percentile of the distribution of growth rates.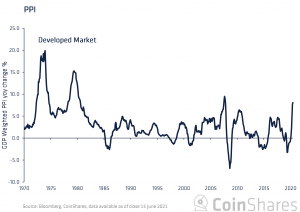 As a result of the COVID recovery phase, unemployment rates are declining at a significantly faster rate, indicating that the labor market is beginning to heat up. Unemployment rates declined at a significantly slower rate during the global financial crisis. Salaries are expected to increase in the coming months and years, as has already occurred in the United States this year. While wage growth was unusually strong during the pandemic, the picture has been distorted by the epidemic's mass layoffs of lower-wage workers. It is more than likely that these workers will be able to re-enter the labor force in the coming months, resulting in wage growth slowing rather than increasing.
As a result, predicting whether or not higher inflation is truly on the horizon is exceedingly difficult at the moment. This does not mean, however, that the increase in inflation will result in longer-term inflationary problems. Global shipping disruptions, as well as broader supply chain and inventory management issues, have all contributed to the rise in short-term inflation. As a result, we believe that forecasting the exact path of inflation will remain impossible, despite the fact that we acknowledge that the issue is directly in the hands of central bankers and that history suggests they will take a reactive rather than proactive approach.
Central bankers' plight
We are aware of the plight of central bankers at the moment. After such an unprecedented period of easy money, tightening monetary policy is likely to cause market dislocation, resulting in increased stock market volatility. This situation has entrapped the Federal Reserve of the United States and other central banks in the very liquidity that was intended to alleviate market stress, and reversing the situation has become extremely difficult.
This is one of the reasons why investors paid such close attention to the June FOMC (Federal Oversight and Monetary Committee) statement. The minutes from the FOMC meeting reveal that the Federal Reserve is maintaining an extremely dovish stance on the economy in general (even if the minutes were unexpectedly hawkish).
Apart from that, they have increased inflation forecasts and signaled an expectation of higher interest rates in 2023. As long as inflation remains a transitory phenomenon, the Federal Open Market Committee (FOMC) is content to allow it to continue "running hot."
Regrettably, the Federal Reserve of the United States is taking a dangerous "outcomes-based" approach, also known as "waiting for inflation to occur before acting," which is fraught with danger. Given that some traditional inflation indicators may be unreliable as a result of the rapid pace at which the global economy and technology are changing, this is all the more critical to consider.
Many investors do not appear to be convinced by the outcomes-oriented approach, based on their actions.
Assets under management in inflation-protected exchange-traded products increased by 74% in the last year, according to Securities and Exchange Commission data.
Additionally, as evidenced by these record inflows, inflationary fears may be spreading rather than remaining an outlier viewpoint. Moreover, it alludes to the fact that many investors believe that the US Federal Reserve and other central banks are potentially behind the curve when it comes to economic growth.
There is a substantial tail risk that central bankers will be unable to maintain price stability regardless of the outcome of the inflation debate. As a result, inflation hedges are gaining popularity, as evidenced by the increased inflows of funds discussed previously.
There is a small group of hard assets that we believe will outperform the market during an inflationary period, and we believe bitcoin is one of these assets.
Bitcoin as a hedge against inflation
From a theoretical standpoint, it makes sense that bitcoin would serve as a hedge against inflation.
The asset is what an economist would refer to as a "real asset," which is defined as an asset with a limited and predictable supply that is frequently priced in US dollars.
If the supply of US dollars or any other fiat currency is increasing, or if the supply of any other fiat currency is decreasing, then it is likely that bitcoin will appreciate in value relative to those currencies, even if its purchasing power remains stagnant.
According to the available data, bitcoin is beginning to play the role of inflation hedge.
Studying how prices have changed over time in relation to changes in inflation over two-year periods since it was established in 2009 reveals that the relationship is becoming stronger, with an R2 of 0.30 at the current time (since 2019).
In addition, the relationship between bitcoin and inflation is currently more favorable than the relationship between inflation and gold at this time.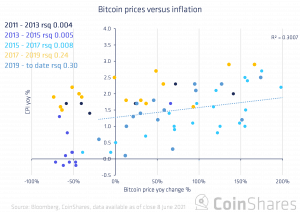 Citi compiles an index that tracks unexpected, or 'surprise' inflation, by measuring inflation forecasts versus delivered results.
When inflation rates exceed zero, inflation exceeds expectations, and vice versa. Additionally, despite the fact that this association is relatively recent, Bitcoin has a recent but potentially compelling association with unexpected inflation. We discovered during our investigation that bitcoin appears to respond positively when inflation figures exceed expectations, rising when actual inflation figures exceed expectations.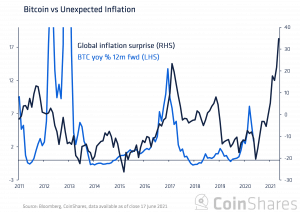 We acknowledge that the relationship between bitcoin and inflation is most likely inconclusive at the moment due to the study's small sample size. Finally, it's worth noting that the relationship has steadily improved over time, bolstering the case for bitcoin as a legitimate financial asset.
Bitcoin is maturing as an investment vehicle.
A growing body of evidence indicates that bitcoin is gaining in value. Following the Federal Open Market Committee's most recent statement (16th June), in which an unexpectedly hawkish tone was expressed, silver and gold prices moved in strikingly similar directions. Bitcoin is behaving as investors would expect a real asset to behave, increasing in value as the US dollar declines and decreasing in value as the dollar rises, as demonstrated by the chart above.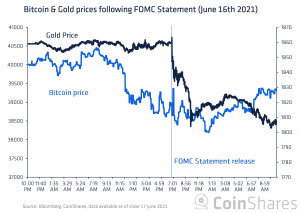 Despite the fact that we have no way of knowing how inflation will behave over the next five years, we believe that adding bitcoin and other real assets to portfolios is a prudent move to protect them from the risk of inflation spiraling out of control. Bitcoin's inflation-protective properties are becoming increasingly clear, as evidenced by increased investor participation and an improvement in its relationship with consumer prices, which was previously a theoretical concept.