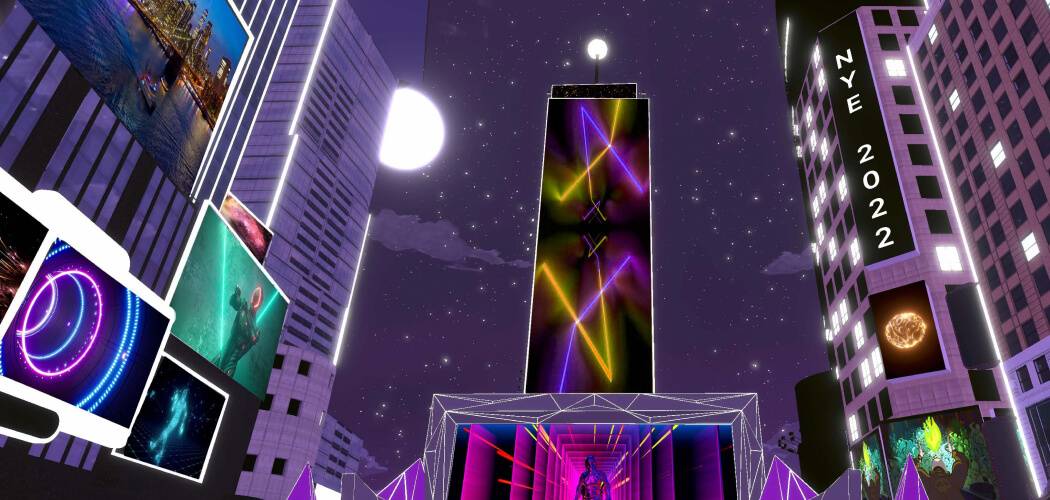 The Open Metaverse project consists of 10,000 alphanumeric non-transferable tokens (NFTs) of randomly generated resources that are generated and kept on the Ethereum blockchain. NFTs are completely free to mint (+ gas) and can be used to construct The Open Metaverse. Holders may construct anything they like – these are key building blocks that come with a full CCO licence.
In the first half of 2022, more visual NFTs mapping worlds, environments, and structures will be made accessible for free (+gas) to holders of The Open Metaverse NFTs.
AlwaysGood.ai founder's interview:
1. The Open Metaverse – there is a great deal to unpack in this section. Give us some details about the project's concept and overall vision.
My starting point is the awareness that "The Metaverse" already exists. Not in the sense of a fully fledged photorealistic, three-dimensional, persistent virtual environment, but rather the seeds of a shared digital place built on open source protocols, open infrastructure, and its own economy. As I have stated on our website:
"The Open Metaverse exists already. The Ethereum blockchain serves as the primary train. NFTs serve as both the building blocks and the layer of property rights. Twitter serves as the medium of communication. The financial system is comprised on cryptocurrency and DeFi. DAOs are the earliest manifestations of decentralized government. It is a decentralized, open system that is interoperable and persistent. The community of developers and users is building ever-more advanced features on top of this foundation, and the worlds of gaming and virtual reality are converging on it." A significant influence on this project was The Loot Project, which generated text NFTs of loot for an RPG game and left development to the community. When I first saw it, my immediate impression was "this is brilliant, but why confine it to a game?" Not everyone wishes to saunter through the metaverse wielding a sword and an invisibility cloak! Because the contract was open source, I reasoned that one might build on the process while changing the seed words to resources that would be freely available to everyone to create whatever world they want. Thus was founded The Open Metaverse.
Indeed, I originally titled the project "Meta." However, after Facebook's announcement, I felt compelled to replace it. I am opposed to Facebook, Google, and Microsoft monopolizing the metaverse and exploiting it to further their extractive tactics – that would be a true dystopia. As a result, I dubbed it The Open Metaverse, in opposed to Meta. I was amazed and happy when I was able to register both the ENS and DNS names TheOpenMetaverse.eth – which really sealed the deal. This demonstrates how early we are.
2. We get the impression that you want to champion creative freedom in all of its manifestations. Indeed, did we accurately understand that your NFTs are mintable for free?
Yes. They are completely free to mint; all you have to do is pay for the petrol. They are distributed over the Ethereum blockchain. The goal is to provide a foundation for the user community to construct the Open Metaverse from the ground up. Each NFT includes a full CCO license, allowing users to construct whatever they wish and use it for any purpose.
3. Assuming there are a total of 10,000 alphanumeric NFTs, how many will be released on January 1, 2022? We believe we have the answer, but we still need to know if there will be a whitelist.
On January 1, 2022, 9,500 will be made available to the general public. 500 are set aside for developers to use as prizes, donations, and other promotional purposes. There is no whitelist; minting is strictly first come, first served.
4. Are there any characteristics or levels that distinguish the NFTs, or are they all lumped together?
Each of the NFTs contains eight distinct sets of traits: World, Environment, Element, Structure, Transport, Avatar, Resource, and Skill. The rarity of each characteristic is indicated as a percentage in the properties part of the metadata on the OpenSea marketplace.
5. Once again, the launch is in two days, but we're curious about your roadmap. What are some of the objectives you're pursuing, and is there a timeline?
Following the launch, it is critical for everyone that we continue to spread the word until the coins are depleted and a secondary market is developed. Simultaneously, we're planning to construct our discord server to assist the community in becoming organized and enabling those who want to build things to collaborate. We intend to drop two or three graphical NFTs in the first half of 2022. Collaborating with other projects to ensure the interoperability of various metaverses. Eventually, we'd like to establish a DAO to let the community to assume control of the project.
6. Could you further elaborate on the extra visual NFTs mapping worlds, settings, and structures, and the new benefits they will bring?
Each Resource NFT in its original form has eight qualities, or collections of resources. For instance, "construction" is one of these. The graphic NFTs of buildings that we will distribute in the future will include a variety of different sorts of structures: houses, apartments, huts, and factories. As a result, you will receive a structure that matches the type of structure on the initial Resource NFT. This way, each holder will eventually collect the elements necessary to construct their own piece of a complete virtual universe.
7. We're interested in learning about the members of your team and their respective roles.
I am the primary author. I work with a single lead solidity developer who is assisted by a team of two others. I'm not revealing their identities to prevent them from being stolen! Currently, we're seeking for a marketing manager and a few of discord moderators. 8. Finally, how can we stay current on Open Metaverse news? Which social media platform is the greatest for following you?
I believe our discord is the best; it is the heart of the community. Additionally, Twitter is beneficial for a broader context of people involved in the crypto / nft / web3 / metaverse sphere collectively.
Twitter: Discord: OpenSea: Mining
This is a sponsored news release and is being distributed solely for informational purposes. It does not constitute legal, tax, investment, or financial advice and is not meant to be used as such.