Earlier this year, THORChain was subjected to a series of protocol exploits that resulted in $8 million being drained from its reserves, and the price of RUNE suffered as a result of these continuous attacks. Following a declaration that it would re-open its Ethereum pool, along with other altcoin and BTC-based pools, the protocol looks to be having a favorable impact on the price of RUNE this week.
RUNE has grown 283 percent in value after hitting a low of $2.95 on July 20, according to data from Cointelegraph Markets Pro and TradingView. There has also been a noticeable increase in trading activity since the low of $2.95 on July 20.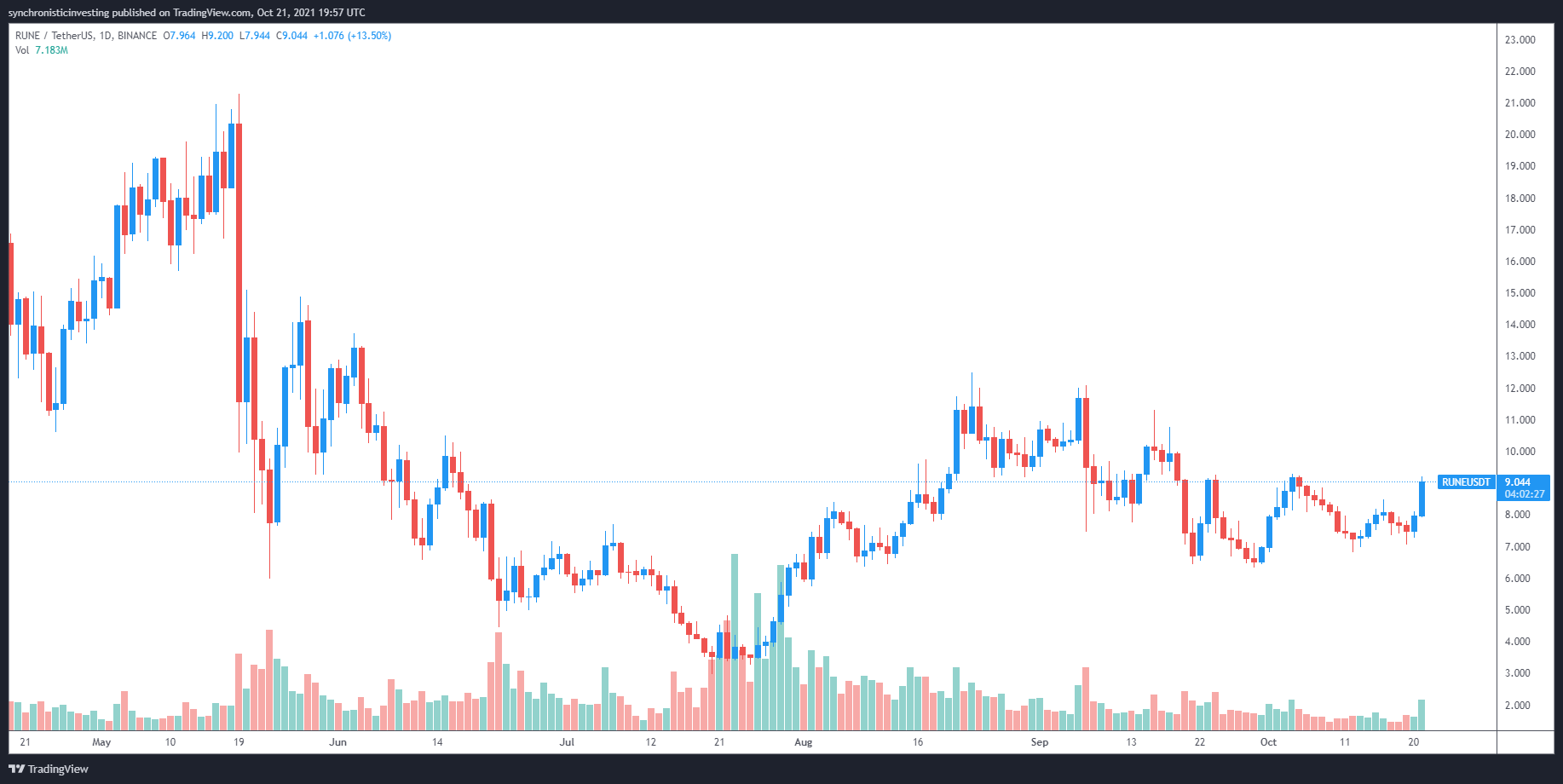 In addition to the relaunch of trading capabilities on all five supported blockchains, including the Ethereum (ETH) network, and the upcoming launch of a number of new projects on the THORChain network, two other factors contributing to RUNE's recovery and strengthening are the relaunch of trading capabilities on all five supported blockchains, including the Ethereum (ETH) network.
Ethereum pools are open
The reactivation of trading services across all supported blockchain networks, with Ethereum reopening its doors on October 21st, has been the most significant development fuelling the momentum behind RUNE.
Trading has been enabled on Ethereum [email protected] restarted all 5 blockchains – $BTC, $ETH, $BNB, $LTC, $BCH.

Ethereum LP will be enabled when the pool prices are corrected.https://t.co/gNyDIEmCkL pic.twitter.com/gIJqA1fFgL

— THORSwap ⚡ (@THORSwap) October 21, 2021
Following the April hack, trading activity was halted, and after thoroughly reviewing the code, the Bitcoin (BTC), Litecoin (LTC), Binance Coin (BNB), Ethereum, and Bitcoin Cash (BCH) pools are in the process of being reopened.
As seen by the nearly instantaneous $2 million in trading activity for ERC-20 tokens minutes after the pool re-opened, according to data given by THORChain, there is a significant amount of pent-up demand for trading on the protocol.
Future airdrops and token launches
In addition, there is an upcoming launch of several new THORChain projects, which will be shortly be listed on the Thorstarter (XRUNE) platform, which will serve as a decentralized launchpad for the RUNE ecosystem, which is contributing to the bullish price movement for the RUNE cryptocurrency.
With @THORChain tantalizingly close to restarting in all of its multi #blockchain glory, it's time to look at some of the more exciting tokens on the Asgardian horizon.

Once #Ethereum is plugged back in, the #ThorFi ecosystem is set to explode!$RUNE $THOR $TGT $BRO $SKIP $XDEFI pic.twitter.com/VpMhnVbCCT

— Fomocraft (@FOMOcraft) October 18, 2021
Many big new cryptocurrency exchanges and wallets are set to open in the near future, including THORSwap and THORWallet; Brokkr Finance; Skipp Swap; DeFiSwap and XDEFI wallet.
Several months have passed since the market's conditions for RUNE were favorable, according to data from Cointelegraph Markets Pro.
When comparing historical and present market conditions, the VORTECS™ Score is calculated using an automated evaluation of data points including market sentiment, trade volume, recent price changes, and Twitter activity.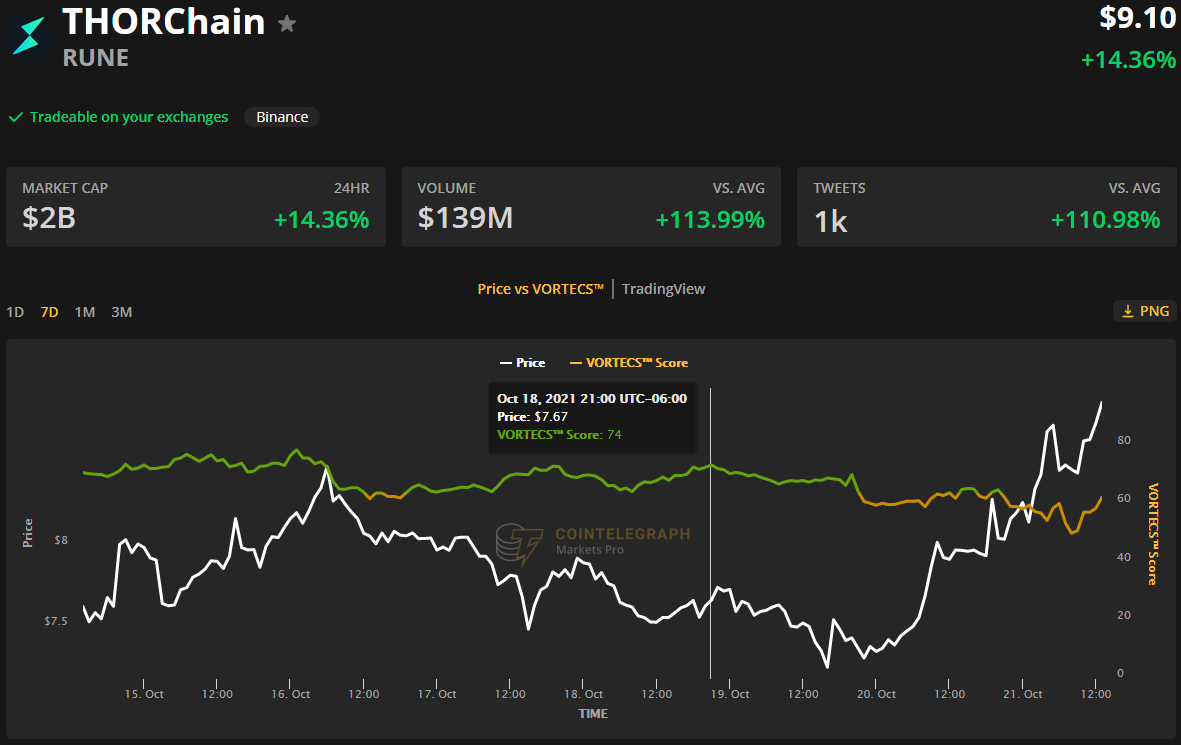 For the bulk of the past week, as shown in the chart above, the VORTECS™ Score for RUNE has been elevated in the green zone, reaching a high of 74 on Oct. 18, roughly nineteen hours before the price surged by 29 percent during the following two days.
The author's thoughts and opinions are entirely his or her own and do not necessarily reflect those of CoinNewsDaily. Each investing and trading action entails risk; before making a decision, you should conduct your own research.