On July 27, the broader cryptocurrency market entered a period of consolidation following Bitcoin's (BTC) brief breakout above $40,000 the previous day.
It was sufficient to spark a rally across the market and reintroduce an element of optimism that had faded into the background.
According to data from the Cointelegraph Markets Pro and TradingView platforms, a bullish attempt to reclaim the $40,000 level for bitcoin was rejected in the middle of the day, resulting in a price decline to $37,500 in the afternoon.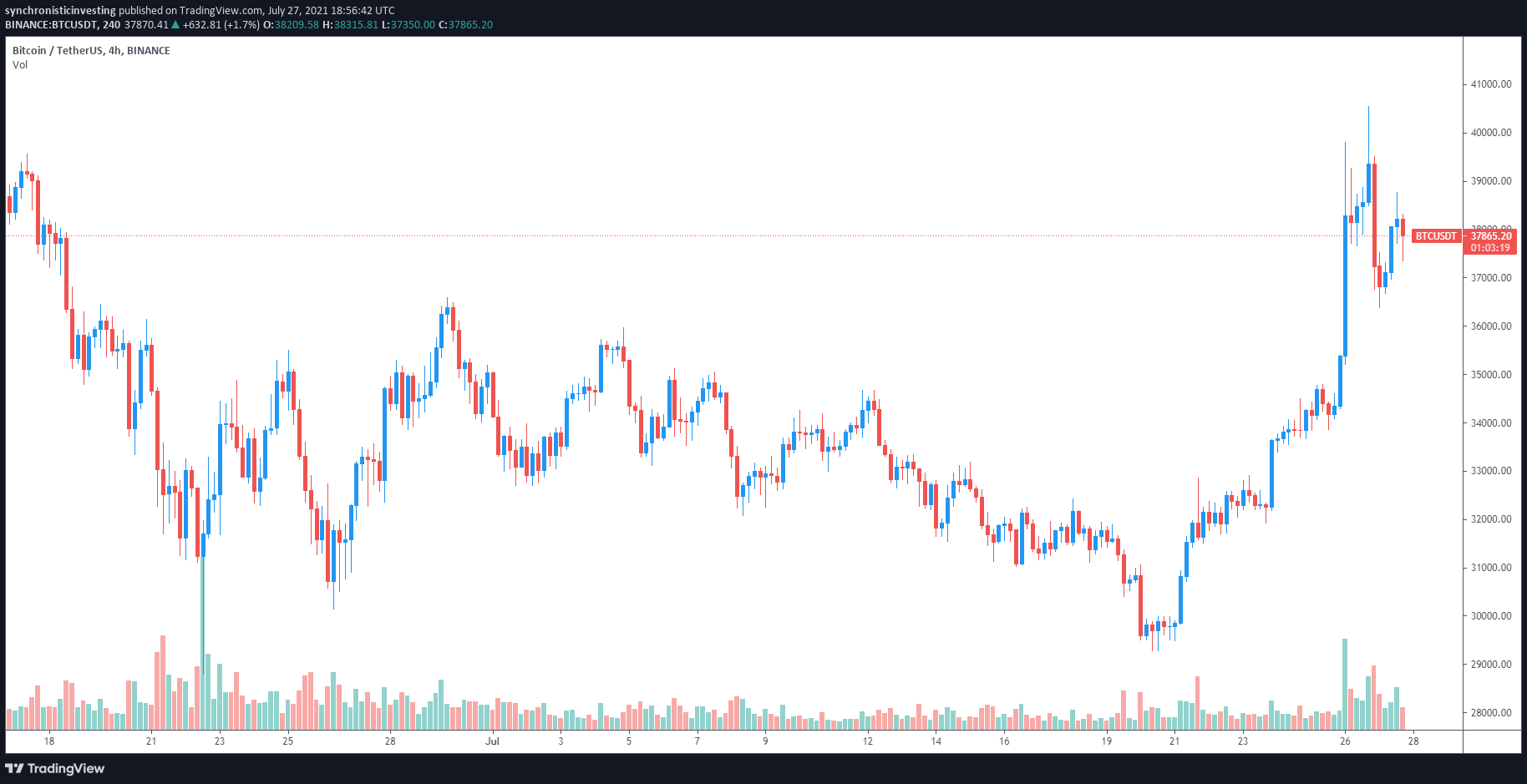 While some analysts believe Monday's rally was merely a temporary squeeze, others believe the rising Grayscale Bitcoin Trust (GBTC) premium, which is now at its highest level in months at -5.88 percent, indicates that institutional investors are once again betting on further Bitcoin price gains.
Bitcoin bulls battle to reestablish uptrend
Amazon-related rumors that the company would begin accepting cryptocurrency payments as early as 2021 fueled Monday's market-wide rally, though the company later denied the rumors in an official statement.
According to pseudonymous independent market analyst Rekt Capital, the cryptocurrency price chart resembles the performance in October 2020, just before Bitcoin price began its run to a new all-time high.
When was the last time #BTC broke beyond the 50-day EMA resistance?

Back in October 2020

This is when $BTC formed a very similar fractal of Bitcoin's current price action#Crypto #Bitcoin pic.twitter.com/2acUC9KoeV

— Rekt Capital (@rektcapital) July 27, 2021
According to the current market, if a similar pattern repeats, the price of Bitcoin will continue to rise, extending the upward trend initiated by the Amazon speculation.
However, not all available data indicates that the upward trend will continue.
This was noted by Ben Lilly, an analyst and co-founder of Jarvis Labs, who has been monitoring on-chain data in order to gain a better understanding of the recent pump, particularly in light of Ethereum's upcoming London hard fork on August 4.
Lilly said,
"Onchain activity and demand hasn't showed up. Pair this up with Amazon news as fake and shorts getting rekt, I wouldn't be surprised to see low $30ks be4 1559."
Bearish bias, on the other hand, was demonstrated by the pseudonymous Twitter user Bear Wolf, who saw Monday's developments as merely a short squeeze within a larger bear market.
"19K is still my target for the end of the bear market," he wrote. ""Dead Cat Bounce to 46K (Short Squeeze). TA invalidates if we pump to 50K and find support >>ABOVE
Altcoins give back gains
On Tuesday, the euphoria surrounding the Amazon rumors subsided, and a significant portion of the gains seen in the altcoin market on Monday were given back to investors.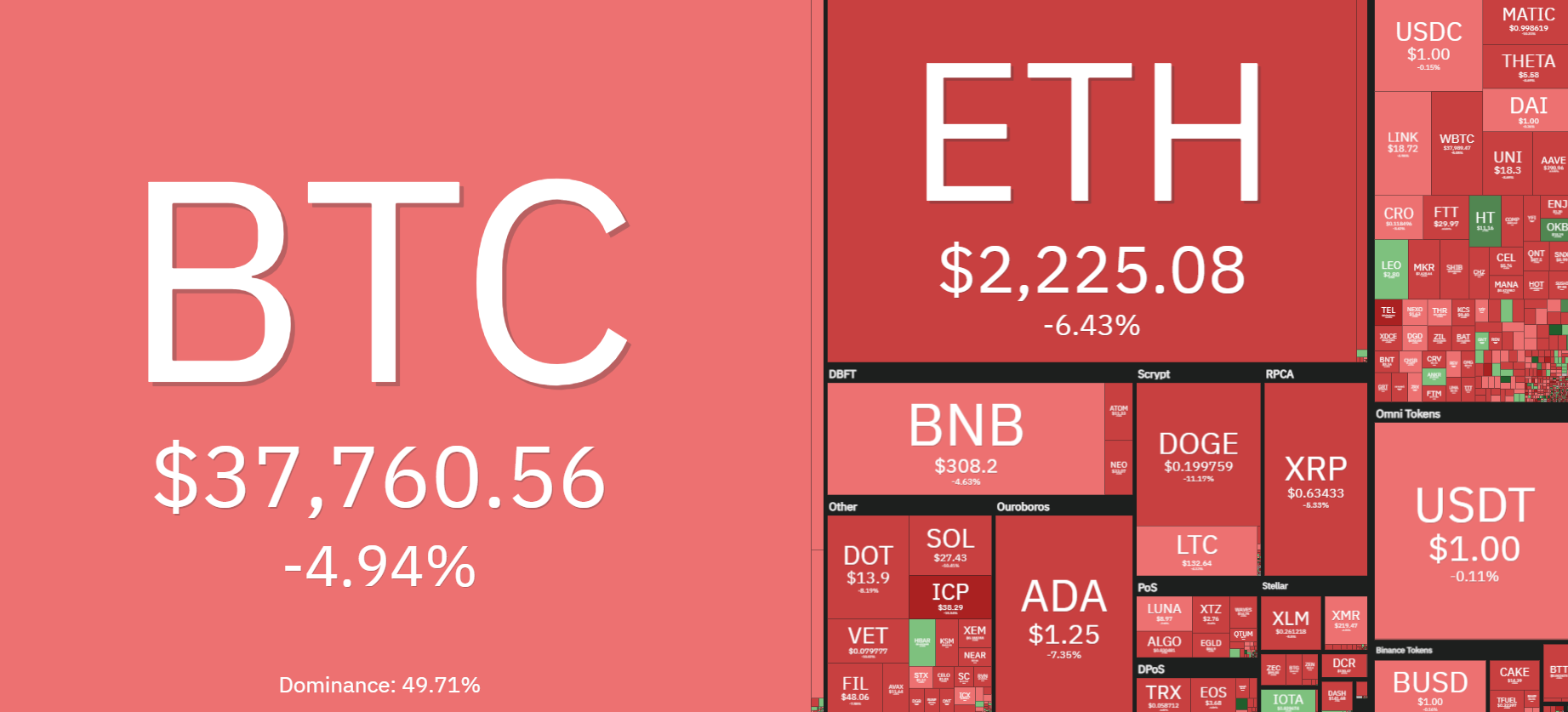 However, while Dogecoin (DOGE) and Solana (SOL) were the two worst-hit tokens in Monday's top 20, suffering losses of 10% and 10.8% respectively, Strike (STRK) and Venus (XVS) were the two best-performing tokens, suffering losses of 16 percent each.
In terms of price performance, Axie Infinity (AXS) and MyNeighborAlice (ALICE) both saw their prices rise by 30%, while the blockchain-based identity management solution Civic (CVC) saw its price rise by 20%.
Current market capitalization for cryptocurrencies is $1.488 trillion, with Bitcoin accounting for 47.8 percent of the total market capitalization.
The views and opinions expressed here are solely those of the author and do not necessarily reflect the views of CoinNewsDaily. Every investment and trading move involves risk, you should conduct your own research when making a decision.