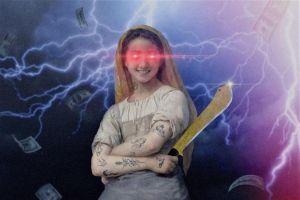 Contrary to popular belief, non-fungible token (NFT) activity is far from dead and appears to be reviving – with wealthy investors, or whales, spending millions on artwork, NFTs selling for millions, and trading volumes increasing again.
"The rise of NFTs is similar to what we've seen in TradFi [traditional finance] markets for 2 decades," said Jeff Dorman, Chief Investment Officer of US-based investment management firm Arca. "While Bitcoin is a great asset, it's no longer representative of the asset class as other sectors are leading the way forward."
According to his most recent post, the NFT ecosystem remains ablaze. Following the summer of decentralized finance (DeFi) last year, some refer to this as the "NFT summer."
Celebrities, athletes, musicians, and other prominent individuals – including popular beauty brand NARS – have launched NFTs, the most recent of which is Mila Kunis' adult comedy animated series "Stoner Cats," starring Ethereum (ETH) co-founder Vitalik Buterin.
NFTs are attracting the attention of corporations for business applications.
For instance, cryptocurrency exchange FTX is collaborating with entertainment company Dolphin Entertainment to launch an NFT marketplace for well-known sports and entertainment brands.
While this is taking place, news is spreading throughout the Cryptosphere of an Ethereum whale purchasing pixelated images known as CryptoPunks, which have grown in popularity in the crypto space due to their scarcity of 10,000.
A wallet shows 104 CryptoPunks purchases made over the weekend, totaling millions.
For example, the last Punk was purchased for ETH 29 (USD 72,125).
Additionally, there is an offer for sale of a rare Punk, one of nine Alien Punks – currently priced at ETH 35,000, or USD 87 million, which is more than the price paid for the famous Beeple's NFT sold by Christie's.
According to data aggregator and analysis firm DappRadar, the CryptoPunks NFT collection has completely dominated the Top 10 NFT Sales over the last week, with the top Punk selling for more than USD 5.4 million, setting a new record for CryptoPunks sales.
Gary Vaynerchuk, a serial entrepreneur, acquired another Punk for ETH 1,600. (currently USD 4m).
Five additional punks were sold for at least USD 1 million.
Meanwhile, someone made nearly USD 1 million within 24 hours by flipping 'Punk 6649.'
It was initially sold for USD 1.04 million (ETH 450), but changed hands again a day later for USD 1.99 million (ETH 810).
According to DappRadar, the cheapest punk on the market is now ETH 33 (USD 82,203).
CryptoPunks' trading volume increased 1,223 percent in one week to more than USD 121 million as a result of several large purchases.
According to a new NFT Leaderboard published in late July by blockchain analytics firm Nansen, the top NFT collector on this list is Pranksy, with a total profit of ETH 1,573 (USD 3.93 million) and a total spend of ETH 1,860 (currently USD 4.65 million) – more than three times the amount of the next highest earner on the leaderboard.
Other notable participants include 'atblank.eth', 'Danny', and'snotrocket.eth'.
Meanwhile, another internet meme has been tokenized as a non-fungible token (NFT) and sold for a significant sum of money.
Muhammad Asif Raza announced on Facebook in September 2015 that "Mudasir brought an end to their friendship.
Salman is now my closest friend."
On August 1, this NFT was sold on the NFT marketplace Foundation for ETH 20 (USD 49,878) to Andrew Kang, co-founder of crypto investment firm Mechanism Capital.
'Overly Attached Girlfriend' and 'Disaster Girl' are two other memes-turned-NFTs.
Rise across the board
DappRadar reported that, in addition to CryptoPunks, other collections such as Art Blocks, Bored Ape Yacht Club, and Meebits have seen their trading volumes increase by 321 percent, 193 percent, and 632 percent, respectively.
It is still the gaming project Axie Infinity that has the largest NFT collection, with a trading volume that has increased by 12 percent in a week to more than USD 170.5 million.
However, the average price of an Axie NFT is USD 558, which is significantly lower than the average price of a Punk.
OpenSea, a major NFT marketplace, saw USD 95 million in trading volume over the weekend, which is approximately 4.5 times more than the total trading volume for the entire year 2020, or as CEO Devin Finzer put it on Twitter:
"The growth curve for NFTs is insane."
According to recent reports, unicorn OpenSea announced that it had raised USD 100 million in a round led by Andreessen Horowitz (a16z), valuing the company at USD 1.5 billion and providing additional capital to accelerate the adoption of NFT.
According to Jeff Dorman, the daily volume on OpenSea on August 1 surpassed USD 53 million, which is eight times the volume for the entire month of January and 30 percent -50 percent of the monthly volumes for every month from January to July combined.
Furthermore, NFT volumes as a whole are beginning to outpace their March peaks, "with projects across the board receiving a significant increase in demand.," according to the NFT.
Number of weekly sales
__
Value of weekly sales, USD

__
Weekly unique buyers

__
Weekly unique sellers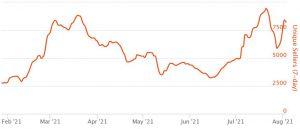 Where there's buying, there's stealing
However, there is a dark side to the world of NFTs as well.
Stazie, a co-founder of the NFT game Hedgie, tweeted that the team had lost their CryptoPunks as well as "a bunch of ETH."
It was reported in the tweet thread that Stazie had accidentally clicked on a Discord link, thinking it was related to CryptoPunks. A popup window that looked like the Metamask wallet appeared and asked her to enter a seed phrase in order to restore the wallet connection to the site, implying that the wallet's security had been compromised.
Taking someone's seed phrase and emptying their wallets is a well-known method of stealing their assets.
Never divulge your seed phrase to anyone.
Stazie was able to save some artworks as well as WETH, stating that there had been "zero critical thinking," and that the situation was "above and beyond idiotic."
It didn't take long for the punks and ETH to vanish before I could do anything."
The thief's wallet now contains a total of ten CryptoPunks.
The account shows that 5 more Punks were sold for ETH 194.04 in total (USD 370,491).
____
Reactions:
This NFT frenzy should tell you something about how much cash is available and ready to go full ape as soon as mark… https://t.co/XTUodtI5cA

— Byzantine General (@ByzGeneral)
__
Been thinking about it for several minutes now.

— Travis Kimmel (@coloradotravis)
__
Absurd amount of money flowing in, major NFT floor price increase 50% , is top signal or a new NFT season is gonna… https://t.co/t1iHTFs1pq

— Molly (@bigmagicdao)