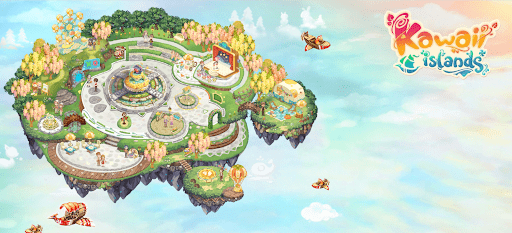 Fun and Easy Anime Game Recently, Kawaii Islands said what they were going to do. They want to grow into a metaverse ecosystem. Anime Metaverse: It makes Kawaii Islands the first one in the world because everyone is moving toward new technologies and the benefits they bring, like making games more fun.
The ecosystem called "the Kawaiiverse" will have all the basic things that Metaverse ecosystems need. It includes NFT ecosystems, virtual platforms for interaction, and new games that users can play to earn money. Game developers will also make games in the Kawaiiverse.
Developers of games in the Kawaiiverse will have everything they need to grow because the games are part of an ecosystem that encourages creativity and participation. Also, the long-term goal was to let people interact with Web3 technologies.
Anime games get a lot of help from this.
A lot of people in the gaming community like to read about Anime. People have become interested in it because of the unique features of the characters in games that have been used to start conversations. Storylines are an important part of getting players and fans excited about a game.
The introduction of the Kawaiiverse brings much-needed value to the Anime gaming industry.
Anime Games stay popular and popular because they make people happy. Web3 technologies can be used to come up with new ideas and new ways to use them, which push the paradigm even further.
The introduction of the Kawaiiverse marks a shift from traditional gaming, where one party makes games for other people, to one where users, content creators, and game developers all live together in one place.
Using Web3 technologies, the new community will interact with each other and the Kawaiiverse as if they were real people. This is the best way to make sure that value and interactions are transferred with fidelity and trust.
With player engagement at a fever-pitch high, the best is yet to come, as Kawaii Islands shows that virtual relationships and interactions are just as important as real ones. The bonds that are formed at birth. These bonds can last for a long time.
The Kawaii Islands team showed how long it will take to make the parts of the Kawaiiverse, starting in the first quarter of 2022. From the mobile versions of the original game to the different parts of the new Metaverse, 2022 will be a year where the Kwaiiverse's foundational technologies are built. In 2023 and beyond, the Kwaiiverse will be run by these technologies.
Are you ready for the public version of Kawaii Islands?
– There was the start of the first Anime Metaverse on Blockchain.
– To get an alert when they're ready, sign up now.
– Android and iOS will be coming soon this Spring, so stay tuned! BSC, Metaverse, $KWT, and $MILKY are – some of the stocks in the P2E index.
– One year from now, on January 12, 2022, this will be the case. — Kawaii Islands (@kawaii islands)
First, there will be a lot of changes to the Kawaiiverse. There will be a Islands Sale, web3 integrations (Binance Smart Chain and Oraichain integrations), DAO governance, web3 web3 integrations (Binance Smart Chain and Oraichain), creator protocols, DeFi products and services onboarding, a creator prototype, an alpha test of the first adventure game in the Kawaiiverse, and much more.
Metaverse Ecosystems are the next big thing.
With the rise of new technologies and faster internet speeds, virtual businesses will make more money than physical businesses. There were social media networks before there was anything else that came after that. Metaverse ecosystems are the next step in the evolution of human interactions because web3 technologies are now available to help with virtual economies in many different ways and for many different purposes.
People are enthralled by virtual interactions and their infinite possibilities. Open-ended Metaverse ecosystems like the Kawaiiverse go one step further by letting people build their own. It will grow naturally as a Metaverse ecosystem field for everyone if the Kwaiiverse has a foundation of infrastructure that encourages innovation in a community-driven way (the DAO). During the Metaverse industry's early days, there will be a lot of unpredictability. This will set the stage for even more rapid growth.
There will be a lot of economic activity in metaverse ecosystems that will make their economies bigger than many physical countries because of how big these ecosystems are. The Kawaiiverse, for example, has that kind of power because it allows game developers and content creators to thrive on the same platform. There are going to be more games that will help people get into the Kawaiiverse.
Content will be what people talk about. This dual-purpose approach is the foundation for the success of the Anime Metaverse ecosystem in the years to come.
By taking an already popular Anime game to the next level, new ideas start to grow and become better and better. It makes the project more likely to last for a long time. The Kawaiiverse is now open to everyone, not just a few people, as it was before. It separates the current game from its competitors and is what caused its rapid growth in a short time.
In a time where technology has all the cards, virtual economies have the most potential for growth because the metrics that drive these economies can be made up on the fly, without any rules. As content-driven environments take over, virtual assets and liabilities will have to be balanced.
Players will be able to interact with themselves in new ways with no limits on how much money they can make. As web3 technologies and Metaverse ecosystems are used together, new industries will be formed in their own right.
We can already see what the future looks like thanks to ecosystems like the Kawaiiverse, which show us what it will be like.