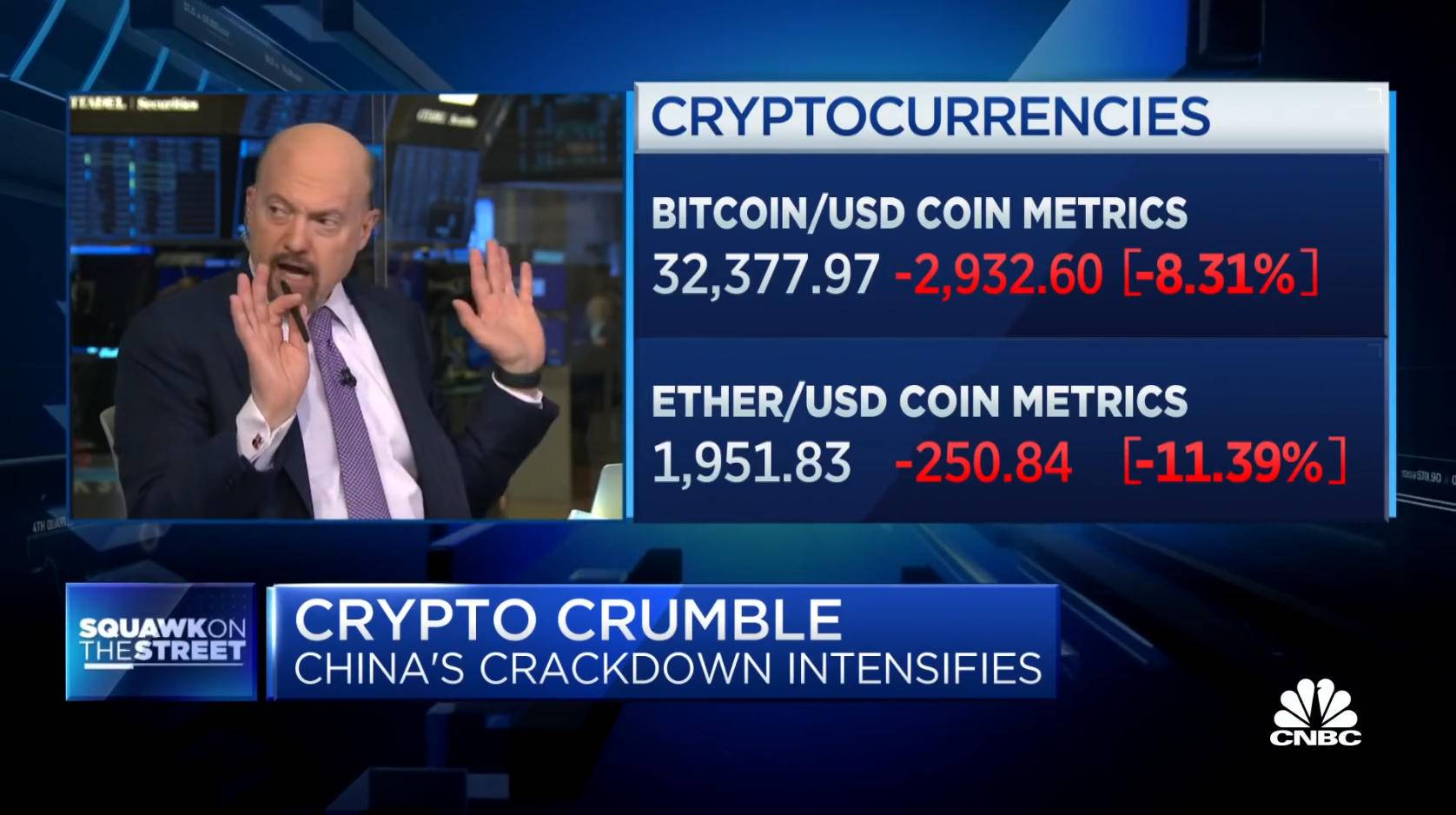 Jim Cramer is well-known in the trading community for his sharp tongue, lightning ideas, and his trading advice show "Mad Money" on CNBC. Jim Cramer is no stranger to the markets; he has been working in the stock market since he was in fourth grade and has worked for Goldman Sachs and his own hedge fund. Following that, he worked as a writer for the Smart Money column, where he was accused of unethical behavior for earning $2 million on an elephant deal before recommending it in his column. Whatever you may say about Jim Cramer, you cannot dismiss him or his market understanding.
Cramer and his penchant for cryptos
Cramer has been a notable supporter of cryptocurrencies, having purchased both Bitcoin and Ethereum, and even when he sold them, he made it apparent that he intended to repurchase them later. Cramer is well-known for his strong views on cryptocurrency, and in his CNBC Mad Money column, he is pleading with his viewers to sell their crypto holdings.
"I know the crypto-lovers never want to hear me say sell, but if you've got a big gain as I did, well, I'm begging you to," Cramer said. "Don't let it become a loss. Sell some, stay long the rest, then let's wait and see if China changes its attitude toward an Evergrande bailout."
The Evergrande catastrophe has had a significant impact on the global economy, as it involves relationships and investments on a global scale, and there is also a strong link to cryptocurrency. According to some, Evergrande owns a sizable portion of Tether. Yet, according to Cramer, "Tether stated that they have no exposure to Evergrande." However, hundreds of Chinese enterprises stand to lose millions as a result of this catastrophe, and many of them have Evergrande exposure, which might indicate serious difficulty if the dominoes fall here."
"The issue with tether is that it is backed by a variety of assets, roughly half of which are commercial paper — short-term loans — and a significant portion of which is believed to be Chinese commercial paper," Cramer explained. Tether is the third-largest cryptocurrency by market value. It is a stablecoin linked to the US dollar. Therefore, assuming you followed Jim Cramer's advice and sold your Tether, what's next for you?
How about FLURRY, a protocol specifically for stablecoin owners?
The FLURRY protocol issues rhoTokens, which are backed by stablecoins in the same way as Tether is supported by bitcoin. For example, the rhoUSDC is tied 1:1 to the USDC, and the price stability is maintained (derived from the underlying stablecoin USDC). Holders will be able to utilize their rhoTokens immediately, without having to redeem their funds or incur gas expenses, making this the ideal means of trade.
The protocol's purpose is to find the best passive yields for the stablecoins that its users hold. Users who possess FLURRY's rhoTokens do not have to look for the finest earning possibilities, nor do they have to move their holdings across platforms or products, because FLURRY takes care of all of that as they sit back and watch their interest increase. With the FLURRY protocol, users can take advantage of high yield possibilities from virtually any chain, without having to install any additional software on their computer.
? #FLURRY Protocol's #rhoTokens will be officially LIVE on 11 OCT ?

These tokens are pegged 1:1 to a stablecoin allowing users to access the best yields for their stablecoins, adjusted according to respective transaction fees

Get them before they go cold pic.twitter.com/8M1RisGmaR

— Flurry Finance (@FlurryFi) September 27, 2021
rhoTokens are used to pay interest, and a larger supply of these tokens is received in exchange for keeping these tokens pegged directly to the underlying stablecoin. As a result, the tokens can be used as a medium of exchange and spent in the same manner that stable coins would normally be used, with no lockups in place.
While other yield aggregators look for the best yields as well, FLURRY's ability to work across virtually any network is what distinguishes it.
According to FLURRY the protocol works in 4 steps:
Mint the rhoTokens – users deposit their stablecoins at Flurry to mint rhoTokens.
Yield Generation – Flurry will transfer the deposited stablecoin into multiple DeFi Products in order to produce yield, based on the weighting and risk criteria that have been assigned to each product
Rebasing — On a daily basis, the Flurry protocol will compute and distribute the interest earned by users by minting additional rhoTokens on a 1:1 basis.
For instance, if user A owns 100 USDC and earns 5% on it, his wallet balance will increase from 100 rhoUSDC to 105 rhoUSDC.
User rhoToken redemption is possible at any time. It is expected that this will not happen frequently in the long term because users will spend and trade the rhoTokens themselves.
Summary
A product like this allows you to invest in any stablecoin of your choice and to move between them as often as you'd like without difficulty. If you are HODling Tether and considering whether or not to follow Cramer's advise, this is a method to obtain exposure to all stablecoins with a single cryptocurrency account.
Disclaimer: This article is provided for informational purposes only. It is not offered or intended to be used as legal, tax, investment, financial, or other advice.