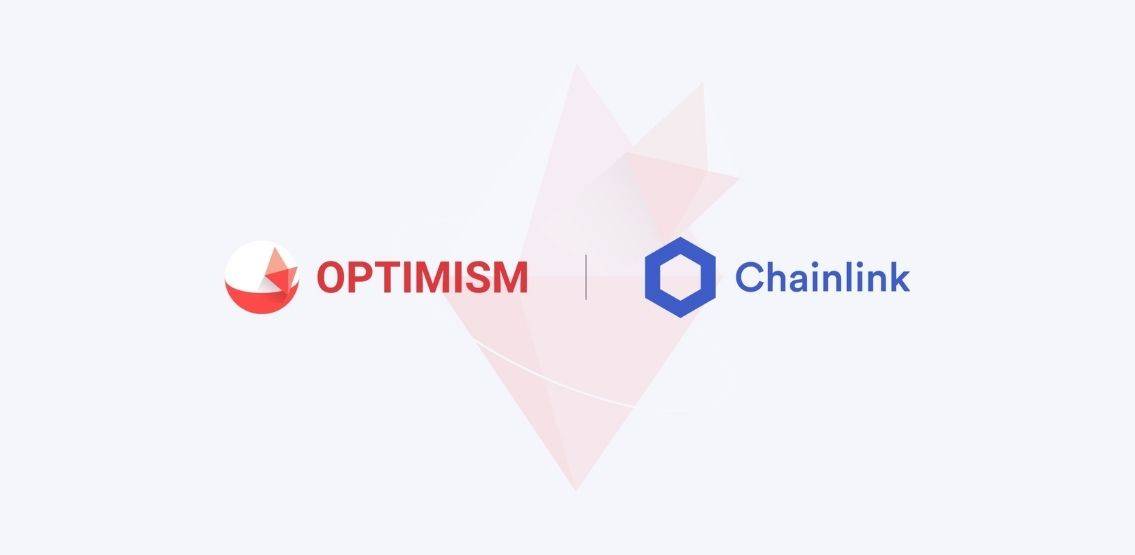 A new announcement from Optimistic Ethereum announces that the world's leading decentralized oracle network, Chainlink, is now operational on the platform. The announcement comes as a result of the Optimistic Ethereum community's consistent and persistent demand for the feeds to be implemented.
It is becoming increasingly important to use external oracles such as Chainlink, with a number of smart contract applications relying on them in some way. In DeFi, the majority of protocols rely on oracles to provide their pricing feeds. The price feeds are utilized for on-chain actions such as loan collateralization and determining the expiry of binary options, among other things.
Chainlink Price Feeds are easily accessible.
Developers will be able to simply and securely build all types of DeFi applications by utilizing the decentralized oracle networks provided by the Chainlink Price Feed as a result of the integration. The oracle networks ensure that data feeds are of good quality and are not tampered with while they are in transit. This is applicable to a variety of assets, including stablecoins, cryptocurrencies, commodities, indices, and other types of assets.
Chainlink Price Feeds are already available on Optimistic Ethereum, and developers can gain access to them through the Optimistic Ethereum developer portal. Developers can also contact Chainlink directly for assistance in launching new price feeds for a variety of various sorts of assets.
The fact that Chainlink Price Feeds are built on top of the Optimistic Ethereum blockchain means that they can run at the same underlying cost and speed as Optimistic Ethereum, allowing developers to receive low-latency and inexpensive price changes in real time. Consequently, developers now have access to complex smart contract applications on Optimistic Ethereum's Layer-2, which were previously unavailable on the Layer-1 layer of the Ethereum blockchain.
In addition, Synthetix has already integrated Chainlink Price Feeds on Optimistic Ethereum, providing low-cost and low-latency Oracle updates for the cryptocurrency. Thales binary options, options on Lyra, Synth trading on Kwenta, and binary options on Lyra are all supported through the integration as well.
The Advantages of Including Chainlink Price Feeds in Your System
After incorporating the Chainlink Price Feeds into their development processes, development teams can reap a variety of benefits.
High update frequency – The Chainlink Price Feeds provide low latency price updates at a reasonable cost, thanks to their high update frequency. As a result, data that precisely reflects current market conditions is produced.
Data of excellent quality – The Chainlink Price Feeds obtain their data from a number of high-quality data aggregators. This indicates that the price data offered by Chainlink Price Feeds has been compiled from hundreds of exchanges, as opposed to individual exchanges. After that, the data is cleaned to remove outliers and suspiciously huge volumes, and it is also weighted according to volume. This aggregation mechanism enables Chainlink to create accurate market prices that are not affected by API downtime, data manipulation assaults, or flash crash outliers, among other things.
Infrastructure that is reliable – The price feeds rely on decentralized networks that are managed by top-tier DevOps teams. When it comes to uptime and tamper resistance, these have a proven track record of performing well throughout periods of high volatility, congestion, and infrastructure disruptions.
Transparency – Chainlink will provide a set of on-chain monitoring tools, as well as a sophisticated reputation system, that will allow users to verify the historical and real-time performance of all price feeds on the blockchain.
A Straightforward Transition to Optimistic Ethereum
The Chainlink Integration also makes it simple to migrate both existing and new Decentralized Applications to the Optimistic Ethereum Layer-2, with very minor changes to the source code required to do this. Team members from both the Chainlink and Optimistic Ethereum projects are collaborating to extend support for Optimistic Ethereum to incorporate other Chainlink services like as Chainlink VRF and Chainlink Keepers, which are currently unavailable. Chainlink VRF is a random number generator (RNG) solution for NFT and gaming dApps, and Chainlink Keepers are decentralized bots that assist with smart contract automation. Obtaining off-chain computation and external data from virtually any API is also made possible via the Chainlink Keeper program.
There is a lot of anticipation.
As is to be expected, the developments have sparked a great deal of excitement and optimism at Chainlink and Optimistic Ethereum, among other places. Jing Wang, the CEO and Co-Founder of Optimistic Ethereumm, made the following statement:
"Chainlink Price Feeds provide Optimistic developers with a seamless plug-n-play solution for getting high-quality data and time-tested oracles within their DeFi applications. Combined with our scalable infrastructure, developers can launch scalable, externally connected dApps with minimal changes to their L1 code and without having to sacrifice the robust underlying security of Ethereum L1."
Chainlink Co-Founder Sergey Nazarov also commented on the developments, stating,
"With Chainlink oracle networks natively integrated on Optimism, developers can leverage the most decentralized and secure off-chain services for building advanced hybrid smart contracts. Chainlink's tamperproof and high-frequency oracle updates in combination with Optimism's low-cost layer 2 scaling solution give smart contract developers the mission-critical infrastructure they need to build hyper-reliable, high throughput dApps."
Disclaimer: This article is provided for informational purposes only. It is not offered or intended to be used as legal, tax, investment, financial, or other advice.