Nansen, a source of blockchain data, has announced the impending integration of the Arbitrum network, which will enable its global users, both retail and institutional, to spot developing patterns in the decentralized finance (DeFi) industry.
Technical charts and quantitative data will be viewable via a custom Arbitrum dashboard, similar to the over 100 million data points available across Ethereum, Polygon, and the Binance Smart Chain, among others.
Smart Money is one of Nansen's products; it tracks the wallet addresses of hedge funds, institutional investors, and whales, combining their activity into a visual graph that enables users to deduce technical trends.
Additionally, the platform includes NFT Paradise and Mint Master, which provide insight into emerging nonfungible token (NFT) trends prior to their popular adoption.
Earlier this month, Nansen announced intentions to integrate a Solana dashboard in an effort to increase user access to on-chain data and performance metrics in the DeFi and nonfungible token (NFT) markets.
Along with this release, the Nansen team produced a research report arguing that layer-2 protocols such as Arbitrum have the potential to overtake Ethereum as the market leader in terms of scalability over the next five years, while also noting:
"Scaling is not enough. While increasing their transactional throughput, blockchains must preserve two fundamental properties of blockchain technology: decentralization and security. This is known as the blockchain trilemma. As of today, the only Ethereum scaling solution that satisfies all three elements is rollups like Arbitrum."
Arbitrum One mainnet released its rollup solution to the public on Sept. 1 and has since grown to popularity with over $2.38 billion in total value locked (TVL), according to DeFi Llama's analytical data.
A total of 41 protocols contributed to this ten-figure number, most notably multi-chain protocol Curve Finance, which provided 22.11 percent, as well as SushiSwap and Abracadabra, which contributed $525.54 million, $449.84 million, and $401.67 million in TVL, respectively.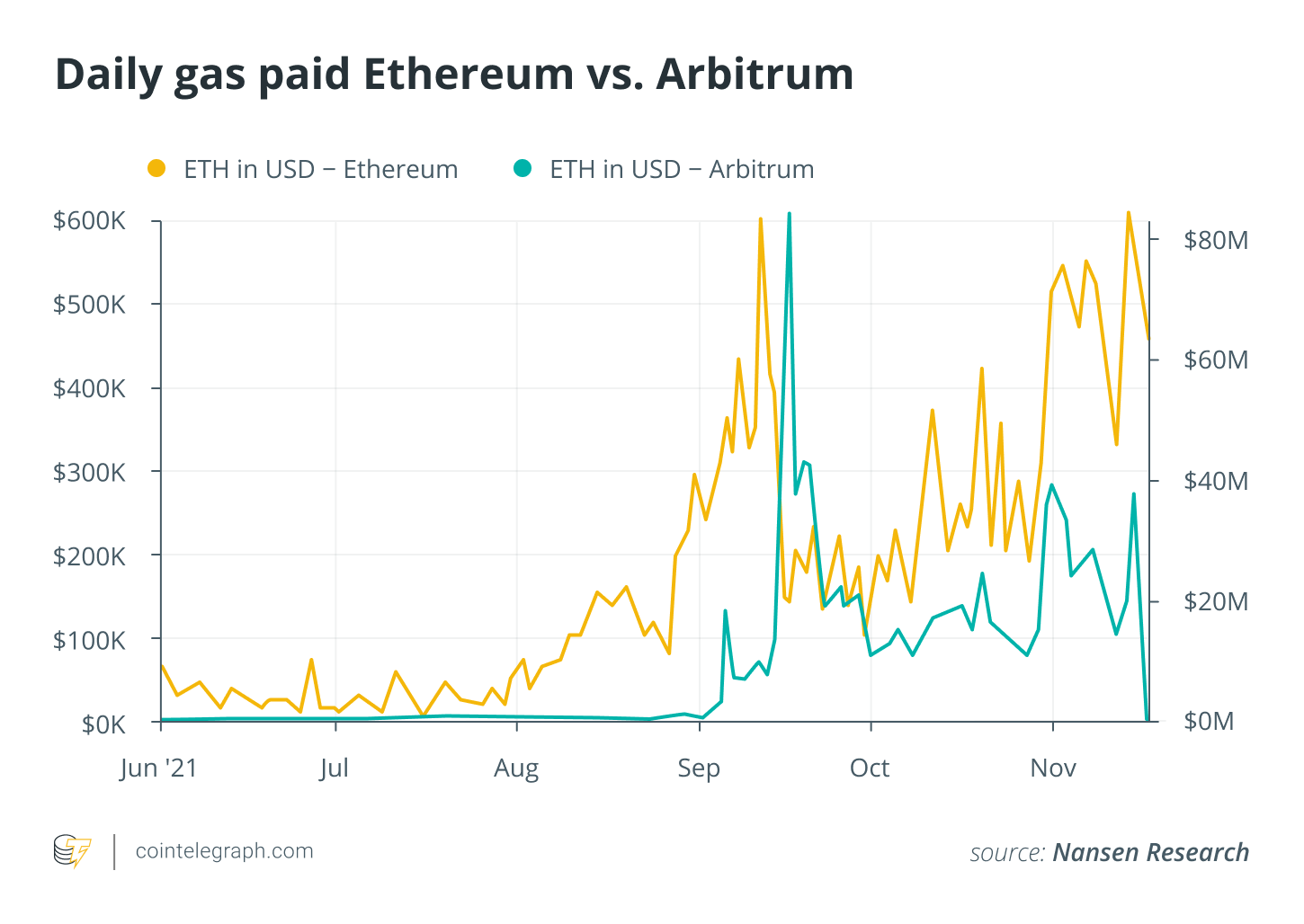 Along with compelling insights into Arbitrum's low transaction and gas fees in comparison to Ethereum — the latter of which is approximately 80–90 percent cheaper — Nansen's research paper discussed the possibility of an Arbitrum native token launch, a topic of discussion that has gained significant traction in recent months due to positive adoption.
Andy Chorlian, the inventor of Fractional Art, recently gave his perspective on this topic, claiming that an Arbitrum token will certainly boost the protocol over the surging layer-one blockchain Avalanche, which is presently ranked 11th in terms of total market valuation.
If arbitrum had a token it would be crushing avax

— andy (@andy8052) November 19, 2021