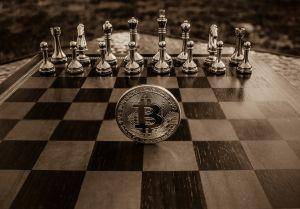 According to Jake Klein, Executive Chairman of Australian gold mining business Evolution Mining, the volatility of Bitcoin (BTC) could cause investors to turn back to gold as a hedge. In the meantime, according to Nigel Green, CEO and Founder of financial consulting and asset management business deVere Group, the price of ethereum (ETH) might surge and perhaps surpass the value of the top cryptocurrency within the next five years, if current trends continue.
Klein stated in an interview with the American channel CNBC that,
"I think that the volatility in the crypto space is going to ultimately lead to people coming back to gold."
Given Evolution Mining's production of around 681,000 ounces of gold in its fiscal year 2021 and the firm's ownership of five mines in Australia and one in Canada, such a scenario would be overwhelmingly profitable for the company.
With regard to cryptocurrency, the miner's CEO stated that bitcoin "still has a long way to go before it displays the longevity and security that gold has proved over so many years" to investors around the globe.
Despite bitcoin's growing popularity among institutional investors, a number of legacy finance heavyweight players, such as Ray Dalio, the founder of big investment company Bridgewater Associates, continue to assert that they would prefer possess gold than digital assets such as bitcoin.
However, according to a survey conducted in February, cryptoassets were more popular than gold among investors in the United States. Having said that, evidence from the previous year suggests that bitcoin's price has the potential to grow at a rate that is unattainable by the metal.
Between January 1, 2020, and December 31, 2020, the price of bitcoin soared by a whopping 294.3 percent, while the price of gold increased by 23.4 percent. According to an analysis conducted by online trading platform Capital.com, while both assets had price increases, the cryptocurrency experienced a growth rate that was more than twelve times more than that of the precious metal.
Ethereum as the world's number one crypto
Meanwhile, in a note to investors seen by MSN, Green predicted that "ethereum will continue to outperform bitcoin in 2021 and will, finally, exceed its rival's value," thereby assuming the role of the world's main cryptocurrency for the first time.
According to the CEO of deVere Group, the latest London upgrade to the Ethereum network, which includes a phased shift from a proof-of-work protocol to a proof-of-stake protocol, increased storage capacity, and processing power for smart contracts, among other things, is one of the key factors that could boost the cryptocurrency's price in the coming years.
"These upgrades represent a major boost not just for Ethereum but for blockchain technology itself," according to Green. "Ultimately, this will mean that its value will exceed that of Bitcoin—probably within five years."
According to data from CoinGecko, bitcoin's market value is around USD 840 billion, and ethereum's is approximately USD 351.4 billion. This is far from reality at the moment.
Following the announcement of a lower-than-expected Bitcoin price for this year, Dan Morehead, CEO and Founder of Pantera Capital, stated earlier this month that ethereum will continue to beat bitcoin.
Due to the fact that Ethereum is a younger coin than bitcoin, Morehead believes the coin has "more room to grow." However, technical improvements such as the London upgrade and the Ethereum 2.0 launch, as well as Ethereum's use in decentralized finance (DeFi), will allow the coin to "continue to outperform bitcoin," Morehead asserts.
When asked about ethereum's potential to become a "popular currency," Dragonfly Capital's General Partner Kevin Hu and Junior Partner Celia Wan responded by stating that it is highly improbable that it will become such, but that it might still compete with bitcoin in the long run.
According to industry experts who spoke with Cryptonews.com, Ethereum appears to be in a constant state of flux, with no apparent downtime. Whilst Ethereum has the advantage of being the world's first decentralized universal computer, there is a growing number of other chains that are also providing the infrastructure for running decentralized applications (dapps), and some of these appear to be eating into Ethereum's market share significantly.
When it comes to price performance, ethereum has outperformed bitcoin over the course of the past month and year. At the time of writing, the value of ethereum had climbed by 64 percent in the previous 30 days and by 610 percent in the previous 12 months. Bitcoin has gained 44 percent in a month and 273 percent over the course of a year.
____
Learn more:
 Bitcoiners Remind the World of the 'Temporary' Gold Window Suspension
 BlackRock Declares That Gold Has Bites the Dust As It Eyes Bitcoin
The survey found that while investors still prefer stocks to bitcoin, BTC outperforms gold. – Ray Dalio prefers bitcoin over bonds, but gold outperforms bitcoin.
Bitcoin's price forecast for 2021 has been lowered by the CEO of Pantera, who believes Ethereum will outperform bitcoin. ETH is 'unlikely' to become a "popular currency," but it can still compete with bitcoin.