Non-fungible tokens, also known as NFTs, had a year to remember in 2021.
If you want to make money, these digital assets have climbed up to the top of a list of investments that are almost certain to work out well for you.
That's why so many people decided to dive into this world and see how much they could learn.
NFTs are even better because they let people have fun and make money at the same time.
How?
You can play NFT games, which are games in which you can sell or trade NFTs and still get all of the money.
Experts think that these digital assets will keep growing in 2022 and make yet another big change in the business.
So, both experienced investors and newbies want to get into the NFT world and have fun while doing it. They want to keep their money and make money at the same time.
If you want to invest in NFTs, you should know that you will need a safe place to store them.
That's exactly what we want to help you with. We're going to give you a detailed list of the best NFT wallets of 2022 so you can choose the one that's right for you.
Without further ado, let's get into the specifics.
There is a good chance that the first wallet on the list is the best one.
Keep in mind that this is one of the newer "players" in this field. The NOW Wallet team made sure that they were aware of what was happening in the market and put the best features into their own NFT wallet.
Recently, NFT functionality has added ERC-721 and ERC-1155 token types. There are still more options to come.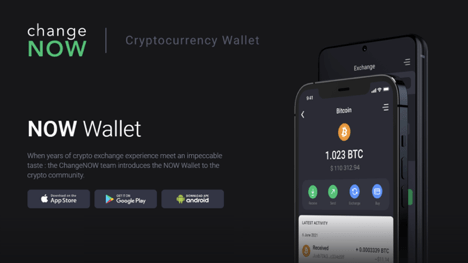 In the first place, NOW Wallet is not a bank, and it doesn't keep any of your money or private information.
That makes it very safe and trustworthy.
Is compatible with the most common payment methods around the world, and it has more advanced settings that will make your NFT trading experience even better!
This is good news for people who want to get into the cryptocurrency world by investing in both NFTs and other types of coins. NOW Wallet can handle more than 350 different types of coins.
They work around the clock to make sure that they answer all of your questions and concerns.
Pros and Cons 
When it comes to listing the advantages and disadvantages of the NOW Wallet, it is worth noting that we hardly found any cons. Trading NFTs is definitely made simple with this wallet and that is why this brand is a common pick for both experienced traders and newbies.
Pros 
Next-level security 
Supports the world's most commonly used payment methods
Simple to use 
Low fees
Great privacy
Cons  
Large transactions may be paused
This is the Trust Wallet, which is the next NFT wallet that should be talked about.
If you want to start using Trust Wallet, you just need to follow the three steps below.
Download Trust Wallet

 

Browse for possible trades
Because Trust Wallet can be used on both Android and iOS devices, you can rest easy knowing that you will have a lot of freedom.
Simple and easy: Downloading and installing the app on your phone isn't that hard.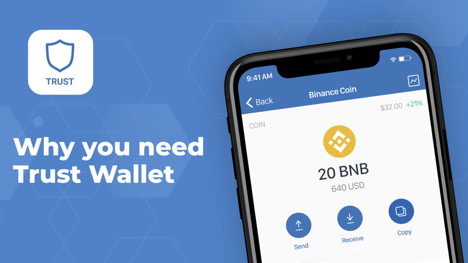 The first thing you need to do is open the Google Play Store or the App Store, depending on what kind of device you have.
Then, look for the wallet, tap download, and wait for the process to be done.
The installation is done automatically, and when it's done, you can use it.
Ethereum and Binance Smartchain are two of the most popular blockchains on Earth. Trust Wallet can use NFTs on both of them.
CryptoPunks, CryptoKittiesa, and Axies are some of the most popular things to keep in this wallet. It has helped people store them over the years.
Pros and Cons 
There's no denying the fact that Trust Wallet is among the greatest NFT wallets on the market today. However, it does come with a few advantages and disadvantages that are worth sharing. With that being said, let's take a look at some of its pros and cons. 
Pros
Fast and easy download 
Available on both iOS and Android devices
Low fees
Easy to use
Cons
Not as secure as other wallets 
Next, we have the Enjin Wallet, which is a wallet that makes it easy to build a collection of rare NFTs quickly.
One of the things that makes Enjin Wallet a good choice is that if you use it, you can import your old wallets and keep track of hardware wallets, too.
It also lets you set up separate wallets for savings, expenses, or any other category that you can think of, so you can keep your money separate.
No matter how many wallets you make with Enjin, there's no limit to how many you can make.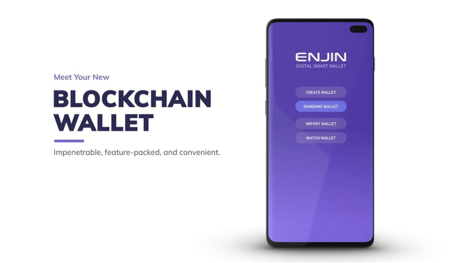 If that isn't enough, Enjin Wallet will give you a free NFT if you scan the QR code on its official site.
Custom fees and limits, fingerprint scanning, auto-add tokens, and easy import and sweep are just a few of its other great features, but they're just a few of them.
Once you download the app on your Android or iOS device, you can start trading right away. It will be safe and easy.
This is how you can get the Enjin wallet:
Open Google Store or App Store
Search for Enjin App

 

Make sure you have enough storage
Download and install the app

 
Enjin Marketplace will allow you to trade NFTs with ease and with massive security. Just like all other wallets that are featured on this list, Enjin also supports various cryptocurrencies. 
Pros and Cons 
We get now to the not-so-fun part where we list all the advantages of a certain wallet, which in this case is Enjin, but we also list the cons as a way to make sure that we are as transparent as possible with our readers. The pros and cons list will allow you to determine whether Enjin Wallet is a decent pick for you. 
Pros 
Free NFT via QR scan
Impeccable security 
Free to download 
Create a separate wallet to store NFTs
Cons 
The wallet is not open-source 
AlphaWallet 
AlphaWallet is an e-wallet that is only meant to store NFTs. That is why we think it is one of the best NFT wallets of 2022.
Of course, this is one of the main features of this wallet. But that doesn't mean AlphaWallet doesn't have other good parts that are worth talking about.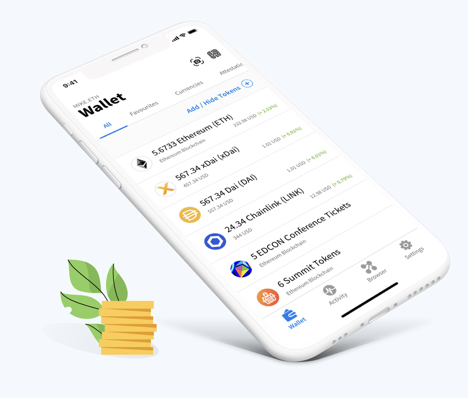 First of all, you don't have to give anyone else any of your money.
So that you can store and trade NFTs with the best level of security, AlphaWallet uses the Secure Enclave security system.
There are many things you can do because this is an NFT wallet. You can use all of the NFT-related dApps. You can transfer and sell NFTs, mint new ones, bid in an auction, and so on.
This wallet doesn't store any personal information, you can set your own gas fee and speed up your transactions, and it's open source.
Pros and Cons 
Now, it may sound like Alpha Wallet is the best wallet on the list, but it does have one disadvantage that may affect your NFT experience. Now, the advantages outweigh the disadvantages, but nevertheless, we feel like sharing all the details and letting you decide whether this is a good pick for you or not. 
Pros 
Pure NFT wallet 
Fantastic security 
No personal data is collected
Available on all mobile devices 
Cons 
Only uses the Ethereum blockchain 
Conclusion 
There are both good and bad things about each of the featurettes on this page.
These are all very well-known and chosen by our team to be the best NFT wallets of 2022.
When NFT traders think about what they need, NOW Wallet may be ahead of the rest.
Still, you should always make sure that you think about your own needs before you choose one of the wallets on this list.
NOW Wallet
Trust Wallet
Enjin Wallet
AlphaWallet
Custody
                                     Non-custodial
Availability
Google Play, App Store, Android APK
Google Play, App Store, Android APK
Google Play, App Store
Google Play, App Store
Fiat (VISA and Mastercard)
Yes
No
No
No

 

NFT Token Types
ERC-721 and ERC-1155
ERC-721 and ERC-1155
ERC-1155
ERC-721
24/7 Support Team

 

Yes
No
No
No
Disclaimer: This article is provided for informational purposes only. It is not offered or intended to be used as legal, tax, investment, financial, or other advice.