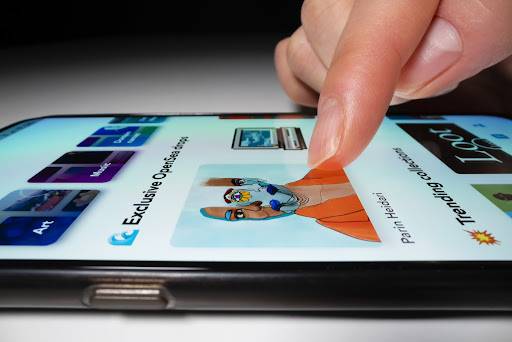 Blockchain technology is genuinely revolutionary because it enables individuals worldwide to build appealing apps across practically all industry segments and use cases. The field of Internet gaming has profited enormously from the proliferation of seamless decentralized applications (dApps). Apart from making apps more accessible, blockchain or distributed ledger technology (DLT) and smart contracts enable developers to create non-fungible coins (NFTs).
NFTs are essentially digital collectibles that have the potential to become incredibly valuable due to their (digital) scarcity. Consider those one-of-a-kind, iconic Babe Ruth baseball cards or that one incredible Michael Jordan card that nobody owns save for possibly one or a few people. By amassing NFTs, you can amass a fine art collection akin to a million- or billion-dollar art gallery that you can show off to your friends.
One of the most appealing aspects of NFTs is that they enable us to contribute in the crypto and blockchain realm by expressing our views creatively.
The following are some excellent ways to earn money with NFTs.
1) Creating NFTs – (most fulfilling way to participate is by expressing yourself through art)
Along with allowing you to express your creativity, NFTs may also be an excellent method to earn additional money! There is nothing wrong with that, correct? Obviously not. But before we get into some profitable techniques, it's important to understand that an NFT is essentially a digital asset that cannot be replicated or altered in any way (that is, it is immutable).
The majority of consumers view these virtual tokens as the digital equivalent of artwork from an exotic private collection, where each piece is proven to be one-of-a-kind and asserts its own market value.
Yup, one project that is entirely dedicated to aiding creators, is entirely focused on creator benefits. Recently, the Yup team stated that they are glad to announce the debut of YUP awards for all loyal NFT developers. As the project team indicated, we've all witnessed a tremendous increase in NFTs and digital art, particularly in late 2020 and throughout 2021. Many more people have started browsing and curating NFTs in the hope of stumbling upon a lucrative possibility.
At the moment, developers and owners of NFTs can earn money through the selling and resale of these digital collectibles. Yup's team has proposed a new revenue stream for creators they're calling NFT Creator Rewards.
Until far, the Yup team has concentrated on awarding and recognizing the greatest NFT curators, but creators also play a critical role in Yup. Previously, the Yup Protocol compensated curators with newly-minted YUP tokens that were dispersed in accordance with the overall performance of their "social signaling."
For the first time ever, artists will be able to receive YUP for NFTs that consumers enjoy and/or rate, beginning with Opensea, Foundation, and SuperRare.
NFTs, like provably unique works of art, may be sold for real money or even virtual currencies. As noted by the Yup team, the token's asset transfer will be permanently recorded on an immutable blockchain, just like any other digital asset transaction. Additionally, this establishes (or validates) who the true owner of the NFT is.
All NFTs are linked to the owner's digital asset (or, in some cases, physical item). Technically, anything that is capable of virtual existence can be transformed into an NFT. These products may include photographs, memorable Twitter tweets, remarkable Facebook postings, and a variety of others that may be sold as NFTs by virtually anyone.
If you are a gifted creative or believe you can make something worth monetizing, you can earn money by selling your art pieces as NFTs. Did you know that a New York City citizen sold an NFT of their farts? Thus, there may be numerous additional novel methods to profit from NFTs!
2) Flipping NFT's (Highest risk, highest reward)
Did you also know that you may earn a substantial amount of money simply by flipping NFT's? While this strategy entails the most risk, it also entails the largest (possible) gain. With this strategy, you would thoroughly investigate and examine the NFT market. After conducting your due diligence, you may develop an expertise in locating good offers on certain NFTs, and if you have some holding power, you may be able to sell them when the market begins to heat up.
Naturally, this method necessitates patience and a healthy appetite for risk. As such, it should be used in conjunction with other tactics to diversify your approach to and portfolio of NFT investments.
3) Earning Royalties (programmable thanks to smart contracts)
Believe it or not, you can also earn royalties from your fantastic NFTs using smart contracts. Due to the fact that the owner of the NFT can create a smart contract that automatically compensates them for sales, it is feasible to turn these digital treasures into a dependable source of revenue. However, smart contracts may contain flaws that have been repeatedly exploited.
That is why you may wish to consult a professional with the necessary knowledge to begin minting NFTs and establishing a system for collecting royalties on your works of art (in the form of NFTs).
4) Fractionalizing (buying $10 worth of a cryptopunk, or breaking yours up and selling the pieces at a premium)
Fractionalization is another fantastic approach to create money from NFTs. This means that you can purchase a fixed cash amount or percentage of a particular NFT and have your friends or colleagues purchase the remainder. As a result, you all own a piece of the NFT, just as if it were a public corporation.
We can also spread the risk of an investment by purchasing fractions of an NFT. Once again, it is always preferable to conduct your own study and develop an investment strategy that is tailored to your own needs.
Consider the NFT Blue-Chip Index (JPG), which is a market capitalization-weighted portfolio of leading NFT collections. The index attempts to provide liquid exposure to several of the greatest NFTs through the use of a single liquid token. As noted by the Index Coop, the most frequently requested product is an NFT Index token, and this token may be able to meet that demand.
Disclaimer: This content is provided solely for informational reasons. It is not meant to serve as legal, tax, investment, financial, or other professional advice.