It has been hard for the crypto market since the beginning of April, but it's been getting better.
Bitcoin (BTC) fell below $40,000.
It's the same for all the coins, too. They've all lost their gains and are trading in the red.
In the end, BTC found support near the $38,550 area and started a strong recovery wave. It's now trading at $41,256, which is up 6.6% from the previous day. This is what happened:
In fact, the following three facts show that Bitcoin will keep going up.
The Largest Single-wallet Holder of Bitcoin
MicroStrategy CEO Michael Saylor told the shareholders of his company that our strategy to buy and hold Bitcoin has been a huge success.
Because Saylor's publicly traded company has a lot of money, it has the most single-wallet Bitcoin (BTC) in the world, with 129,218 BTC in it.
His success with bitcoin purchases makes him want to "vigorously pursue" his reserve assets strategy, which means he'll buy and hold more Bitcoin, which is sure to cause a lot of people to buy bitcoin.
Lightning Network Contributed to the Prosperity of Bitcoin
With the Lightning Network, a fast and efficient way to move digital assets around the world is becoming more popular all over the world.
Bitcoin has seen a 410 percent rise in payment volume over the last year because of its low-cost, quick transactions.
In March 2018, the Lightning Network was launched to make it easier and faster to buy and sell Bitcoin.
The Lightning Network's popularity around the world is also going to help Bitcoin's growth.
In this way, the price of Bitcoin is also going to go up.
Positive Sentiment from Cryptocurrency Analysts 
Cryptocurrency analyst TechDev has made a chart that shows a macro bull market.
There are some things that he looks for when he studies the long-term price trend of Bitcoin.
Things change. They move.
As TechDev put it, "Macro aggregate human behavior usually doesn't."
People can see on the graph that prices are rising again. We have already passed the lowest point of this stage, and prices are rising again.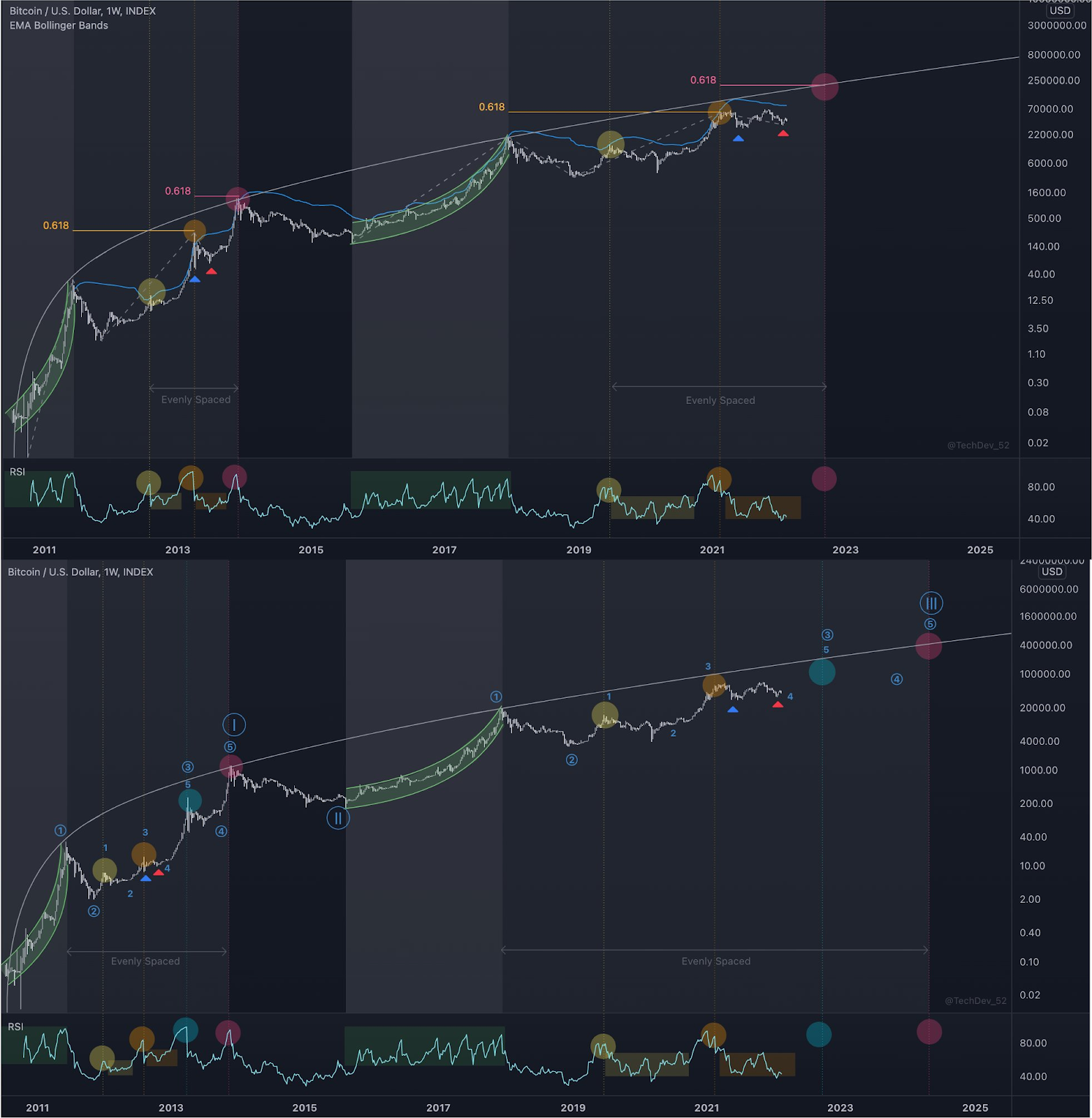 In this situation, are you ready for the bull market that is coming?
People who invest in stocks can take advantage of the bull market in three ways.
1) By setting up an investment schedule, one can start to invest in one's favorite asset in small amounts over a long time.
Because we do this, our risk in high-risk, speculative investments is spread out.
2) swing trading: The goal here is to get in on a possible price move.
It's all about knowing where an asset's price is going to go next and then taking that position.
3) you should do to take advantage of the 100x leverage:
Bexplus has 100x leverage, which means you can make a lot of money even with a small investment in a bull market.
How 100x Leverage Works?
Leverage is the amount of money you can use to make your trades bigger.
A trader can make 100 times more money and be exposed to more risk if the trade is opened with 100x leverage, so this is how it works.
$1 can be used to trade for $100.
Let's illustrate with an example, let say you open a long contract with 1 BTC when the price is $39,000, if the price rises to $42,000, your profit would be (42,000- 39000) * 1 BTC * 100x / 42,000 = 7.14 BTC, and your ROI will be 714%.
What can you trade on NAGA?
To show which stocks, cryptos, and commodities are being traded a lot by NAGA users, the "Favorites" tab also shows which stocks, cryptos, and commodities are being traded a lot by NAGA users.
If you're still learning how to trade, this tab is a good place to start. It shows which picks are popular with more experienced traders at the moment.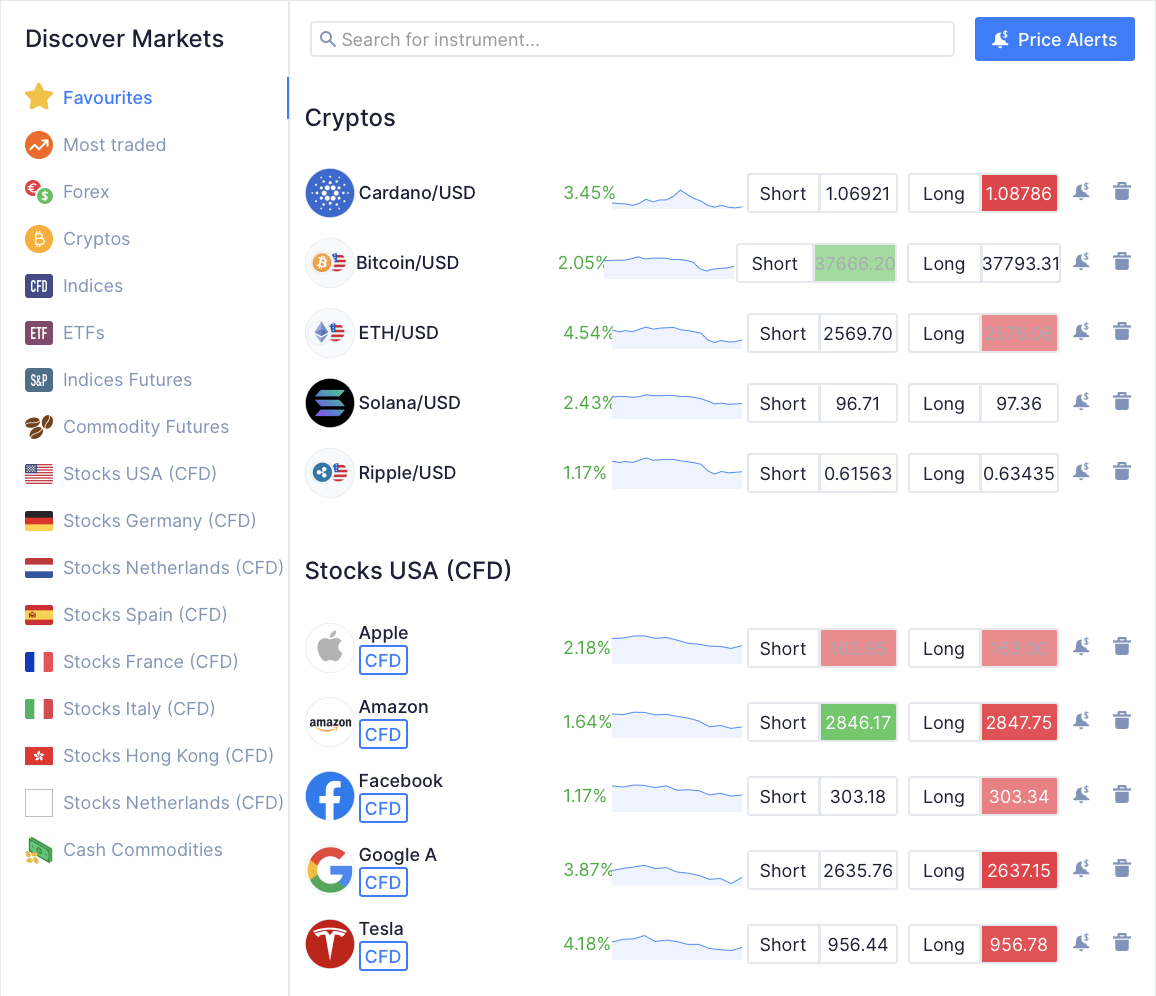 When you copy a trader, any trade that the trader makes will be done right away on your account, without any delay or time slippage.
Not only does this get you the best rate possible, but it also automates the process for you, making it easy to trade stocks.
NAGA has also made it easy for people to copy other people's trades. They can choose how much of their trades they want to copy.
User: If you don't want to put as much money into a trade as the person you're following, you can copy 20% of their capital.
Flexible tools and a copy trade system that works together have led to a group of people who help each other trade through NAGA.
Select Traders Based On Real Results
Investors can use a simple interface to see how NAGA's top traders have done in the past. This helps them figure out which traders to follow.
This data includes trader profits, how many trades they have made, and how many NAGA followers they have.
Traders can be found by going to the search tab and then following them for as long as they want.
Traders can stop following a trader's methods (copy trading) at any time they want.
How to make an account on NAGA
On NAGA, it only takes a few minutes to set up an account. This means you can start trading right away.
The first thing to do is go to the NAGA Sign Up page and enter your country of birth.
From there, you'll be asked to sign up with your mobile number. You'll need to enter your full number and country code.
After you get a verification text, you'll be able to make your account.
Your name, email address, and the password you want to use to log in to your account will be the only things you'll need to fill out.
Once you're ready to trade, you're ready!
Open your Account right now.