As a result of growing investors, interest VET recorded a 21-percent price rise last week.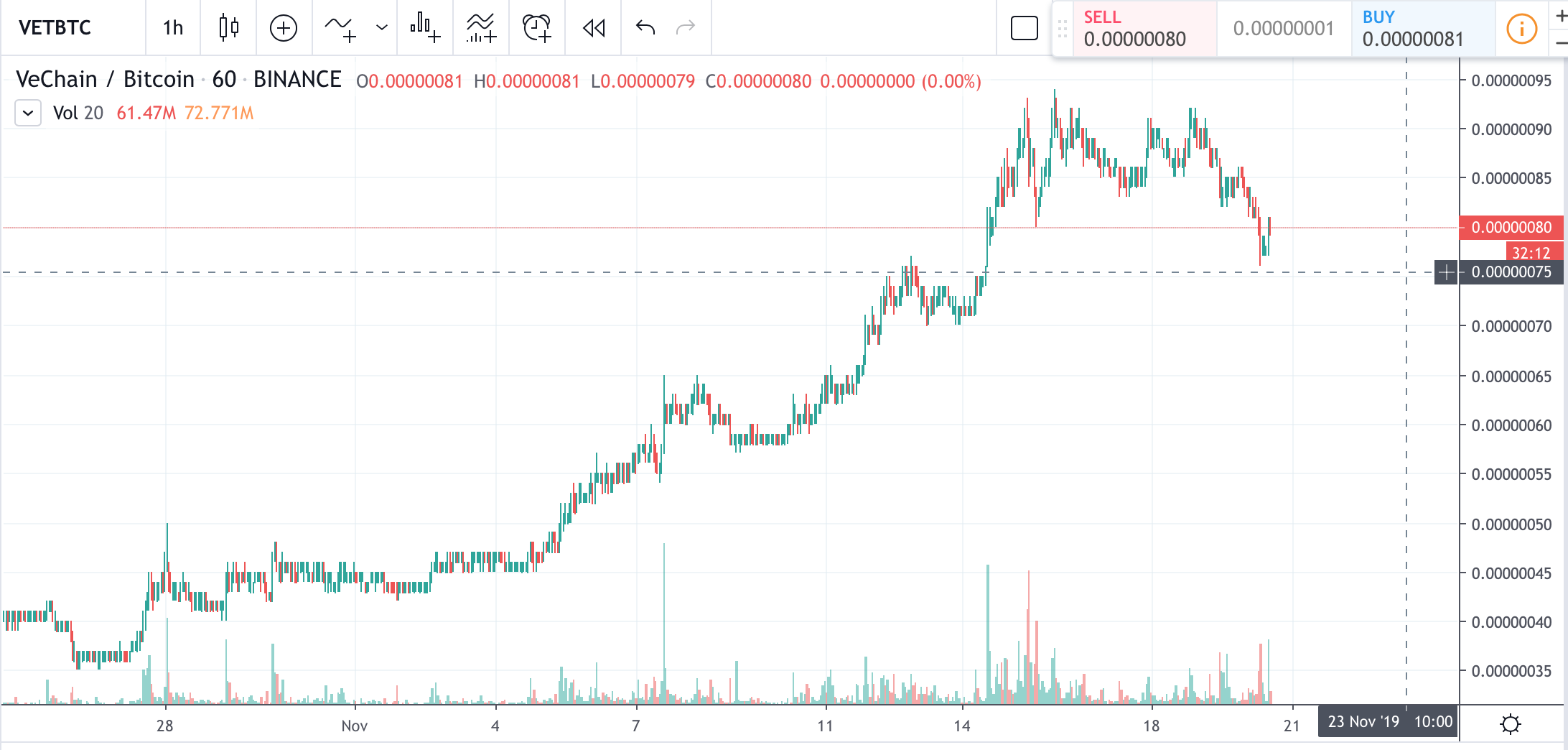 The project is widely considered to be the first significant blockchain-based platform in logistics. VeChain digital currency seems to be one of the most promising altcoins on the market today, as believed by many experts and crypto enthusiasts. Even though the price has retraced from its recent all-time high it is still up by more than 100% since 27th of October and is currently trading at around $0.0064
A well-known crypto analyst @CryptoMichNL calls VET one of the strongest coins and thinks there is a great chance for further gains.
Yes, one of the stronger coins holding up nicely here.

Ugh, retracement. All fine, it's still up more than 100% since the low.

The first area of interest hit here.

The second area of interest is at 61-63 sats.

If we hold, another move to 103-105 is likely. pic.twitter.com/8hTTYXAewP

— Crypto Michaël (@CryptoMichNL) November 20, 2019
If he turns out to be right, the next price move is likely to levels of  $0.0085. However, the volatility of the coin is obviously is a concern as with any other digital currency. Even, Sonny Lu, VeChain's founder, and CEO recently stated at BlockShow Asia 2019:
"99% of a [cryptocurrency's value] is linked to speculation, and not to the value that solution can bring to society. This causes many startups to waste a lot of time producing and 'selling' the token, failing to develop solutions for where they were initially focused."
Nearly all blockchain projects currently focus mainly on speculative trading and forget to provide and develop real-life use cases. As a result, there is too much focus on immediate trading profits when it comes to any cryptocurrency even the ones with a strong background and devoted development teams.
Image source: Flickr


Credit: Source link