The summer of regulatory action has spread globally. Legislators and politicians are threatening the industry's main virtual asset service providers — a phrase developed by the FATF to refer to exchanges, wallets, custodians, and even DeFi platforms — with their fingers.
However, few countries conduct cryptocurrency crackdowns with the effectiveness and experience of the Chinese authorities.
Unlike in the United States, China's regulators have avoided a public debate on the subject. Decisions are taken behind closed doors, and announcements are disseminated quickly, via government websites or well-informed officials' speeches.
Directives emanate from the highest levels of government and are rapidly reaffirmed and implemented by lower-level officials in provincial or municipal government, state-owned corporations, and financial institutions. This top-down regulatory approach tends to make the "China ban" appear extremely repetitious and draconian. In practice, the same legislation can be repeated hundreds of times by various agencies, frightening the public but having little effect on the industry.
3000 kilos of #bitcoin miners packing to be airlifted to the US. pic.twitter.com/d07y5GUBB3

— 8BTCnews (@btcinchina) June 21, 2021
What is the point of contention this time around?
Although bitcoin ownership was never legally prohibited, the need for reform in other facets of the industry was almost certainly apparent. According to Winston Ma, a former managing director and head of North America at China Investment Corporation, the Chinese government pushed for the laws in order to safeguard consumers, get the country closer to carbon neutrality goals, and achieve stronger financial stability.
While the final factor is more subjective, there is little doubting that China's opportunistic mining industry and speculation-obsessed retail investors were mostly uncontrolled at the start of the year.
Ma will be among the first to recognize the efficacy of the changes underway, particularly in the mining business, as she tells Magazine:
"So far, the impact from the energy perspective is the most obvious: After the central government initiated the cryptocurrency crackdown campaign in May, major coal-based power producers such as Inner Mongolia and Xinjiang, which were previously the top two cryptocurrency mining hubs in China, have been among the first regions that quickly developed local rules to clean up mining businesses."
This will not be a temporary tweak. The majority of large mining enterprises have relocated abroad, and the overall BTC mining hash rate remains roughly 40% lower than it was in the spring, prior to the crackdown. China's critical five-year plan, issued this spring, placed a premium on energy and environment policies, reiterating the significance of cleaner energy usage for the foreseeable future.
Despite its importance to the cryptocurrency community, mining does not contribute significantly to the national GDP. Chinese miners earned slightly over $7 billion in revenue during the 12-month period ending in June, a figure far too insignificant to sway the authorities.
Didi's income was more than three times that in 2020, and the Chinese government had few reservations about cracking down on the company once it was revealed that it had supplied customer data to US officials. Didi apps have been withdrawn from domestic app stores, and competitors are now lining up to take over a sizable portion of the market if Didi is unable to overcome its legal concerns.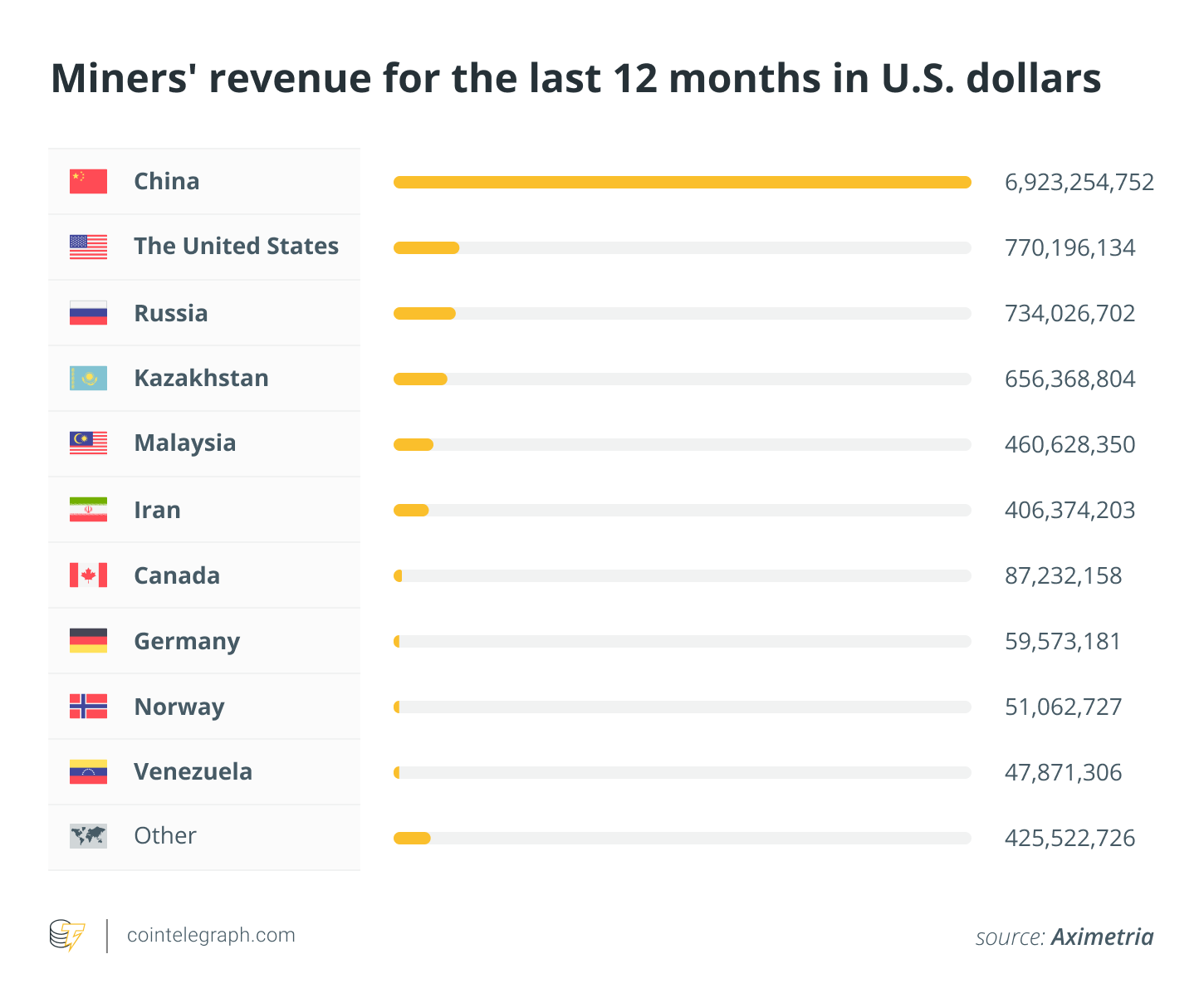 "We've seen miners move out of China, and we've also seen large fintechs, such as Alibaba, experiment with NFTs. Token-less blockchain projects in China have seen huge growth."
This type of development has enabled stakeholders to continue contributing to the health of China's blockchain ecosystem, with local governments supporting key events such as the World Blockchain Conference in Hangzhou and the upcoming Shanghai International Blockchain Week in September.
Influence of regulators on the fall
The initial crackdown that outlawed initial coin offerings and exchanges in 2017 caught the crypto sector off guard. At the time, the majority of global trade volume originated in China or occurred on Chinese exchanges, and the major ones were registered and headquartered on the mainland. This made them vulnerable to regulators and taught the industry a crucial lesson about risk management in general.
Following that, important sector participants including as Binance, Huobi, and OKEx established operations in jurisdictions such as Hong Kong and Singapore, where regulators were more receptive. As a result, these exchanges are now significantly outside the Chinese government's authority, provided they are not overt in their recruitment of Chinese users.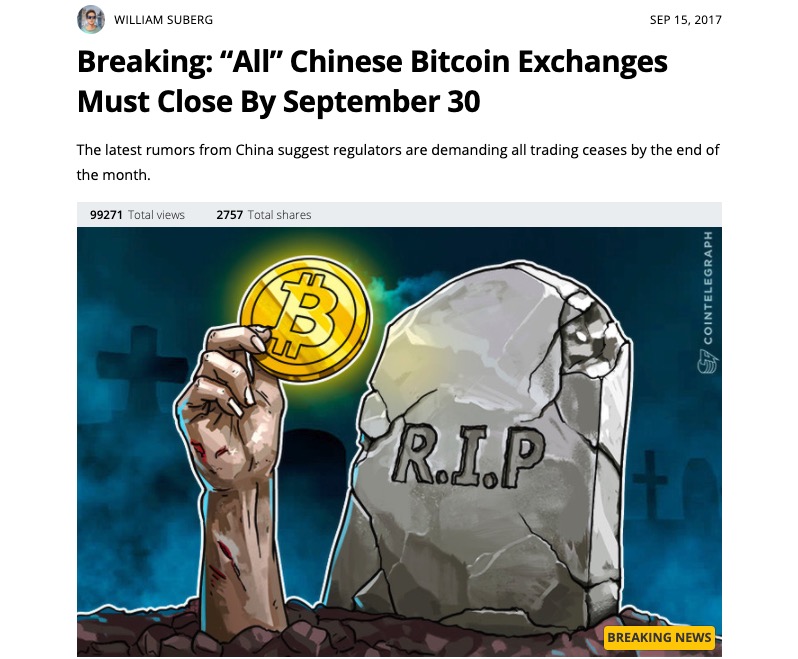 As more of the sector moves offshore, authorities' influence diminishes. Regrettably, miners eager to take use of China's enormous hydropower and coal-fired power facilities were not as ready to decentralize. This put them in peril, creating a wave of panic following China's crackdown on miners earlier this year. The good news for investors is that miners have now responded by shifting to other countries, so lessening the need for future negative regulation of the mining industry.
Using regulators to read the tea leaves
Retail trading remains a source of concern, as huge, mostly Chinese exchanges like as Huobi and OKEx account for approximately 20% of worldwide volume, according to FTX's volume monitor. Binance accounts for more than 50% of worldwide volume and is likely to have a sizable proportion of Chinese users as well.
While these platforms do not allow users to acquire cryptocurrencies directly with fiat, P2P transactions enable clever users to purchase on platforms such as Binance by using Chinese bank accounts and commercial payment applications to transfer between the yuan and stablecoins.
To date, the government has been unable in reducing this volume, despite occasional freezing of bank accounts for transacting in P2P exchanges. This is difficult to monitor due to the amount of digital transactions, but it is plausible that the government is not interested in completely abolishing these channels. While completely shutting down exchanges and ordinary investors may be possible, doing so would risk China being left out of the race, without a horse in the race – something China is hesitant to do.
Wang believes that exchanges with significant volumes from China will continue to adapt, telling Magazine, "We believe they will follow the global trend toward stricter compliance, and as we have seen, they have already considered limiting leverage and limiting the range of products available to new users." Wang is referring to a decision made earlier this year by exchanges such as Huobi to restrict consumers' access to futures, a popular but risky commodity that is frequently more similar to gambling than investing.
Ma remains pessimistic about the near future:
"China's securities and banking regulators have yet to issue new cryptocurrency trading legislation. The uncertainty could result in sustained negative pressure on cryptocurrency values over the long term."
Ma is not alone in her concern about what will happen next. Numerous members of the Chinese community, notably early entrepreneur Bobby Lee, have expressed similar worries, particularly in light of officials' recent targeting of numerous enterprises and individuals in China's private technology industry.
If additional action is taken against retail traders, many Chinese users may become concerned about their future ability to cash out, resulting in increased anxiety in the markets. The question then becomes whether scandals, scams, and social discontent caused by speculative investments will prompt the government to act. Cryptocurrency holders' best bet is on an increase in sustainable development that is increasingly centered on technology. While rising prices for meme tokens such as Dogecoin and Shiba Inu may be appealing to short-term speculators, they raise the risk that the government will exert pressure on retail users and exchanges that support them.
One Chinese saying worth remembering is the concept of slaughtering the chicken to scare away the monkey.
In this narrative, a man slaughters a chicken in order to teach a lesson to his treasured dancing monkey. By contrast, China's regulators will not hesitate to shut down a firm if it implies that others will follow suit.
The international cryptocurrency community should hope that China's leading projects can negotiate these new policies without incident and continue to establish a healthy blockchain environment. Chinese entrepreneurship has continuously created the world's largest exchanges and key mining businesses like as Bitmain and Canaan, not to mention a slew of influential venture capitalists and investors who have shaped the industry. Regulators' next step may be critical, as it will determine whether the top players become the chicken or the monkey.