It was the highest close in three months for the total value of all crypto assets on April 3. Between March 28 and April 4, the value of all crypto assets went up by just 1.9%.
During this time, Bitcoin (BTC) lost 2.6%, but that was more than made up for by the gains made by altcoins.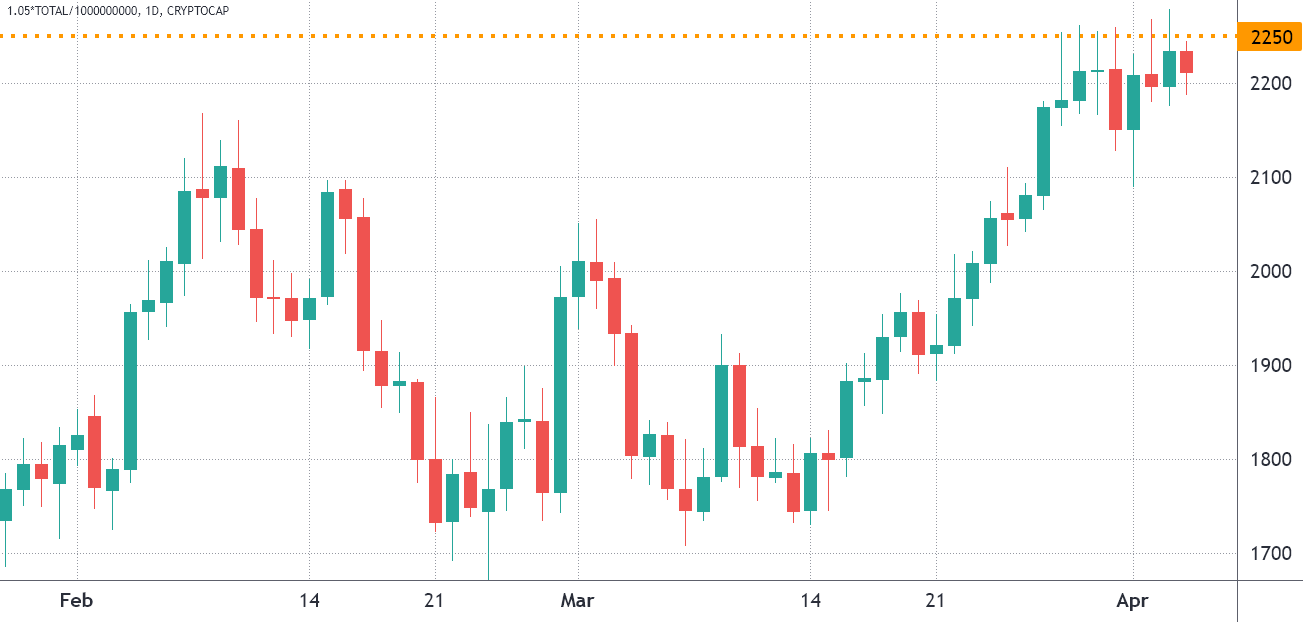 While Ether (ETH) and Binance Coin (BNB) gained less than 3% over the last seven days, a few mid-capitalization altcoins rose 20% or more.
On April 1, the Bitcoin network's difficulty hit a record high of 28.587 trillion, the most ever.
The indicator shows how much computing power is needed to mine BTC blocks. At the moment, the estimated hash rate is 201.8 exahash per second (EH/s).
ARK 21Shares Bitcoin exchange-traded fund: The United States Securities and Exchange Commission officially rejected the application for the ARK 21Shares Bitcoin ETF on the same day (ETF).
The regulator said that the Cboe BZX Exchange did not meet its own rules of practice and the rules of the Exchange Act.
Comparing the winners and losers gives skewed results because the top three coins had a small negative effect.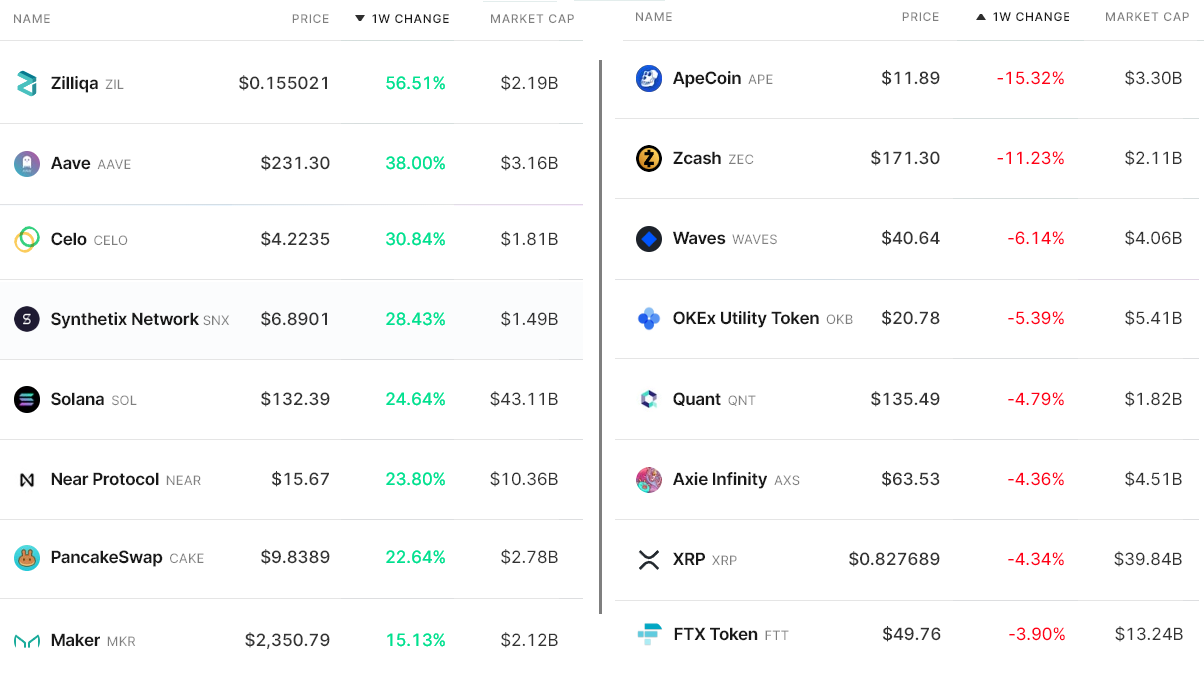 (ZIL) Zilliqa (ZIL) jumped 56% after news broke that it was going to start selling a platform that lets people use a metaverse as a service in April.
The 3D real-time Nvidia Omniverse is being used to build Zilliqa's Metapolis.
Nvidia is a $684 billion Nasdaq-listed company that makes graphics processing (GPU) chips.
(AAVE) Aave (AAVE) went up 38 percent after the release of Aave v3. This came on March 16.
The new features were designed to be more capital efficient, more secure, and more useful across the chain.
The non-custodial liquidity protocol lets users lend, borrow, or put their assets up for stake in order to get a return on their money.
Synthetix (SNX) jumped 28% after it announced that its Debt Pool Synthesis deployment would take place on April 7.
Currently, the decentralized finance protocol runs debt pools on two Ethereum chains: the mainnet and Optimism, which is a layer-2 scaling solution for Ethereum.
By switching to a "Optimism-native protocol," the application will merge its pools to make sure there is enough liquidity.
As the company behind Apecoin (APE) raised $450 million in a funding round led by Andreessen Horowitz, the price of APE went back down.
Yuga Labs, the company that made the Bored Ape Yacht Club (BAYC), made a token called APE that serves as both a governance and utility token. APE holders can control and manage the ApeCoin DAO.
The Tether premium shows slight discomfort
The OKX Tether (USDT) premium is a good way to see how much demand there is for crypto in China.
It shows the difference between China-based peer-to-peer trades and the U.S. dollar
Excessive buying pressures the indicator above fair value at 100%, and when the market is down, Tether's market offer floods and causes a 4% or more discount.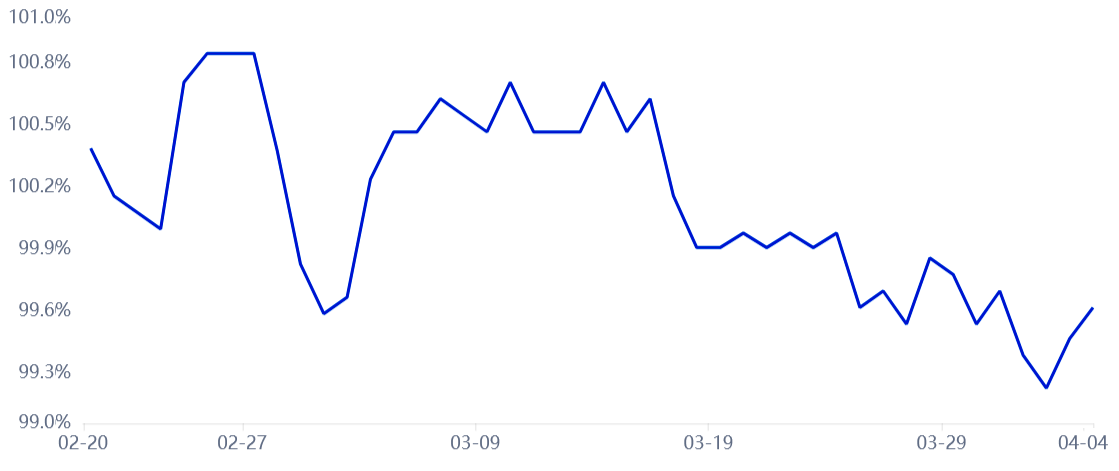 This is the lowest level of the Tether since January 26. On April 2, it was 99.2%, the lowest level since January 26.
People who shop at stores don't do things like panic-sell things like this, but the indicator showed a slight decline over the last week.
The lack of retail demand isn't a big deal, even though the total cryptocurrency market value has hit $2 trillion and the indicator has dropped 19 percent since December 2021.
Futures markets show mixed sentiment
Perpetual contracts show mixed feelings right now.
This graph shows that the accumulated seven-day funding rate for Bitcoin, Ether, Solana, and XRP is a little bit in the positive for each of those things.
This shows that there is more demand from longs (buyers), but it isn't too much.
There are a lot of people who trade futures, and Solana's positive 0.20 percent weekly rate equals 0.8% per month, which should not be a big deal for most.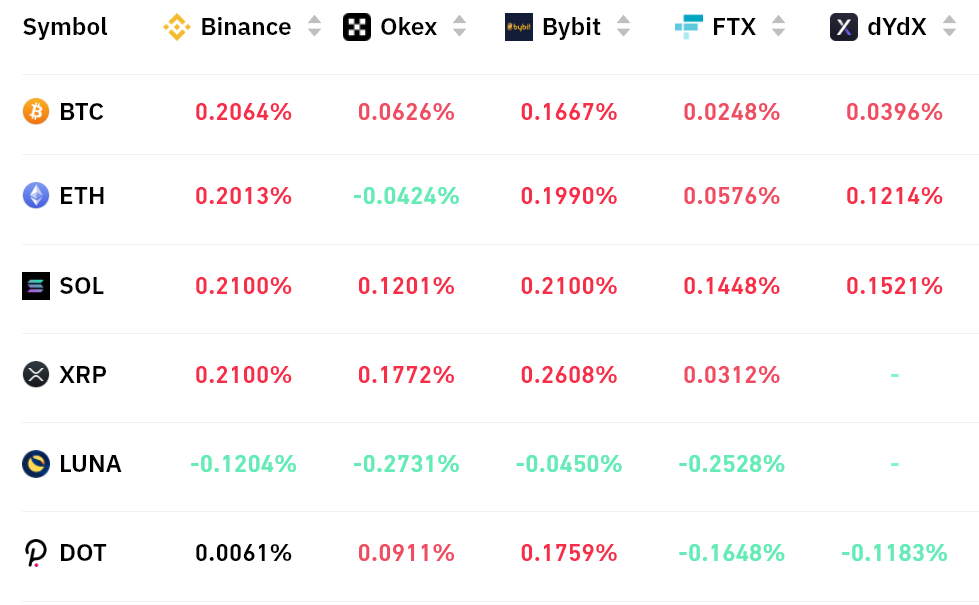 Terra (LUNA) had a little more demand from shorts (sellers), but there was no demand for Tether in Asia. This shows that traders don't trust Tether.
The total value of the stock market rose by 26% in three weeks, from $1.67 trillion to $2.1 trillion on April 4.
Yet, indicators for derivatives don't seem to be getting better, so investors don't have much faith in the market.
Until the mood changes, the chances of a price drop remain high.
The author's thoughts and opinions are entirely his or her own and do not necessarily reflect those of CoinNewsDaily. Each investing and trading action entails risk; before making a decision, you should conduct your own research.