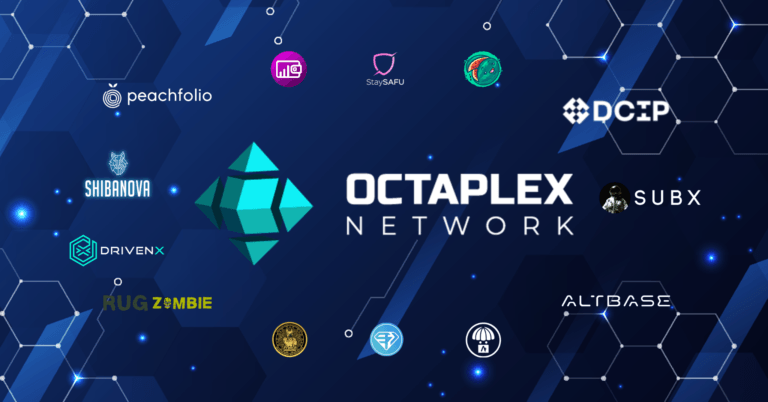 Important information: This is a sponsored story.
Please keep in mind that the value of investments, as well as any income generated by them, can fall as well as rise, meaning that you may receive less than you invested. If you have any doubts about the suitability of your investment, seek professional counsel. Tax rules are subject to change, and the value of any benefits is situation-dependent.
Octaplex is redefining collaborations and partnerships in the cryptocurrency world by providing a forum for numerous projects to collaborate around a common purpose that benefits not only the projects themselves but also the community and holders.
The Octaplex Network's platform aims to transform the way projects connect by providing a true blockchain incubator built on the principle of sharing knowledge and skills. Simultaneously, they seek to compensate holders of their $PLX token with those of their partner projects.
Octaplex Networks Partnership Program and Crypto Incubator
Octaplex's cooperation model is unique in the cryptocurrency business. There are numerous projects, each with its own distinct use case, all with the goal of solving unique challenges with even more unique answers. Octaplex's goal is to create a network where this information and experience may be shared.
Octaplex is a great believer in collaborations and partnerships as the way ahead in today's cryptocurrency environment. By establishing a concrete network of collaboration, help, and growth, the platform can eventually connect all of the many networks that currently exist in this field into a single decentralized ecosystem.
By sharing the relevant talents and expertise that each project may give to the platform, the goal is for everyone to contribute, everyone to benefit, and everyone to work together to achieve the platform's common goal of success.
Weekly Partnerships Projects Added to the Platform
Octaplex is a young company, having only passed the two-month mark since its establishment, yet it has already made significant progress toward fulfilling its objective. As of this writing, they have partnered with 13 projects, each of which brings a distinct set of abilities to the table due to the fact that each project has its own team of developers with their own expertise and unique solutions to the challenges they are attempting to tackle.
The goal is to add a new project to the platform every week, each one validated and vetted to guarantee that only high-quality projects are added, benefiting both the ecosystem and the investors earning their tokens. In a day of rug pulls and scam ventures, having an additional layer of investor protection is critical for both the platform and the investor.
The Benefits for $PLX Holders
Octaplex has implemented a novel reward system via their own dApp, which holders of $PLX can take advantage of. The platform is simple to use, with a simple user interface, and allows for comprehensive customisation of the prizes, with users able to select up to six partner project tokens as rewards, as well as adjust the percentages of each. This customization option gives the possessor entire control over the rewards and puts the options in his or her hands.
The Future for Octaplex
The Octaplex Network was designed to be a long-term endeavor and has laid the groundwork to continue operating well beyond the present economic cycle.
The project's goal of establishing a fully interoperable network comprised of numerous chains is sufficient justification to ensure its long-term viability.
The adjustable incentive possibilities for its users are a novel concept that has received positive feedback from the shared communities of connected projects.
The project itself has a broad use case, and due to the platform's shared expertise with its numerous partner projects, as well as the future partners it will bring to the network, any difficulty can be handled collectively.
The long-term prospects for this shared ecosystem are enormous, and if there is one project that will become a mainstay in the future, it will be one comprised of numerous distinct components working cooperatively toward a common goal of success.