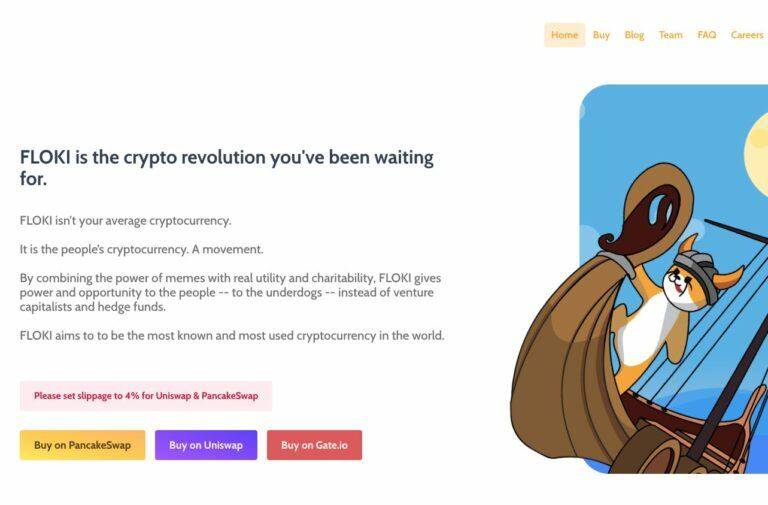 An agreement to form a strategic partnership with one of the top professional football clubs in the Netherlands has been reached thanks to the incredible marketing machine of the highly popular dog meme cryptocurrency project Floki Inu ($FLOKI).
What Is Floki Inu ($FLOKI)?
It was on June 25 when Elon Musk, a proponent of the Dogecoin ($DOGE), tweeted that the name of his Shiba Inu dog would be "Floki," sparking the idea for the creation of this cryptocurrency.
To purchase $FLOKI, you can do it on a number of cryptocurrency exchanges, including the decentralized Uniswap and PancakeSwap, as well as the centralized exchanges Gate.io, Decoin, and MXCE Global.
According to the Floki Inu team, some of the projects that will make use of the $FLOKI token include the following:
Valhalla: "A Play-To-Earn NFT gaming metaverse currently being developed by the FLOKI team. Our goal with Valhalla is to get many people who might not have otherwise heard about crypto to explore cryptocurrency and blockchain technology through an NFT game — and to get paid while doing it."
FlokiPlace: "The NFT economy is strong and will only become more vibrant. We also look forward to a world where people can easily purchase physical goods with cryptocurrency. FlokiPlaces aims to fill this gap by making it easy for people to trade NFTs and physical goods while paying with cryptocurrency — with the FLOKI token as the core payment option."
Inuversity: "FLOKI is working to help create a world where pretty much everyone is exposed to cryptocurrency and the blockchain in some form. To achieve this, we believe educating people about blockchain technology is mission practical. Floki Inuversity will be the premier cryptocurrency education platform. It's focus is to educate the mainstream audience FLOKI appeals to and get them more familiar with cryptocurrency and blockchain technology."
Floki Inu's Professional Football Sponsorship Deals
On November 18, we had two such announcements.
The first one was in India with Kerala Blasters FC.
The second one was in Spain with Cádiz CF:
The third one was in Italy with Italy's Società Sportiva Calcio Napoli (aka "S.S.C. Napoli"), which plays in Serie A, the top flight of Italian football.
Well, on Sunday (December 12), we found out that the Floki Inu team has struck a sponsorship deal with FC Twente, a Dutch professional football club from the city of Enschede. Since 2019, FC Twente has been playing in the Eredivisie (the top tier of Dutch football).
The Floki Inu team went on to say:
"This partnership will help give the #FLOKI brand mainstream exposure to the Netherlands' massive population of over 17 million people — a lot of whom are affluent and crypto savvy."
"The partnership will see the #FLOKI brand and website featured on the LED display during FC Twente's games, on their printed materials, and on their social media channels."
"The FC Twente partnership is part of #FLOKI's strategic moves to build a global movement and solidify itself as one of the strongest and most recognized cryptocurrency brands in the world."
As of 7:40 a.m. UTC on December 14, according to CryptoCompare, the cryptocurrency $FLOKI is currently trading at around $0.0001367, representing a loss of 10.76 percent over the previous 24-hour period.